Iron and Wine at Abrons Arts Center (05/18/09)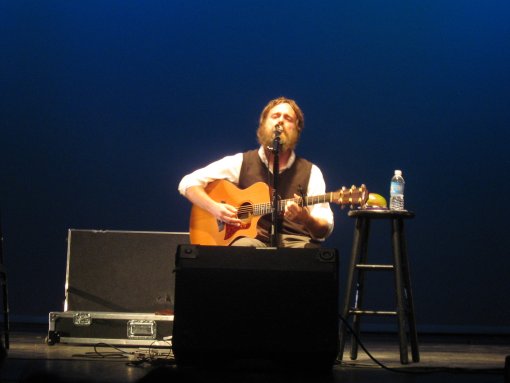 When I saw Iron and Wine with a full band at the Town Hall in 2007 I left feeling a bit disappointed by Sam Beam's somewhat detached performance (or at least that's how I perceived it then), but on Tuesday night at the Abrons Arts Center I couldn't have been happier with what I saw. From the moment Sam walked out on the stage, he seemed to be in a great spirits. He told us that Sunday night had a lot of old songs, and our show would be filled with mostly newer songs. (I guess it's all relative though, because when I look at the setlist, there were only 3 songs from The Shepherd's Dog proper). The evening was kind of the polar opposite of the Town Hall show, he told stories and tried to engage the audience right away, asking them several times if they'd voted for the set list on the Internet (which I don't think many people had). He received the gift of a mango from a fan in the front row early on the set with what looked like genuine appreciation, and then told a story about how he was basically forced to move out of his house in Florida because of a high maintenance mango tree in his backyard. I'm just speculating here, but I guess when it's just you and a guitar you can't really afford to turn your back on the audience (as he litreally did many times at Town Hall), but with a full band, you can use them as a bit of a crutch. Anyway, it was a fan show and the set list definitely reflected that, even though they weren't too many cuts from my favorite record, Our Endless Numbered Days, Sam managed to put some nice spin on "Cinder and Smoke", giving it a little more pop than I've heard in previous live versions. Though the rest of the songs weren't as recognizable to me as they might have been for some die hards (even Sam had some trouble remembering the lyrics to "In Your Own Time"), it was still a thoroughly enjoyable show and perhaps my favorite performance of the year. Sam closed out his regular set with a gorgeous rendition of "The Trapeze Swinger", a song I instantly took to the moment I heard it in the credits of the middling Paul Weitz film, In Good Company. While he's been playing this song live for many years, it's great to see this tune get the prominent placement it deserves with the release of Around The Well, an album that, as my friend Drake would say, "is full of songs that would be treasured album cuts for most artists".
Video of Iron and Wine on Jimmy Fallon and Monday night set list after the jump.
PS As a footnote, I have to comment on the venue— I felt like a tourist in my own town as I walked underneath the approach to the Williamsburg Bridge seeking out the 110 year old Abrons Arts Center. At a maximum capacity of 350, there really isn't a bad seat at this charming and intimate theater, but getting there just after 7:30 PM enabled me to score a sweet spot in the 4th row center. Oh yeah, and unlike their Broadway counterparts the seats at the AAC have tons of leg room!
Iron and Wine Set List 05/18/09
1. History of Lovers (In The Reins)
2. Woman King (Woman King EP)
3. Resurrection Fern (The Shepherd's Dog)
4. Cinder and Smoke (Our Endless…)
5. God Made the Automobile (Previously Unreleased/Around The Well)
6. Waitin' for a Superman (Yeti Magazine Issue #2/Around The Well)
7. Upward Over The Mountain (The Creek…)
8. Lions's Mane (The Creek…)
9. Gray Stables (Woman King EP)
10. Kingdom of the Animals (Boy With A Coin EP)
11. Flightless Bird, American Mouth – w. Sarah Beam (The Shepherd's Dog)
12. In Your Own Time – w. Sara Beam (Unreleased/Early Demo)
13. "New Song?" – w. Sarah Beam
14. Fever Dream – w. Sarah Beam (Our Endless…)
15. Boy with a Coin – w. Sarah Beam (The Shepherd's Dog)
16. Trapeze Swinger – w. Sarah Beam (In Good Company)
— encore —
17. He Lays In The Reins – w. Sarah Beam (In The Reins)
Sarah Beam and Sam Beam at Abrons Arts Center (05/18/09)