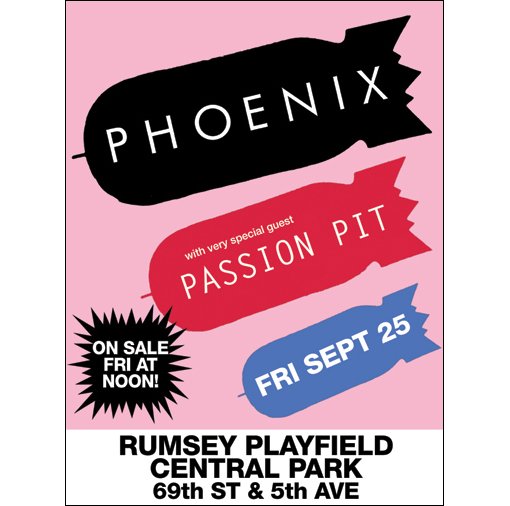 Phoneix with Passion Pit
The Rumsey Playfield at Central Park (aka Summerstage)
September 25, 2009
Tickets are on Amex presale now.
Public on sale begins Friday, June 12 at noon.
UPDATE: A second show was added on September 26, 2009 (Buy Tickets).
Both of these bands have been enjoying pretty good runs lately. After making a huge impact with American audiences on SNL back in April, Phoenix finally released their album Wolfgang Amadeus Phoenix on May 26, and to no one's surprise, they're playing two highly sold out shows this month at MHOW and Terminal 5 (June 18-19). Not long after their universally buzzed about residency at Pianos and the release of their terminally catchy Chunk of Change EP, openers Passion Pit were quickly snapped up by Columbia records in the UK and Frenchkiss in the US. Their well received debut LP Manners came out in May and they'll actually be playing opposite Phoenix for the first of their two night sold out run at the Bowery Ballroom on June 19.
More Phoenix and Passion Pit tour dates after the jump.
Passion Pit 2009 Tour Dates
Jun 13 2009 Mad Hatter Covington, Kentucky
Jun 14 2009 Empty Bottle (sold out) Chicago, Illinois
Jun 16 2009 Lee's Palace (sold out) Toronto, Ontario, Ontario
Jun 17 2009 Mohawk Place Buffalo, New York
Jun 18 2009 Paradise Rock Club (sold out) Boston, Massachusetts
Jun 19 2009 Bowery Ballroom (sold out) New York, New York
Jun 20 2009 Bowery Ballroom (sold out) New York, New York
Jun 26 2009 The Cooler Bristol, London and South East
Jun 27 2009 Glastonbury (sold out) Pilton
Jul 01 2009 Heaven (sold out) London, UK, London and South East
Jul 03 2009 Southampton Orange Rooms Southampton
Jul 04 2009 Eurockeennes Malsaucy
Jul 05 2009 Montreux Jazz Festival Montreux
Jul 08 2009 Five Night Revue @ Vibe Bar London, London and South East
Jul 10 2009 Oxegen Festival Punchestown
Jul 11 2009 T in the Park Balado, Scotland
Jul 13 2009 Paradiso Amsterdam
Jul 18 2009 Latitude Festival Southwold, Suffolk
Jul 19 2009 Melt Festival Ferropolis
Aug 09 2009 Lollapalooza Chicago, Illinois
Aug 11 2009 Phoenix Concert Theatre Toronto, Ontario
Aug 12 2009 Zaphod Beeblebrox Toronto, Ontario
Aug 13 2009 La Sala Rossa Montreal, Quebec
Aug 20 2009 Pukkelpop Festival Hasselt
Aug 21 2009 Lowlands Festival (sold out) Holland
Aug 28 2009 Rock en Seine Paris
Aug 29 2009 Leeds Festival (sold out) Leeds
Aug 30 2009 Reading Festival (sold out) Reading
Sep 05 2009 Jersey Live Festival Jersey, Channel Islands
Sep 11 2009 Bestival Isle of Wight, South
Sep 13 2009 Monolith Festival Morrison, Colorado
Sep 25 2009 Rumsey Playfield Central Park, New York, NY
Oct 04 2009 Austin City Limits Austin
Oct 14 2009 The Music Box at the Fonda Hollywood, California
Oct 21 2009 Leadmill Sheffield
Oct 22 2009 NorthumbriaUni Stage 2 Newcastle
Oct 23 2009 Garage Glasgow, Scotland
Oct 24 2009 Club Academy Manchester
Oct 26 2009 Academy Oxford
Oct 27 2009 Koko London, UK, London and South East
Oct 30 2009 Anson Rooms Bristol
Oct 31 2009 Uni Southampton
Nov 01 2009 Academy 2 Birmingham
Nov 03 2009 Dublin Academy Dublin, Dublin
Phoenix 2009 Tour Dates
Jun 13 2009 PARK WEST – SOLD OUT Chicago, Illinois
Jun 15 2009 PHOENIX CONCERT THEATRE Toronto, Ontario
Jun 16 2009 LA TULIPE Montreal
Jun 17 2009 PARADISE ROCK CLUB Boston, Massachusetts
Jun 18 2009 MUSIC HALL OF WILLIAMSBURG – SOLD OUT Brooklyn, New York
Jun 19 2009 TERMINAL 5 – SOLD OUT New York City, New York
Jun 21 2009 ROCK & ROLL HOTEL – SOLD OUT Washington, Washington DC
Jun 23 2009 VARSITY Minneapolis, Minnesota
Jun 25 2009 BLUEBIRD Denver, Colorado
Jun 27 2009 REGENCY CENTER – GRAND BALLROOM San Francisco, California
Jun 28 2009 THE WILTERN Los Angeles, California
Jul 03 2009 MAIN SQUARE – ARRAS FESTIVAL Arras, Nord-Pas-de-Calais
Jul 05 2009 EUROCKÉENNES FESTIVAL Belfort, Franche-Comté
Jul 17 2009 GARDEN NEF PARTY Angoulème, Poitou-Charentes
Jul 18 2009 MELT! FESTIVAL
Jul 19 2009 LATITUDE FESTIVAL – MAIN STAGE Henham Park / Southwold
Jul 24 2009 SECRET GARDEN FESTIVAL, CAMBRIDGESHIRE East Anglia
Jul 25 2009 CAMP BESTIVAL – UK Lulworth Castle, Dorset, Southwest
Aug 01 2009 HOCKEY RINK Jakarta
Aug 03 2009 THE PALACE Melbourne
Aug 05 2009 ENMORE THEATRE Sydney
Aug 07 2009 SUMMERSONIC TOKYO Tokyo, Tokyo
Aug 08 2009 SUMMERSONIC OSAKA Osaka, Osaka
Aug 20 2009 LAUSANNE FOR NOISE FESTIVAL Lausanne
Aug 21 2009 PUKKELPOP FESTIVAL Kiewit
Aug 22 2009 V FESTIVAL CHELMSFORD Hylands Park
Aug 23 2009 V FESTIVAL STAFFORDSHIRE Weston Park
Oct 02 2009 Austin City Limits Festival Austin, Texas
Oct 13 2009 LE ROCKSTORE Montpellier, Languedoc-Roussillon
Oct 14 2009 LE TRANSBORDEUR Lyon, Rhône-Alpes
Oct 15 2009 LA LAITERIE Strasbourg, Alsace
Oct 16 2009 L'AERONEF Lille
Oct 17 2009 LE CARGO Caen
Oct 19 2009 ZENITH Paris, Ile-de-France
Oct 20 2009 ROCK SCHOOL BARBEY Bordeaux, Aquitaine
Oct 21 2009 LE BIKINI Toulouse
Oct 22 2009 L'OLYMPIC Nantes
Oct 24 2009 O2 Academy 2 Birmingham
Oct 25 2009 ARCHES Glasgow
Oct 26 2009 O2 ACADEMY Bristol
Oct 27 2009 ACADEMY 2 Manchester
Oct 28 2009 O2 ACADEMY BRIXTON London, London and South East
Nov 09 2009 ROCKEFELLER Oslo, Oslo
Nov 10 2009 VEGA Copenhagen