Pixies – Minotaur Box Set (Limited Edition)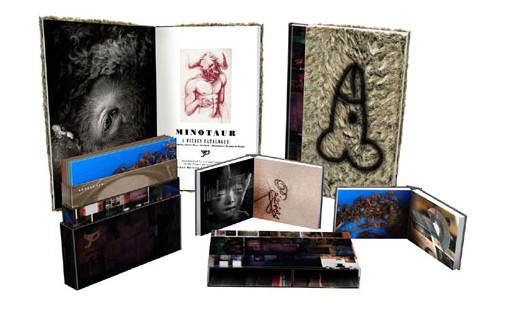 ProductShopNYC favorite Pixies, are planning a special set of European dates to coincide with the release of their new comprehensive box set entitled Minotaur and the 20th anniversary of the release of their classic album, Doolittle. For the Doolittle tour, the Pixies will perform all of the songs from Doolittle and its related B-sides. The press release announcing the tour coyly stated that "[t]here are no plans at current time to bring the tour to North American audiences." But let's face it, I'd imagine it would be pretty hard for the band to pass up the payday that would result from touring the US. In fact, ProductShopNYC recently reported a rumored New Year's Eve date at MSG.
While the Pixies appear not to have any US tour plans for Doolittle, Black Francis side project Grand Duchy will be hitting the road fairly soon to and making stops in both Brooklyn (Siren Festival) and Hoboken (Maxwell's) to promote their recently released album, Petit Fours. Speaking of new albums, in a recent interview with NME.com Black hinted that the Pixies are planning to record new album (the first since 1991's Trompe Le Monde) with a Hollywood film director. If you read the whole article, it seems like the plans for the new record are still pretty speculative at this point, but in the meantime Pixies fans can savor the fruits of the past.
Pixies and Grand Duchy tour dates and more information on the Minotaur box set after the jump.
Pixies 2009 Tour Dates
10/01 – Dublin, Ireland – Olympia
10/02 – Dublin, Ireland – Olympia
10/4 – Glasgow, Scotland – SECC
10/6-10/09 – London, England – Brixton Academy
10/11 – Frankfurt, Germany – Jahrunderhalle
10/13 – Amsterdam, Netherlands – Heineken Music Hall
10/14 – Brussels, Belgium – Forest National
10/15 – Paris, France – Zenith
Grand Duchy 2009 Tour Dates
07/06 – Edmonton, Alberta – Starlight (Black Francis only)
07/07 – Calgary, Alberta The Grand (Black Francis only)
07/08 – Regina, Saskatchewan – The Exchange (Black Francis only)
07/10 – Minneapolis, MN – Triple Rock (Black Francis only)
07/11 – Madison, WI – High Noon (early show) (Black Francis only)
07/14 – Pittsburgh, PA – Club Cafe (Black Francis only)
07/15 – Easton, MD – Avalon Theatre (Black Francis only)
07/16 – Washington, DC – Black Cat
07/17 – Hoboken, NJ – Maxwell's
07/18 – Brooklyn, NY – Siren Festival
07/19 – Cambridge, MA – Middle East
07/20 – Wellfleet, MA – Beachcomber (Black Francis only)
07/23 – Cleveland, OH – Grog Shop (Black Francis only)
07/24 – Chicago, IL – Subterranean
07/25 – Chicago, IL – Wicker Park Festival
07/29 – Denver, CO – Walnut Room (Black Francis only)
08/02 – Seattle, WA – Triple Door (Black Francis only)
08/04 – Portland, OR – Aladdin Theatre (Black Francis only)
Pixies: Minotaur – Limited Edition

The definitive Pixies collector's piece. Minotaur is curated by legendary graphic designer, Vaughan Oliver, who in connection with photographer Simon Larbalestier, created the album artwork for all five Pixies' studio albums. Oliver and Larbalestier have teamed up once again on Minotaur, to create their largest single body of Pixies work to date.

Includes all five Pixies' studio albums (Come on Pilgrim, Surfer Rosa, Doolittle, Bossanova, and Trompe le Monde) in the following formats: 24k gold plated CD's; five 12″ – 180 gram virgin vinyl LP's cut from the original analog tapes; Blu-ray audio mastered for 5.1 surround sound and 2 channel stereo at 24/192; DVD mastered for 5.1 surround sound and 2 channel stereo at 24/96. Also included is the previously unreleased Pixies 1991 live performance from Brixton, on both Blu-ray and DVD, mastered for 5.1 surround sound at 24/192 and 24/96, respectively. All discs are housed in a custom designed folio.

In addition to reinterpreting all of the original album covers, Oliver's and Larbalestier's extensive work is featured in a 96-page fine art book, measuring 22″ x 14″ inches, and an additional 54-page book, measuring 7.75″ x 8.25″. Also included is a 12″ x 19.5″ giclee print of the duo's work, and two double-sided fold-out posters measuring 48″ x 36."

Each copy of the Limited Edition is individually numbered, and hand-signed by every member of the Pixies and Vaughan Oliver. Additionally, at random, 25 of the 3000 Limited Edition sets will include test pressings of the vinyl albums. Housed in an oversized clamshell case and weighing over 25 pounds, Minotaur ships via Federal Express or UPS worldwide.

*This is a pre-order and will ship no later than October 15, 2009. Artwork subject to change. Limit 2 per customer.

Price: $495.00

Pixies: Minotaur – Deluxe Edition

A must have for any Pixies fan. Minotaur is curated by legendary graphic designer, Vaughan Oliver, who in connection with photographer Simon Larbalestier, created the album artwork for all five Pixies' studio albums. Oliver and Larbalestier have teamed up once again on Minotaur, to create their largest Pixies body of work to date.

Includes all five Pixies' studio albums (Come on Pilgrim, Surfer Rosa, Doolittle, Bossanova, and Trompe le Monde) in the following formats: 24k gold plated CD's; Blu-ray audio mastered for 5.1 surround sound and 2 channel stereo at 24/192; DVD mastered for 5.1 surround sound and 2 channel stereo at 24/96. Also included is the previously unreleased Pixies 1991 live performance from Brixton, on both Blu-ray and DVD, mastered for 5.1 surround sound at 24/192 and 24/96, respectively. All discs are housed in a custom designed folio. Also included is a 7.75″ x 8.25," 54-page book featuring the duo's work.

The Deluxe Edition is housed in a custom designed dual-chambered slipcase. Weighs approximately 6 pounds and ships via Federal Express or UPS worldwide.

*This is a pre-order and will ship no later than October 15, 2009. Artwork subject to change

Price: $175