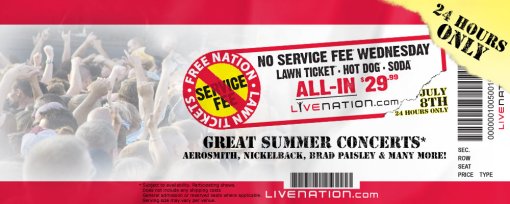 This Wednesday, Live Nation is adding a new wrinkle to its "No Service Fee" promotion, and offering concert goers a "one price" deal on all lawn tickets at Live Nation ticketed amphitheaters.
"Now fans have asked that we take it one step further and give a truly all-in price and so this week we're offering a $29.99, one price deal that includes the ticket, parking, all fees and a concert meal."
In other news, the very same Live Nation is being sued by a New Jersey resident over its so-called "No Service Fee" Wednesday's promotion:
A Freehold concertgoer is the lead plaintiff in a class action lawsuit against Live Nation that accuses the company, which manages the PNC Bank Arts Center, of violating state consumer protection laws by padding ticket prices for events at the Holmdel amphitheater.

The lawsuit, filed in Superior Court in Mercer County last week, claims Live Nation uses deceptive pricing practices, including charging a mandatory parking fee (typically $6 a ticket) regardless of the ticket holder's intent to park a car at the venue, and a "charity fee" of between 25 cents and $1.25 without identifying any organization benefiting from the fee. NJ.com
Locally, the new "all-in $29.99 concert experience" would include tickets for shows at Jones Beach and the PNC Bank Arts Center. Tickets for this week's installment of "No Service Fee Wednesday" go on sale at 12:01 a.m. local time on July 8, 2009 at LiveNation.com. See some of the artists you might find at these shows after the jump.
This all-in $29.99 concert experience is available only at Live Nation amphitheaters in the U.S. and Canada for concerts including, but not limited to artists like:

311
Aerosmith
The Allman Brothers Band
Blazed & Confused Tour / Slightly Stoopid – Snoop Dogg
blink-182
Brad Paisley with Dierks Bentley
Coldplay
Creed
Crosby Stills & Nash
Crue Fest 2
Def Leppard with Poison and Cheap Trick
Depeche Mode
The Fray
George Strait with Blake Shelton and Julianne Hough
Incubus
Jason Mraz
Kid Rock & Lynyrd Skynyrd
The Killers
New Kids on the Block
Nickelback
No Doubt
O.A.R.
Rascal Flatts with Darius Rucker
REO Speedwagon & Styx
Rockstar Energy Drink Mayhem Festival featuring Marilyn Manson & Slayer
Rod Stewart
Toby Keith with Trace Adkins

*Subject to availability. Participating shows. Does not include any shipping costs. General admission or reserved seats where applicable. Serving size may vary per venue.