Fritz Helder and the Phantoms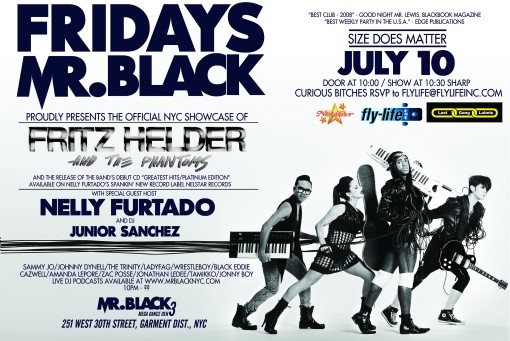 Canadian electro-pop collective Fritz Helder and the Phantoms are playing their first "official NYC showcase" tonight (July 10) at Mr. Black 3 and Canadian pop star Nelly Furtado will be in the house as well*. Fritz Helder's debut album, the humoursly titled, Greatest Hits (Platinum Edition), dropped on July 7, 2009 on Nelly Furtado's newly created Nelstar Music label, which appears to be an imprint of Last Gang Records or something like that. To attend the event RSVP to Flylife@Flylifeinc.com.
* OK, sometimes I post events because they are cool and I definitely want to attend them, and sometimes I post them because they are interesting looking but I have no plans on attending, and other times I just want to give a shout out to my Canadian homies. I'll let you guess what category this one falls into.