Michael Showalter at Tearing The Veil of Maya at The Bell House (07/19/09)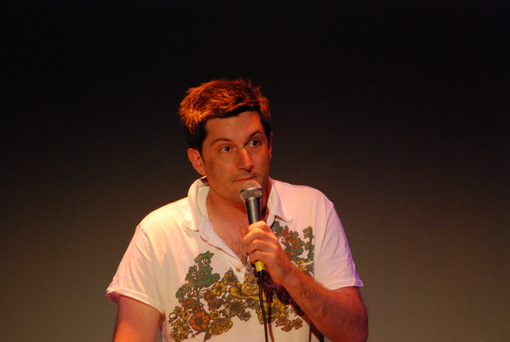 Michael Showalter was on hand last night (Jul 19) at the Bell House to celebrate the 3rd Anniversary of Tearing The Veil of Maya (a weekly comedy show Union Hall he used to regularly co-host), he was also there last Wednesday to launch his new television show Michael and Michael Have Issues, which just happened to premiere the day after his very first sketch comedy show, The State, came out on DVD. (Really, you think you could do it in less steps?)
As fans of the show may be keenly aware, the path to this highly anticipated DVD release was not an easy one nor a short one, and that's why I'm pretty psyched to be giving away two awesome "The State" themed prize packs which include:
• The State Complete Series on DVD
• The State Poster (pictured below left)
• The State T-shirt (pictured below center)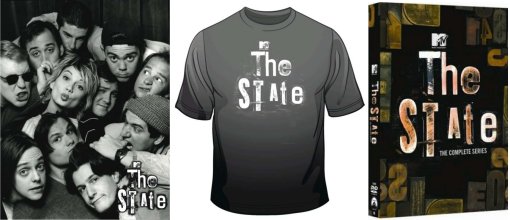 To enter to win a prize pack just send an email with your name and address to contests@bumpershine.com and tell me the name of your favorite The State cast member. A random winner will be picked on Monday, July 27. (Please note: This contest is open to US entrants only.)
Watch "The Pope's Visit" sketch or explore The State widget after the jump. More pics from The Tearing Veil of Maya 3rd Anniversary Show at the Bell House coming in a separate post.
PS The NYTimes is running a series of "State Secrets" posts on their ArtsBeat blog, you can check those out over here.