It's Wednesday, so let's get to the Siren posts already, OK? -ed.
Built To Spill at Siren Music Festival (07/18/2009)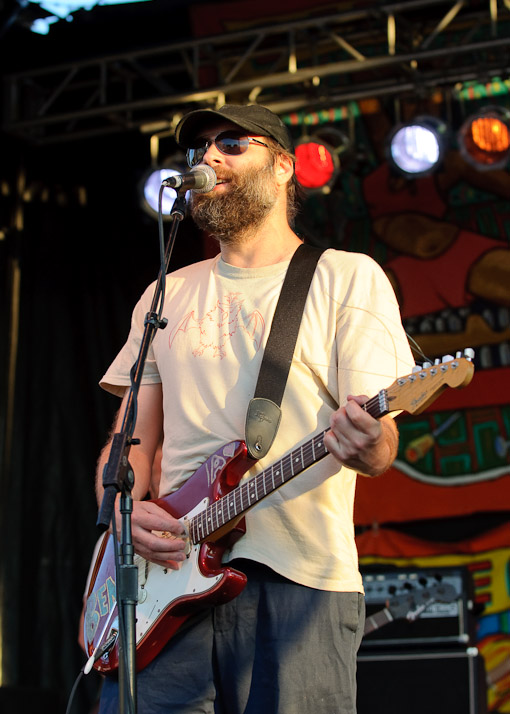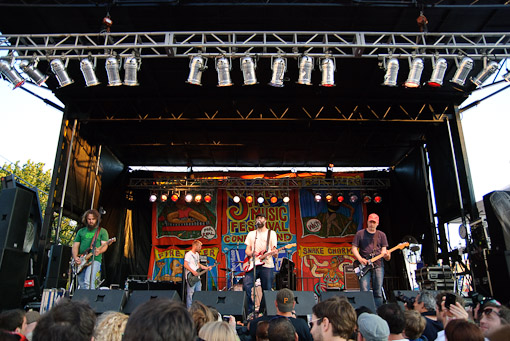 Photos: Jon Klemm
Built to Spill took the stage to play the last set, just as the sky was changing from day to eve and the Cyclone lights flickered on. The band that inspired Modest Mouse, Death Cab, and the ubiquitous Northwest Sound that followed, played for over two hours. They played everything you'd ever want to hear, giving the crowd just what they came for. Everyone knew every lyric. You almost didn't belong if you didn't. The first note of "Carry the Zero" dropped and the hardcores were high-fiving. Doug Martsch turned four-minute songs into eleven-minute epic guitar jams busting string after string as fireworks blossomed in the purple sky overhead and lovers clutched each other closer. It was ridiculously magical. People were literally turning to the stranger next to them with Cheshire cat grins. And again, nine years later, I'm asking, "Do I really live here?" [PopWreckoning.com]
Built to Spill are currently finishing up their new record called There Is No Enemy, which is coming out in October on Warner Bros. Records. To celebrate the album's release, they're playing four nights in New York; October 12 & 13 at Webster Hall and October 14 & 15 at MHOW (Buy Tickets).
More Built To Spill pictures and tour dates after the jump.
Built to Spill 2009 Tour Dates
07/24/09 Capitol Hill Block Party Seattle, Washington
08/20/09 Edge Field Troutdale, Oregon
08/23/09 Sunset Junction Los Angeles, California
08/24/09 The Casbah San Diego, California
08/25/09 Galaxy Concert Theatre Santa Ana, California
08/26/09 Belly UP Tavern Solana Beach, California
08/28/09 Polo Field at Golden Gate Park San Francisco, California
10/12/09 Webster Hall New York, NY
10/13/09 Webster Hall New York, NY
10/14/09 Music Hall of Williamsburg New York, NY
10/15/09 Music Hall of Williamsburg New York, NY