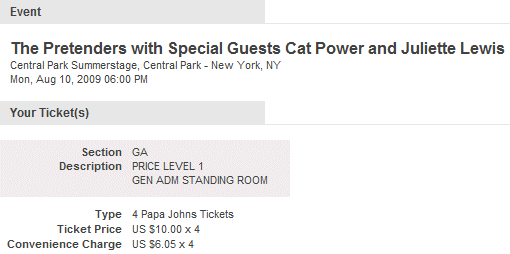 Well, you have to order 4 tickets for $40 to net out to $10 a piece, but that's still less than the cost of 1 full price ticket to the show (currently $49.50 + service fees). Use code PAPAJ when buying your tickets to get the $10 deal. If you don't feel like saving as much money, you can also currently purchase 4 tickets for the price of 3 without using any password at all (or you can use the password SummerStage for the CPSS 4 for 3 discount).
Buy $10 Pretenders Tickets (Password: PAPAJ)
OK, so two things here, 1) if I had ordered full price tickets to this show, I'd be very,very pissed off right now, and 2) how did they underestimate the draw of these performers so badly? Oh well, just put that one in the "Another Live Nation Fiasco" file I guess.