Cage The Elephant at All Points West (08/01/09)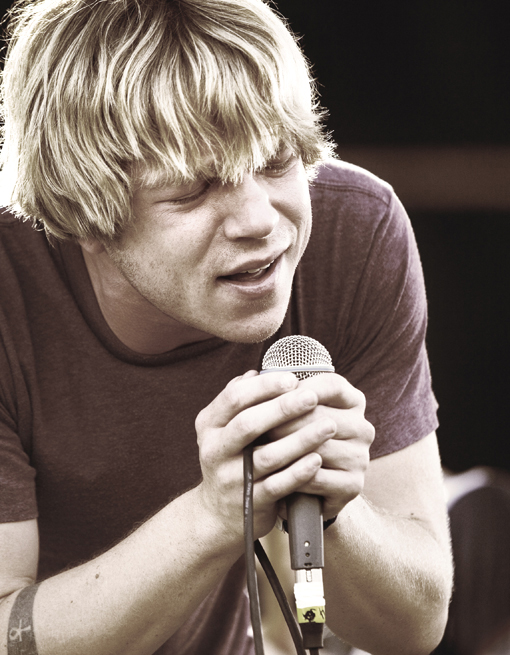 Photos: G!
I wasn't really familiar with the Bowling Kentucky's Cage The Elephant before All Points West, but I liked what I heard on MySpace enough to ask Greg to snap some photos of them on Saturday. Apparently the folks from Dave Letterman liked what they heard too, because the band was invited to make their network television on The Late Show just a couple of days before the festival. Cage The Elephant is currently on tour with Silversun Pickups and Manchester Orchestra they appear to have landed a headlining gig at the Bowery Ballroom on October 19. The reason I say "appear" instead of something more definitive, is that all info regarding that show seems to have disappeared from the Bowery's website, leading me to believe that it has been cancelled.
More Cage The Elephant tour dates and shots from their All Points West set after the jump.
2009 Cage the Elephant Tour Dates
Aug 10 2009 State Theatre Minneapolis, Minnesota
Aug 12 2009 The Garrick Centre Winnipeg, Manitoba
Aug 13 2009 Louis' Pub Saskatoon, Saskatchewan
Aug 14 2009 Edmonton Event Centre Edmonton, Alberta
Aug 15 2009 MacEwan Hall Calgary, Alberta
Aug 17 2009 The Royal Theatre Victoria, British Columbia
Aug 18 2009 The Commodore Ballroom Vancouver, British Columbia
Aug 19 2009 The Commodore Ballroom Vancouver, British Columbia
Aug 21 2009 McDonald Theatre Eugene, Oregon
Aug 22 2009 WashingtonCounty Fairgrounds Hillsboro, Oregon
Aug 23 2009 Showbox At The Market Seattle, Washington
Aug 24 2009 The Blvd Spokane, Washington
Aug 26 2009 Vixens Sparks, Nevada
Aug 27 2009 Jerry's Pizza Bakersfield, California
Aug 30 2009 Outside Lands Music & Arts Festival San Francisco, California
Sep 12 2009 Verizon Wireless Music Center Indianapolis, Indiana
Sep 14 2009 Bogart's Cincinnati, Ohio
Sep 15 2009 The Orbit Room Grand Rapids, Michigan
Sep 16 2009 The Club Green Bay, Wisconsin
Sep 18 2009 Sokil Auditorium Omaha, Nebraska
Sep 19 2009 Hoyt Sherman Place Des Moines, Iowa
Sep 21 2009 George's Majestic Lounge Fayetteville, Arkansas
Sep 22 2009 Caine's Ballroom Tulsa, Oklahoma
Sep 23 2009 Minglewood Hall Memphis, Tennessee
Sep 25 2009 Revelation Room Little Rock, Arkansas
Sep 26 2009 Big Spring Jam Huntsville, Alabama
Sep 28 2009 Buster's Lexington, Kentucky
Sep 29 2009 Electric Cowboy Johnson City, Tennessee
Sep 30 2009 Valarium Knoxville, Tennessee
Oct 19 2009 Bowery Ballroom New York, NY