Zaza at South Street Seaport (07/10/09)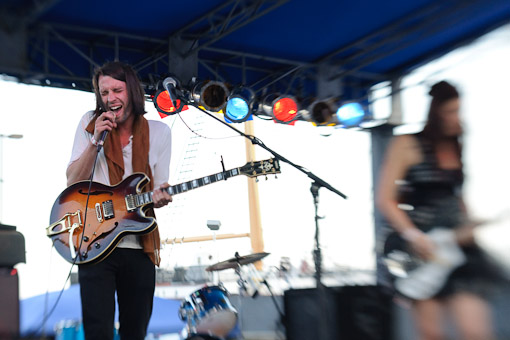 Photos: Jon Klemm
Brooklyn's Zaza recently played an opening gig for the Pains of Being Pure Heart at the South St Seaport, but on August 18 they will claim the headlining slot for themselves with the release of their debut EP entitled Cameo on Kanine Records. The EP release party for Cameo will take place at the aptly named Cameo Gallery on Friday, August 14. Check out the full lineup for the show below:
12:00am Dinowalrus (Kanine Records)
11:00pm Zaza (Kanine Records)
10:00pm Blind Man's Colour (Kanine Records)
DJs: Dj Oil (Kanine Records) and Andy French (Insound)
Cameo Gallery
93 N 6th St
Brooklyn, NY
$7
More Zaza "tour" dates, press blurbage, and photos from the Seaport gig after the jump.
Riding in on oceanic waves of drone and immense muscular drums, enter the spectral pop duo Zaza. While associated with their peers in Brooklyn's recent exploding indie-pop/shoegaze scene, Zaza sonically contrast from their guitar-pop brethren in favor of something darker, more mysterious driven by haunting, ethereal vocals and rolling, cavernous rhythms. Recently signing to Kanine Records (Chairlift, Grizzly Bear), the duo is set to release their mesmerizing debut EP "Cameo" this August.

Already met with praise for their live shows from the NY press, Zaza have been favorably compared to British dream-rock acts like Ride, Slowdive, and Cocteau Twins. However, to pigeonhole them as a late 80s/early 90s throwback doesn't do justice to how effortlessly their songs exist between hazy drones and sultry, melodic hooks. Psychedelic and radiant, the "Cameo" EP both challenges the listener while at the same time intimately inviting them in closer.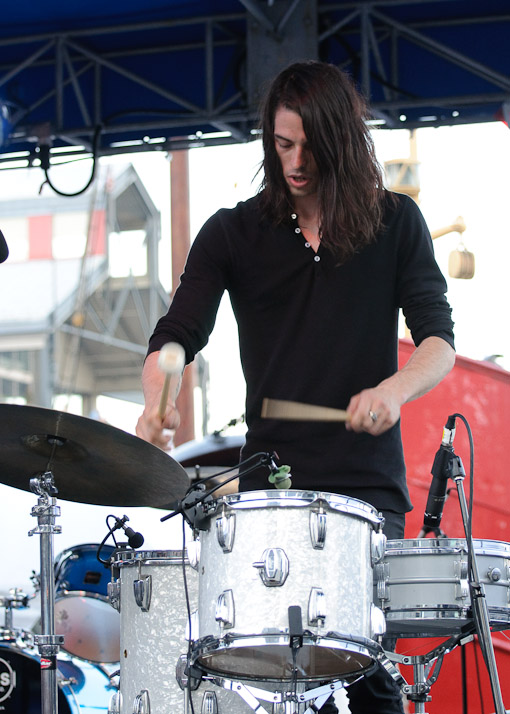 Zaza 2009 Tour Dates
Aug 14 2009 Cameo Gallery – EP Release Party Brooklyn, NY
Aug 20 2009 The Norwood Club – EP Release Party New York, NY
Sep 08 2009 Glasslands w/My Best Fiend Brooklyn, NY
Sep 30 2009 Santos Party House New York, NY
Oct 21 2009 Kanine CMJ Showcase Cake Shop New York, NY
Oct 22 2009 TBA – CMJ New York, NY
Oct 23 2009 TBA – CMJ New York, NY
Oct 24 2009 ASCAP/Deli Magazine Showcase – The Studio at Webster Hall New York, NY