WPA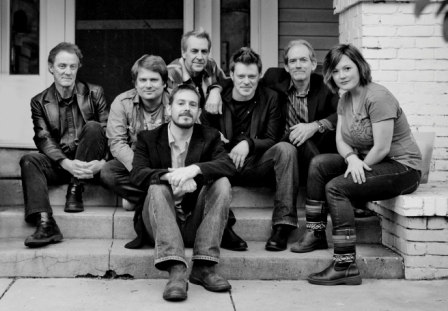 I suppose I could have also titled this one "Attention Nickel Creek Fans" or "Attention Toad The Wet Sprocket Groupies", but bumpershine is pretty much Elvis country, so when in doubt, you go with what you know. The WPA is a musical collective that (most likely) owes its genesis to 2004's The Mutual Admiration Society album and the ensuing tour with Pete Thomas and John Paul Jones. This 2009 version of this "admiration society", known as Works Progress Administration or WPA, is set to release its own debut album on September 15 via Red Music. While the core group consists of Glen Philips, Luke Bulla and Sean Watkins, on Wednesday night at Joe's Pub (Aug 19) I think we can expect to see the full band complement which includes 2/3 of Nickel Creek, 3/4 of The Mutual Admiration Society (unless Chris Thile is in town) and 1/2 of The Imposters. The WPA is about to embark on an ambitious 36 date tour which will actually bring them back to NYC on November 5 for a show at the slightly less intimate Highline Ballroom (Buy Tickets).
Works Progress Administration takes its name from FDR's 1939 New Deal initiative, which put millions to work making buildings, bridges, theater, art and music. The original WPA was rooted in the values of community and creativity, and helped to keep the fire of human dignity burning through the darkest years of the Great Depression. WPA was born out of the musical community surrounding the legendary LA club, Largo. The eight members of the band, Glen Phillips (Toad the Wet Sprocket), Sean Watkins (Nickel Creek, Fiction Family), Luke Bulla (Jerry Douglas Band, Ricky Skaggs), Sara Watkins (Nickel Creek), Benmont Tench (Tom Petty and the Heartbreakers), Greg Leisz (Joni Mitchell, Wilco, Sheryl Crow, Beck), Pete Thomas (Elvis Costello and the Imposters, Randy Newman) and Davey Faragher (Elvis Costello and the Imposters, Cracker), had known and admired each other for years, and found themselves with a strong batch of unrecorded songs, a little down time, and a collective feeling that it might be a good idea to put something on tape.
Streaming music sampler, video and more tour dates after the jump.
W.P.A. Tour 2009-2010 Tour Dates
Aug 18 2009 Eagleview Concert in the Square Exton, Pennsylvania
Aug 19 2009 Joe's Pub New York, New York
Aug 20 2009 Tupelo Music Hall w/ Antje Duvekot Londonderry, New Hampshire
Sep 06 2009 Camp Mather – Strawberry Music Festival Groveland, California
Sep 16 2009 The White Mule Columbia, South Carolina
Sep 17 2009 Lincoln Theatre Raleigh, North Carolina
Sep 18 2009 Grey Eagle Tavern Asheville, North Carolina
Sep 19 2009 Cannery Ballroom – Americana Music Festival w/ Buddy Miller Nashville, TN
Sep 20 2009 Eddie's Attic – Quartet Decatur, Georgia
Sep 20 2009 Eddie's Attic Decatur, Georgia
Sep 25 2009 Doug Fir Lounge Portland, Oregon
Sep 26 2009 Crocodile Cafe Seattle, Washington
Sep 27 2009 The WOW Hall Eugene, Oregon
Sep 29 2009 Manzanita Place Chico, California
Sep 30 2009 The Independent San Francisco, California
Oct 03 2009 The Lodge – Zoey's Cafe Ventura, California
Oct 05 2009 Largo at The Coronet Los Angeles, California
Nov 05 2009 Highline Ballroom New York, New York
Nov 07 2009 Diesel Pittsburgh, Pennsylvania
Nov 08 2009 Mountain Stage – Mountain Stage Charleston, West Virginia
Nov 10 2009 Ram's Head On Stage Annapolis, Maryland
Nov 11 2009 The Barns at Wolftrap Vienna, Virginia
Nov 12 2009 Fairfield Theatre- Stage One Fairfield, Connecticut
Nov 13 2009 Club Passim Cambridge, Massachusetts
Nov 13 2009 Club Passim Cambridge, Massachusetts
Nov 14 2009 Iron Horse Music Hall Northampton, Massachusetts
Nov 15 2009 Narrows Center For the Arts Fall River, Massachusetts
Nov 30 2009 Maintenance Shop – Maintenance Shop Ames, Iowa
Dec 01 2009 CSPS Cedar Rapids, Iowa
Dec 02 2009 Cedar Cultural Center Minneapolis, Minnesota
Dec 03 2009 High Noon Saloon Madison, Wisconsin
Dec 04 2009 Ladies Literary Club – Ladies Literary Club Grand Rapids, Michigan
Dec 05 2009 The Ark Ann Arbor, Michigan
Dec 06 2009 Old Town School Of Folk Music Chicago, Illinois
Feb 21 2010 Norweigian Cruise Lines – Cayamo Cruise Miami, Florida