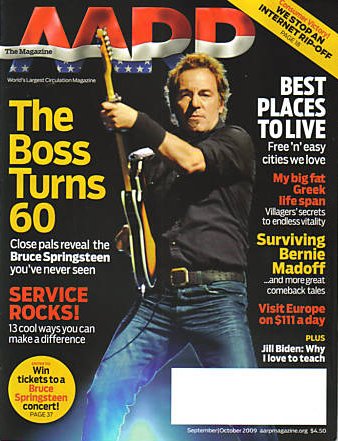 While this post was really just an excuse to put up the
AARP
cover,
The Boss
actually has made a few changes to his touring schedule lately, including adding shows in
Baltimore
in
Buffalo
and turning a couple of concerts into
Born To Run
shows. Also, it has been confirmed that tickets for the fall
Bruce Springsteen
shows at Madison Square Garden (
Nov 7-8, 2009
) go
on sale
on
September 18, 2009
.
The new shows, in Baltimore and Buffalo, will follow a rescheduled Nashville show, which was moved from its original Sept. 10 slot to Nov. 18 and christened a "Born To Run" show, wherein Springsteen and the E Street Band will perform the classic album in its entirety, along with his more traditional setlist. A new date in Des Moines, IA, has been slipped into late September, as well.

Springsteen will also be giving Chicago the "Born To Run" treatment at the Sept. 20 show in that city. [LiveDaily.com]
More Bruce Springsteen tour dates and on sale dates after the jump.
Bruce Springsteen 2009 Tour Dates
08/22 – Mansfield, MA – Comcast Center
08/23 – Mansfield, MA – Comcast Center
08/25 – Saratoga Springs, NY – Saratoga Performing Arts Center
09/12 – Tampa, FL – Ford Amphitheatre
09/13 – Ft. Lauderdale, FL – Bank Atlantic Center
09/16 – Greenville, SC – Bi-Lo Center
09/20 – Chicago, IL – United Center (Born To Run)
09/21 – Des Moines, IA – Wells Fargo Arena (on sale Aug. 22)
09/30 – East Rutherford, NJ – Giants Stadium
10/02 – East Rutherford, NJ – Giants Stadium
10/03 – East Rutherford, NJ – Giants Stadium
10/08 – East Rutherford, NJ – Giants Stadium
10/09 – East Rutherford, NJ – Giants Stadium
10/13 – Philadelphia, PA – Spectrum
10/14 – Philadelphia, PA – Spectrum
10/19 – Philadelphia, PA – Spectrum
10/20 – Philadelphia, PA – Spectrum
10/25 – St. Louis, MO – Scottrade Center
10/26 – Kansas City, MO – Sprint Center
10/29 – New York, NY – Madison Square Garden (Rock and Roll HOF 25th Ann Concert)
11/02 – Washington, DC – Verizon Center (on sale Sept. 25)
11/03 – Charlotte, NC – Time Warner Cable Arena (on sale Aug. 28)
11/07 – New York, NY – Madison Square Garden (on sale Sept. 18)
11/08 – New York, NY – Madison Square Garden (on sale Sept. 18)
11/10 – Cleveland, OH – Quicken Loans Arena (on sale Aug. 22)
11/13 – Auburn Hills, MI – Palace At Auburn Hills (on sale Aug. 22)
11/15 – Milwaukee, WI – Bradley Center
11/18 – Nashville, TN – Sommett Center (Born To Run)
11/20 – Baltimore, MD – 1st Mariner Arena (on sale Sept. 25)
11/22 – Buffalo, NY – HSBC Arena (on sale Sept. 12)