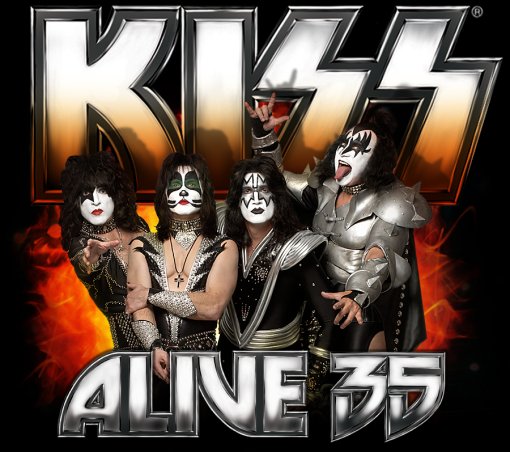 Maybe Gene Simmons got tired of emceeing porn conventions or being a "reality" TV star, but whatever the reason, Chaim and the boys are putting the makeup back on again and heading out on the road for the Kiss: Alive 35 tour. Tickets for their October 10, 2009 show at MSG go on presale starting Friday, August 28 at 10AM, the password is HEKISS; regular on sale begins August 29 at 10AM. Tickets for their other local area show at the Nassau Colliseum on October 9 go on Buckcherry presale tomorrrow (Password: STARCHILD) and the regular on sale also begins August 29 at 10AM.
Aside from the aforementioned tour dates, there is also a new KISS album in the works.
Last week, the band announced that "Sonic Boom," the first new KISS studio album since 1998's "Psycho Circus," will be sold in the US and Canada exclusively at Walmart, Walmart.com and Sam's Club stores.

The new album will be part of a three-disc set scheduled for release Oct. 6. Filling out the package, which will sell for $12, will be a re-recorded greatest hits CD and a live DVD shot in Argentina during the band's recent "KISS Alive 35" South American tour.

"Sonic Boom" was produced by KISS co-founder Paul Stanley in Los Angeles. Filling out the band's lineup are fellow co-founding member Gene Simmons, along with guitarist Tommy Thayer and drummer Eric Singer, who replace departed original members Ace Frehley and Peter Criss, respectively. [LiveDaily.com]
All upcoming KISS tour dates after the jump.
Kiss: Alive 35 Tour Dates
09/25/09 Detroit, MI Cobo Arena
09/26/09 Detroit, MI Cobo Arena
09/28/09 Cleveland, OH Quicken Loans Arena On Sale 08/29/09
10/02/09 Toronto, ON Air Canada Centre On Sale 08/29/09
10/03/09 Uncasville, CT Mohegan Sun Arena On Sale 08/29/09
10/05/09 Boston, MA TD Garden On Sale 08/29/09
10/09/09 Long Island, NY Nassau Coliseum (Presale 08/28/09, On Sale 08/29/09)
10/10/09 New York, NY Madison Square Garden (Presale 08/28/09, On Sale 08/29/09)
10/13/09 Washington, DC Verizon Center On Sale 08/29/09
10/16/09 Hampton, VA Hampton Coliseum On Sale 08/29/09
10/17/09 Greenville, SC BI-LO Center
10/19/09 Pensacola, FL Pensacola Civic Center
10/21/09 Tampa, FL St. Pete Times Forum
10/22/09 Sunrise, FL Bank Atlantic Centre
10/24/09 Birmingham, AL Birmingham Jefferson Arena
10/26/09 Atlanta, GA Philips Arena
10/28/09 Nashville, TN Sommet Center
10/29/09 Little Rock, AR Verizon Arena
10/31/09 New Orleans, LA Voodoo Experience
11/06/09 Chicago, IL United Center
11/07/09 Minneapolis, MN Target Center
11/09/09 Winnipeg, MB MTS Centre
11/10/09 Saskatoon, SK Credit Union Centre
11/12/09 Calgary, AB Pengrowth Saddledome
11/14/09 Vancouver, BC General Motors Place
11/15/09 Seattle, WA Key Arena
11/17/09 Portland, OR Rose Garden
11/20/09 Sacramento, CA ARCO Arena
11/21/09 Oakland, CA Oracle Arena
11/24/09 Anaheim, CA Honda Center
11/25/09 Los Angeles, CA Staples Center
11/27/09 San Diego, CA Sports Arena
12/01/09 Glendale, AZ Jobing.com Arena
12/02/09 El Paso, TX UTEP Special Events Center
12/04/09 Austin, TX Frank Erwin Center
12/05/09 Houston, TX Toyota Centre
12/06/09 Dallas, TX American Airlines Centre