Hannibal Buress at Union Hall (05/18/08)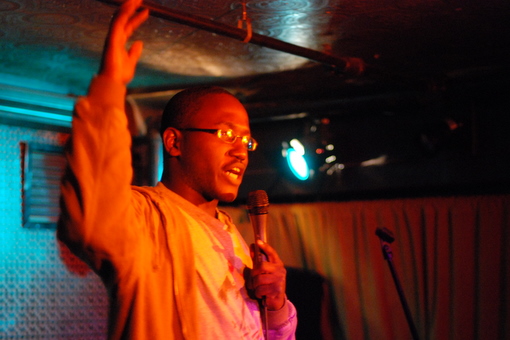 Congratulations to Hannibal Buress, who for my money, has been one of the funniest guys to play the NYC indie comedy circuit (if there is such a thing) in the last year or so. I know it's a tall order, but hopefully he can use his flare for "comedic jokes" to restore SNL to a little bit of its former glory.
It's been a whirlwind of a month for Buress. He performed on Late Night With Jimmy Fallon on Aug. 5, then continued a stand-up tour that brought him to Chicago to open for John Oliver last weekend; he sent out a tweet Sunday afternoon stating, "I'll be writing on this season of SNL. Lots of elaborate poop sketches will be pitched this season." He told The A.V. Club that the SNL job came about because of his Late Night performance, and that he'll be starting on Monday, working six days a week, every week, unless the show is taking a break. He'll continue to perform his absurdist, cerebral stand-up at night. [The Onion AV Club – Chicago]
Watch the video of Hannibal on Fallon that helped him land the writing gig after the jump.
PS Along with Kumail, Hannibal absolutely killed during his set at the ECNY Awards showcase show at Comix last night.