Wakey!Wakey!


DOWNLOAD: Wakey!Wakey! – Wakey!Wakey! Wednesdays (Free Covers LP)
Parachute Musical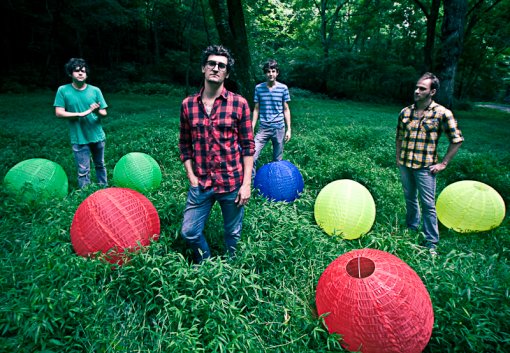 DOWNLOAD: Parachute Musical – Seasons Greetings (Free EP)
Keegan DeWitt


DOWNLOAD: Keegan DeWitt – "Telephone" (mp3)
Hey everyone, I'm pleased to announce that I'm sponsoring a little show this Sunday (September 13) over at Public Assembly featuring perennial Bumpershine favorites, Wakey! Wakey!, Nashville's hardest working band, Parachute Musical, and film composer turned pop songwriter Keegan DeWitt. Though Keegan DeWitt and Mike Grubbs (Wakey!Wakey!) are both NYC based artists, this show is actually part of a joint tour that coincides with the release of Keegan's new CD, Islands, which comes out on September 15 on Izumi Records. All the details are below, hope to see you there!
Wakey! Wakey!, Parachute Musical, Keegan DeWitt
Date: Sunday, September 13
Where: Public Assembly
70 N 6th St, Brooklyn, NY
Set Times: 8PM Keegan DeWitt / 9PM Parachute Musical / 10PM Wakey!Wakey!
Tickets: $8 at the door
All tour Wakey! Wakey!, Keegan DeWitt, Parachute Musical tour dates and more info on each band after the jump.
Wakey!Wakey!, Keegan DeWitt, Parachute Musical September 2009 Tour Dates
09/11 Metro Gallery, 9pm (Baltimore, MD)
09/12 Cafe 939, 8pm (Boston, MA)
09/13 Public Assembly, 8pm (Brooklyn, NY)
09/14 Northstar Bar, 7pm (Philadelphia, PA)
09/16 The Nightlight, 9pm (Chapel Hill, NC)
09/17 The Evening Muse, 9pm (Charlotte, NC)
09/18 Rocket Club, 10pm (Asheville, NC)
09/19 12th & Porter (Nashville, TN)
WAKEY!WAKEY!
Wakey!Wakey! is Michael Grubbs (songwriting/vocals/keys), a NYC songwriter who blends gorgeous songcraft with a potent sense of humor to create original, heartfelt songs that cause listeners to stop what they are doing and turn themselves over completely and totally to his storytelling. While W!W! may call Brooklyn home, his appeal reaches far beyond his borough. Coupled with near constant performing around the Northeast and sharing bills with the likes of indie darlings Rogue Wave, I'm From Barcelona, Someone Still Loves You Boris Yeltsin, AA Bondy, Jukebox the Ghost, and Heloise and the Savoir Faire, Wakey!Wakey! earns new fans each and every time he takes the stage.
PARACHUTE MUSICAL
Nashville, Tennessee's Parachute Musical have sold out several hometown shows and been guests on countless big bills such as Next BIG Nashville, The Atlantis Music Conference in Georgia, and POPAsheville Festival. Their sophomore release Everything Is Working Out Fine In Some Town received extensive positive press. The energetic, catchy sounds of the piano-based indie band are coming to a town near you this year.
Parachute Musical has been compared to heavy hitters such as Ben Folds, Rufus Wainright, and Say Anything. DC-native and front man Josh Foster (piano, vocals) has perfected the art of crafting undeniably listener friendly songs. Emotionally charged lyrics and upbeat tempos that refuse to leave you any other option than dancing and singing along have created the signature sound of
Parachute Musical.
The combination of perfect pop songs and the notably stylish, charismatic presence of Foster, accompanied by Tom Gilbert (guitar), Ben Jacoby (drums), and Andrew Samples (bass) provides Parachute Musical with the elusive formula for success in the independent music scene. 2009 holds a tentative schedule for U.S. touring to include 200 plus dates in support of Everything Is Working Out Fine In Some Town. A continuously updated tour schedule can be found at www.parachutemusical.com
KEEGAN DEWITT
From the sad simplicity and grace of his NY Times heralded film scores to the ornate and diverse string sections ringing throughout his brand new LP "ISLANDS", Keegan DeWitt is someone who represents the human heart in all it's variations. A native son to Portland, Oregon, Keegan is a self-taught artist who began studying music, literature, and film at an early age. Graduating early from a fine arts high school, Keegan left home at 17 to attend the exclusive SUNY Purchase Film Conservatory and then the Atlantic Theater Company to study directing and acting. Throughout this time Keegan was making a name for himself as a film score composer and developing his talents as a performing songwriter in New York's Lower East Side. With an industrious and tireless work ethic he simultaneously landed high profile support slots for the likes of Rhett Miller and Roman Candle and composed films scores that include the Independent Spirit Award nominee and NY Time's Critic's Pick "Quiet City".
Keegan's latest release, "ISLANDS" offers something truly unique to the musical landscape melding the small intimate moments of his cinematic eye with the unique and orchestral touches of his musical side. Keegan's textured voice speaks to the folk-like immediacy of the work while the classic structure of the material shows a deep love for artists as timeless as Sam Cooke or Brian Wilson. Whether on the baroque waltz of "Telephone", the Jim O'Rourke-like thumping rhythms of "The Clutter" or the sweeping moves of "Come Celia", Keegan's newest LP shows all of his diverse experiences vibrantly at work.
With such a storied background, "ISLANDS" marks Keegan's official debut. Available only as 12″ vinyl in independent record stores or digitally, "ISLANDS" will be released on Sept 15, 2009 via Izumi Records (Duke Special, Ian Archer, The Mummers). On tour all year in the US and Europe, Keegan is an artist you'll want to see for yourself with the strings filling the room, the piano hammers jumping, and the human heart fully present.