They Might Be Giants at Prospect Park (07/11/09)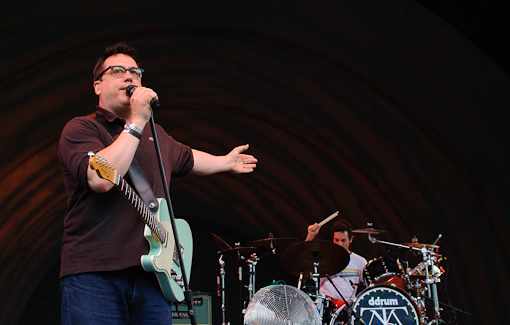 Here Comes Science, the latest kids offering from Brooklyn's They Might Be Giants is available now on CD and DVD exclusively at Amazon.com (it was pushed back a week at the last minute) and also as an audio and video download at the iTunes store. The rest of the world will have to wait until September 22, 2009 to get their copies.
In all honesty, TMBG at Prospect Park was the most fun I've had at a concert (kid friendly or otherwise) in a long, long time. I haven't heard HCS in full yet, (it's coming in tomorrow according to UPS), but if the song "I Am Paleontologist" is any indication (which was the one new track they played at Prospect Park), it should be another hit around here with the both grown ups and kids alike. On a final, and somewhat disturbing note, after perusing some of the reviews on Amazon.com, I wouldn't be at all surprised if Fox News and the conservative media machine latch on to this record in the worst possible way. Check out one disappointed buyer's comment:
I absolutely love They Might Be Giants, so this is with a heavy heart that I rate this with only 2 stars.

The album starts with a song called "Science is Real". Who said science wasn't real? As opposed to what? Oh, religion! Here's a lyric from the song: "I like the STORIES about ANGELS, unicorns and elves. I like the stories as much as anybody else. But when I'm seeking knowledge, even simple or abstract, the FACTS are with SCIENCE." Did they really feel it necessary to include angels in the list of make-believe characters? The video (which is on the DVD) even depicts an angel.
…
It feels like they went out of their way to insult and alienate people that may not have the same point of view as them. There are so MANY things about science they could've written about, I just think it's sad this is what they came up with. When making a CD for kids, why push so many hot-button issues? [G. Grafath on Amazon.com]
It looks like some of the YouTube comments are heading down that road as well:
hmm… interesting. i've never heard a kid's song with such an atheistic undertone to it before. [danouttatown on YouTube.com]
There's no doubt that Disney and TMBG have a good thing going, the records sell well, the TV theme songs are huge hits, and They Might Be Giants are probably more popular now than they ever have been, but the House of Mouse doesn't like to court controversy and if this thing blows like I fear it will, I'm a little leery of what Disney's reaction might be. The suits at Disney Sound must have heard this album before it was released, and the fact that the record is being put out "as is" should stand as a testament to their belief in John and John. Hopefully, if the heat gets turned up on this one, Disney will stand behind their artists and not use some kind of "Code of Conduct" excuse to pull the rug out from under the band. (I mean if Vanessa Hudgens can have multiple sets of naked pictures floating around and still not get canned, then this should be cake right?) I guess we'll see how all this plays out in the next couple of days/weeks, but whatever the result, I'm sure the coverage will be extremely "fair and balanced".
Updated TMBG tour schedule, two new videos and a bunch more pictures of their Celebrate Brooklyn! show after the jump.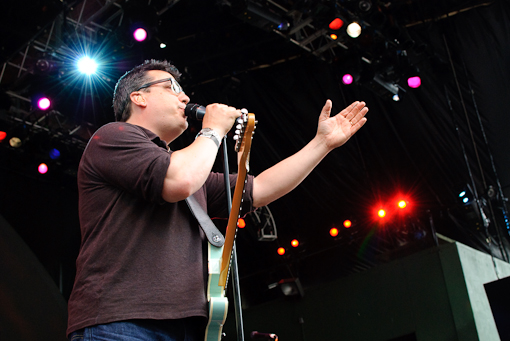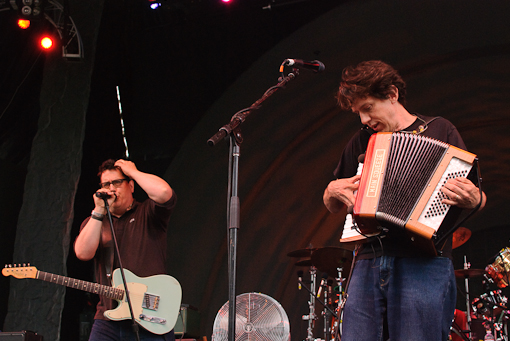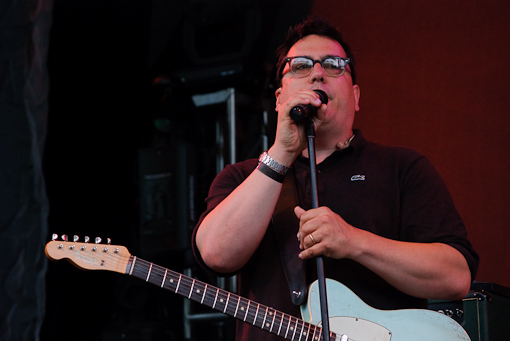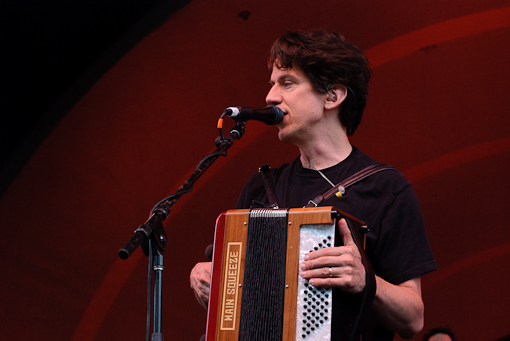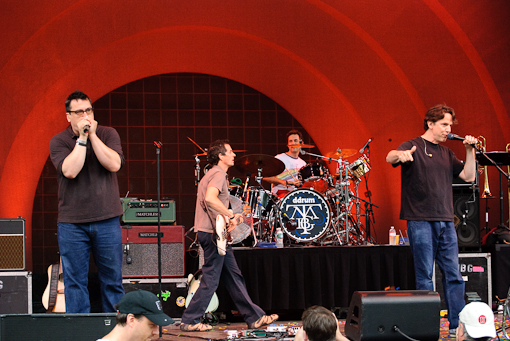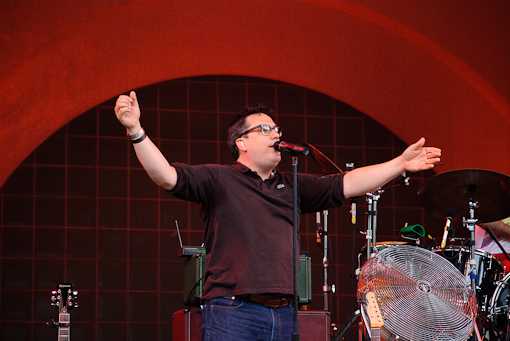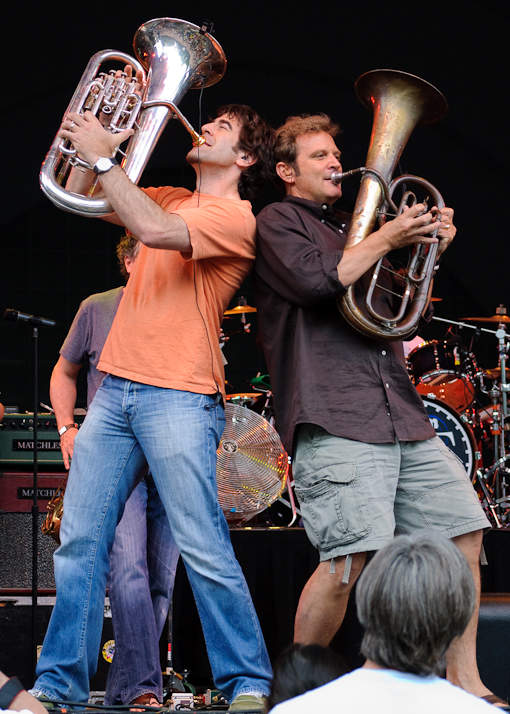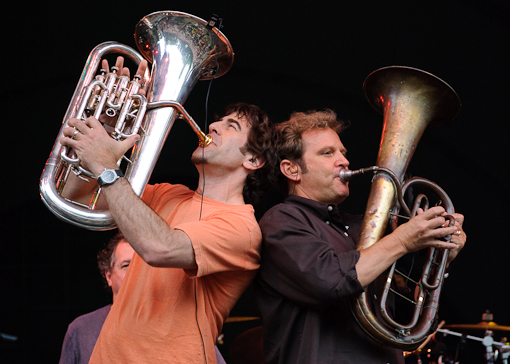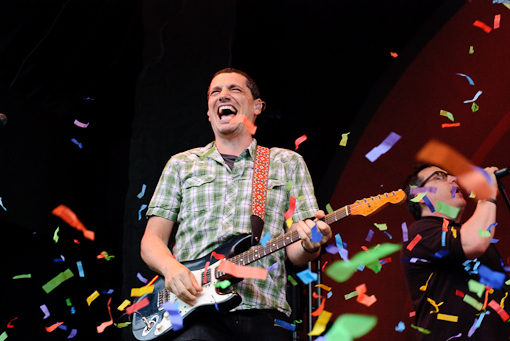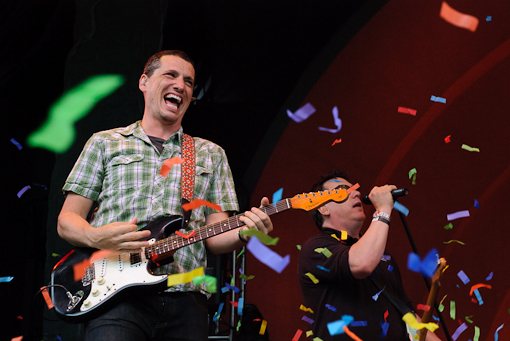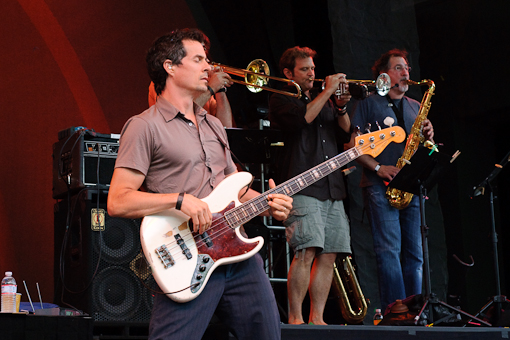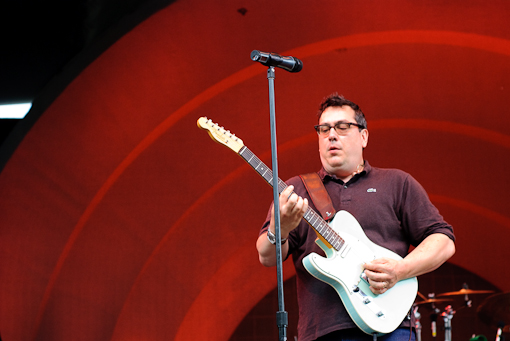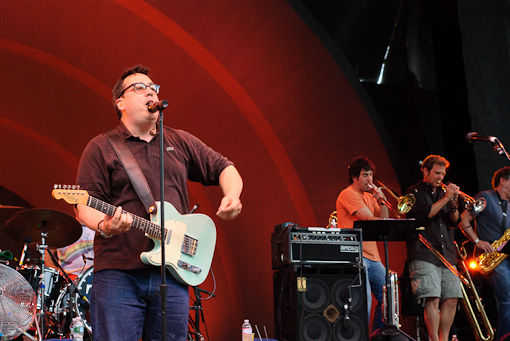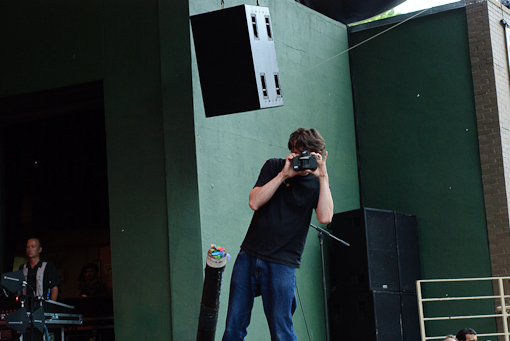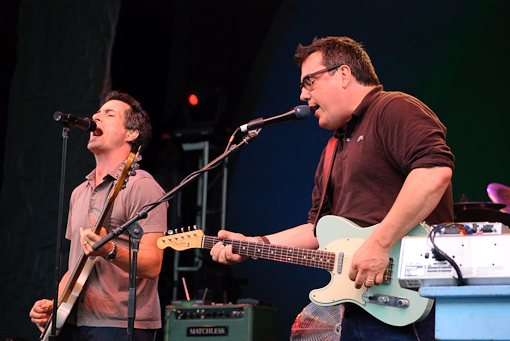 They Might Be Giants 2009 Tour Dates
Sep 13 2009 1:00P Oak Ridge Park – Musicfest 2009 Clark, New Jersey
Sep 19 2009 4:00P North Carolina Museum of Art – Family Show Raleigh, North Carolina
Sep 19 2009 8:00P North Carolina Museum of Art Raleigh, North Carolina
Oct 01 2009 8:00P State Theatre Ithaca, New York
Oct 01 2009 8:00P State Theatre Ithaca, New York
Oct 02 2009 8:00P The Egg – Special Flood Show! Albany, New York
Oct 03 2009 1:00P The Egg – Family Show Albany, New York
Oct 04 2009 6:00P American Museum of Natural History New York, New York
Oct 04 2009 8:00P American Museum of Natural History New York, New York
Oct 08 2009 7:00P St. Andrews Hall Detroit, Michigan
Oct 09 2009 8:00P The Pageant – Special Flood Show! St. Louis, Missouri
Oct 10 2009 3:00P Vic Theatre – Family Show Chicago, Illinois
Oct 10 2009 8:00P Vic Theatre – Flood Show Chicago, Illinois
Oct 11 2009 8:00P Barrymore Theatre Madison, Wisconsin
Oct 13 2009 8:00P The Vogue Indianapolis, Indiana
Oct 15 2009 8:00P Beachland Ballroom & Tavern – Special Flood Show! Cleveland, Ohio
Oct 16 2009 8:00P Mr. Smalls Theatre – Special Flood Show! Pittsburgh, Pennsylvania
Oct 17 2009 8:00P Kutztown University Kutztown, Pennsylvania
Oct 18 2009 8:00P Skirball Center for the Performing Arts New York, New York
Nov 03 2009 8:00P First Avenue Minneapolis, Minnesota
Nov 05 2009 8:00P Gothic Theatre Englewood, Colorado
Nov 06 2009 8:00P TBD – Rock Show Salt Lake City, Utah
Nov 07 2009 3:00P TBD – Family Show Salt Lake City, Utah
Nov 08 2009 3:00P TBA – Family Show Boise, Idaho
Nov 09 2009 8:00P Showbox SoDo – Flood Show Seattle, Washington
Nov 10 2009 8:00P Crystal Ballroom Portland, Oregon
Nov 13 2009 4:00P Fillmore San Francisco, California
Nov 14 2009 8:00P Royce Hall – Family Show Los Angeles, California
Nov 14 2009 8:00P Royce Hall – Flood Show Los Angeles, California
Nov 15 2009 11:00A UC Santa Barbara's Campbell Hall Theater – Family Show Santa Barbara, California
Nov 17 2009 8:00P The Belly Up Tavern Solana Beach, California
Nov 21 2009 3:30P Theater Of The Living Arts – (Family Show) Philadelphia, Pennsylvania
Nov 28 2009 3:00P 9:30 Club – (Family Show) Washington, District of Columbia
Nov 28 2009 8:00P 9:30 Club – (Rock Show) Washington, District of Columbia
Dec 02 2009 6:00P Borders @ Brain Tree Boston, Massachusetts
Dec 03 2009 6:00P Barnes & Noble – Union Square – In-store New York, New York