Ribbons at South St. Seaport (07/10/09)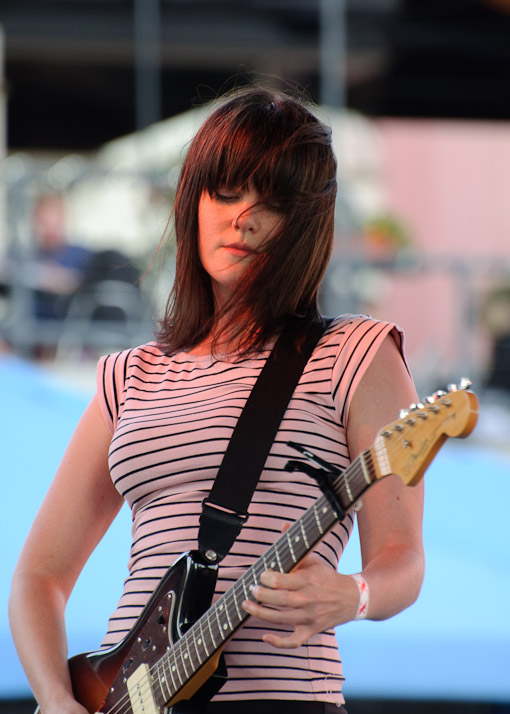 Photos: Jon Klemm
Since opening for The Pains of Being Pure at Heart at the Seaport earlier this summer, Brooklyn duo Ribbons have been keeping busy with a couple small "studio" projects. They recorded a 7″ on their own label (which is available at Other Music and at shows) and they taped a high profile Daytrotter session (which should be live later this month). Their next proper gig is this Saturday night (Sep 12) at the brand new Artillery Arts Fair at Castle Braid Lofts (114 Troutman, Bushwick) with Spanish Prisoners, The City and Horses, The Vanguard, Uproot Andy and (The) Slowest Runner (In All The World). However, if you can't make that show, they've got a few more gigs on tap in September and October (including one during CMJ), all of which are listed below:
Upcoming Ribbons Shows:
09/12 – Brooklyn, NY @ Artillery Arts Fair at Castle Braid Lofts
09/19 – Brooklyn, NY @ Death by Audio – 7″ record release
10/01 – Brooklyn, NY @ Tommy's Tavern
10/15 – Brooklyn, NY @ Coco 66 w/ Denver Hughes
Some press blurbage and more pictures of Ribbons from the South St Seaport show after the jump.
Ribbons formed in 2007 when drummer Sam Roudman met guitarist Jenny Logan (My Teenage Stride, World Atlas). Sam's aggressive, polyrhythmic style meshed instantly with Jenny's caustic guitar, and the two developed a unique sound that blends the grit and energy of hardcore and metal with dark, singable melodies and a developed lyrical sensibility.
Ribbons at South St. Seaport