The Flaming Lips
MySpace Secret Show
October 15, 2009
Nike/Ricardo Montalban Theater
1615 Vine St.
Los Angeles, CA 90028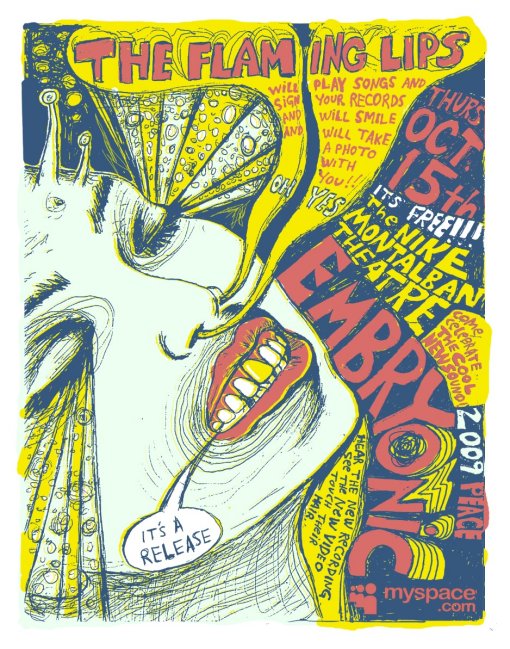 Oct. 12, 2009 – (Burbank, CA) – Warner Bros. Records celebrates the release of the brand new, long-awaited album, EMBRYONIC, by one of the world's most influential bands, THE FLAMING LIPS. The double disc -on both CD and vinyl– in deluxe formats will be birthed on October 13, 2009. On October 15, for one day only in Los Angeles, THE FLAMING LIPS POP-UP STORE will open at the Nike / Ricardo Montalban Theater located at 1615 Vine St. in Hollywood 90028.

Not only will fans have the opportunity to get their hands on unique artifacts available on this day and location only but the THE FLAMING LIPS have planned a very special, intimate MYSPACE SECRET SHOW performance just for tickets winners at this small venue guaranteed to blow the minds of the lucky few well beyond the third bardo. This might be the only opportunity to see the band in full-blown, maximum hysteria in a minimal space ever again. Get your furry freak on for this one time only psychedelic Hollywood happening. You won't get the change to see the LIPS live again until 2010!

Tickets for the event will be made available on a first come, first served basis at the opening on October 15. Additional tickets will be available at Amoeba records with purchase of the Lips CD on street date, October 13. KCRW 89.9 FM and the LA Weekly will also participate in ticket give-a-ways so play close attention.

Ticket holders are not guaranteed seating. All ticket holders will need to be in the venue by 7:30. Theater doors will be open 6:30.
Read the rest of the press release after the jump.
THE FLAMING LIPS POP-UP STORE will house unique, limited edition, one-of-a-kind merchandise, CD's and much more. Among the exclusive goodies will be the special Direct-to-consumer "Furry Package," currently available via THE LIPS website only and a very limited, one time only vinyl pressing that will ONLY be sold at the store. Fans are advised not to hesitate to avoid disappointment, depression, and unwanted bad vibes. Do what you must to be part of this event.

Lastly, THE FLAMING LIPS have confirmed an appearance on The Tonight Show with Conan O'Brien on October 13, 2009, the very day that EMBRYONIC will greet the Western World. Tune into NBC at 12:35AM ET / 11:35PM CT. Check local listings for details.

Again, THE FLAMING LIPS POP-UP STORE: One day ONLY, October 15, from Noon to midnight. Sleeping bags will not be provided.
The Flaming Lips Tour Dates
Oct 15 2009 Pop Up Store – Nike Montalban Theatre Los Angeles, California
Oct 18 2009 Treasure Island Music Festival San Francisco, California
Nov 1 2009 Voodoo Fest New Orleans, Louisiana
Nov 9 2009 Ancienne Belgique Brussels, Belgium
Nov 10 2009 Troxy London, UK
Nov 11 2009 Troxy London, UK
Nov 13 2009 Guildhall Portsmouth, UK
Nov 15 2009 O2 Academy Glasgow Glasgow, Scotland
Nov 16 2009 Academy Manchester, UK
Nov 17 2009 O2 Academy Birmingham O2 Academy Birmingham