They didn't make it for CMJ, but apparently they'll be here for Halloween. Get your Flavorpill Halloween party tickets tickets while they last.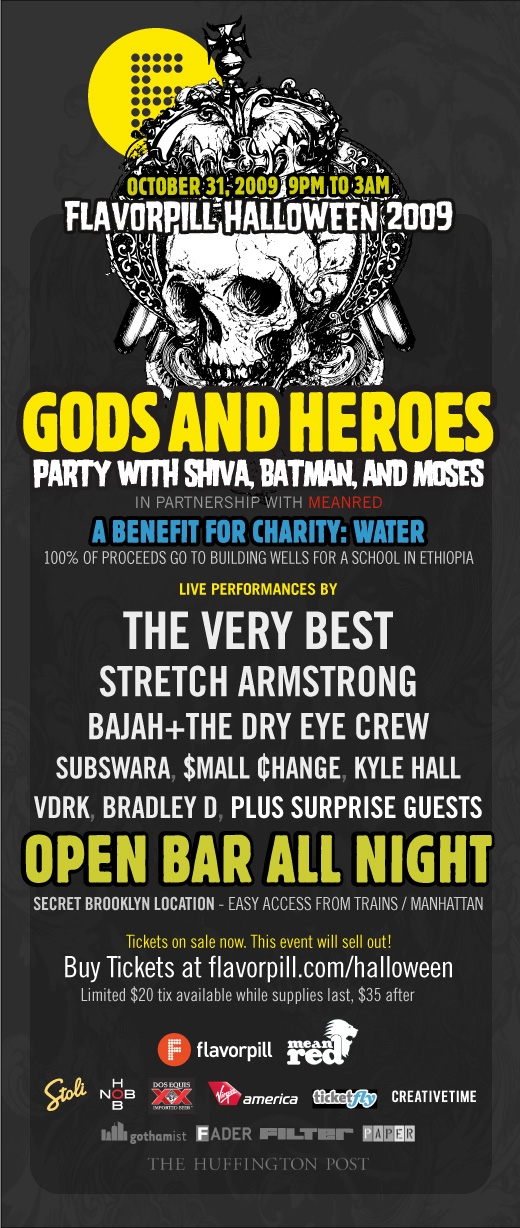 Flavorpill Halloween 2009
October 31, 2009
Featuring:
The Very Best
Stretch Armstrong
Bajah+The Dry Eye Crew
Subswara, $mall ¢hange, Kyle Hall
VDRK, Bradley D, + Surprise Guests
Because this email was sent out after the CMJ, I'm assuming that Esau Mwamwaya has obtained a visa to perform in the US.
More The Very Best tour dates after the jump.
The Very Best 2009 Tour Dates
Oct 29 2009 Bottom Lounge – Chicago,IL
Oct 30 2009 WRONGBAR – Toronto, ON
Oct 31 2009 Flavorpill Party – New York, NY
Nov 01 2009 Great Scott – Boston, MA
Nov 02 2009 DC9 – Washington, DC
Nov 03 2009 Johnny Brenda's – Philadelphia PA
Nov 06 2009 Dj Set @ Secousse (notting hill arts club) London
Nov 26 2009 live @ Palace St Gallen
Nov 27 2009 L'Usine / le Zoo geneva
Nov 28 2009 Le Guess Who @ Tivoli Utrecht
Nov 30 2009 ICA London
Dec 04 2009 Dj Set @ Secousse (notting hill arts club) London
Dec 04 2009 Cargo London
Dec 05 2009 Transmusicales de Rennes festival rennes
Dec 06 2009 Studio 672 Cologne
Dec 07 2009 Ãœbel & Gefährlich Hamburg
Dec 09 2009 Babel Malmo
Dec 10 2009 Jazzhuset Gothenberg
Dec 11 2009 Debaser Medis Stockholm
Dec 12 2009 Bla Oslo