Jack Johnson at Virgin Mobile Festival (08/09/08)


Photo: Tim Griffin
The king of mellow surf rock doesn't make appearances here very often, but I've been holding on to some unpublished Jack Johnson photos from last year's Virgin Mobile Festival and I figured the release of his new live concert DVD/CD set, aptly titled En Concert, was the perfect excuse to post 'em up. The new live DVD is a video chronicle of his 2008 summer tour of Europe and features guest appearances by the likes of Ben Harper, G. Love, Neil Halstead, Matt Costa and Mason Jennings. The accompanying live CD is not just the soundtrack to that tour, but rather a selection of the choicest live cuts from both his European and American 2008 live dates. While some folks may look at this set as "filler" or a mere contractual obligation, it's actually more than that, in fact, it's real purpose is to prime the pump for the next JJ studio record which should hit the record store shelves by the summer of 2010.
"I think we're starting to get together a new album right now," Johnson tells Billboard.com. "Whenever it seems like there's an album's worth of stuff around, I kinda just record it. I've been recording a lot of stuff on my own…and then all of a sudden the other night I was going through it all, and it seems like there's an album there again. I feel like there's a 60-40 chance we're going to put out an album by next summer and probably tour a little bit again." [Billboard.com]
You heard that right folks, look for more JJ summer festival headlining dates in 2010! En Concert track list and more Jack Johnson pics from the 2008 Virgin Mobile Festival after the jump.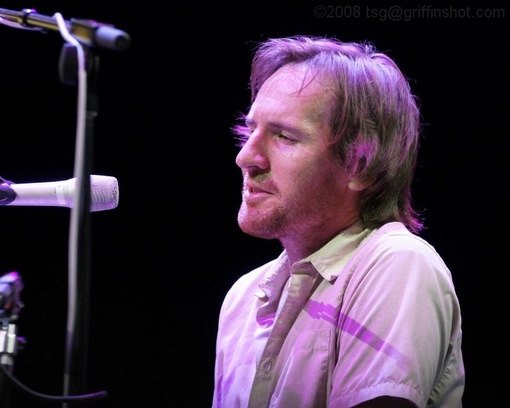 En Concert Track List:
CD
1. Belle / Banana Pancakes
2. If I Had Eyes
3. Do You Remember / Remember
4. Sleep Through The Static
5. Flake
6. Bubble Toes / Express Yourself
7. Wasting Time
8. What You Thought You Need
9. Country Road With Paula Fuga
10. Staple It Together
11. Sitting, Waiting, Wishing
12. Constellations With Eddie Vedder
13. The Horizon Has Been Defeated / Mother And Child Reunion
14. Good People
15. All At Once
16. Gone
17. Home
18. Times Like These
19. Angel / Better Together
DVD
1. Intro (If I Had Eyes – 11 Seconds – Palais Omnisports, Bercy, Paris)
2. Sleep Through The Static (Palais Omnisports, Bercy, Paris)
3. Belle (Palais Omnisports, Bercy, Paris)
4. Banana Pancakes (Palais Omnisports, Bercy, Paris)
5. No Other Way (Olympia Reitanlage, Munich)
6. Good People (Olympia Reitanlage, Munich)
7. Staple It Together (Olympia Reitanlage, Munich)
8. Flake (The Hague, Amsterdam)
9. Bubbletoes (The Hague, Amsterdam)
10. Go On (Kindl-Buhne Wuhlheide, Berlin)
11. Constellations (Watergate Bay, Newquay, UK)
12. Hope (Hyde Park, London)
13. Wasting Time (Hyde Park, London)
14. Hi Tide, Low Tide (Hyde Park, London)
15. If I Had Eyes (Hyde Park for 3:00 Min then Paris for 1:23)
16. All At Once (Palais Omnisports, Bercy, Paris)
17. Angel / Better Together (Palais Omnisports, Bercy, Paris)
18. Monsoon (Palais Omnisports, Bercy, Paris)
19. Rainbow / Buddha (Palais Omnisports, Bercy, Paris)