Islands at Siren Festival (07/19/2008)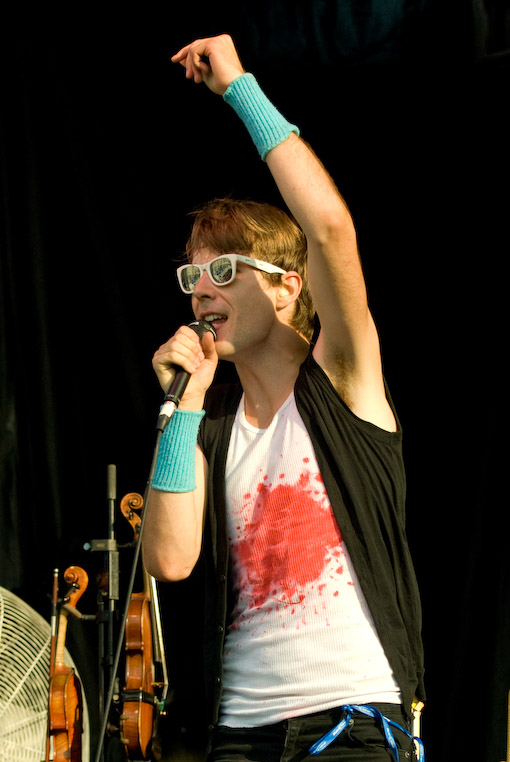 Photo: Jon Klemm (more)
DOWNLOAD: Islands – "No You Don't" (mp3)
Montreal's Islands released a new record last month entitled Vapours, and in case you forgot, here's what bumpershine critic-in-residence Drake had to say about it when it came out:
For those that found Islands' sophomore release Arm's Way a bit too prog-y, I've got good news for you, Vapours is a return to the kitchen sink-pop that Nick Thorburn joyously captured on their debut, Return to the Sea. At times Vapours is a bit all over the map, and there a couple of tracks (including "Shining" and "The Drums") that slip into Arm's Way-like tendencies, but on the whole, the album sounds like the quirky pop-driven Islands you've come to know and love. Highlights include the title track, the soulful (and auto-tune utilized) "Heartbeat," and the bright pop of "Tender Torture."
Islands are on the road right now promoting Vapours and I've got a pair of tickets to give away to their show at the Bowery Ballroom on November 5 with Jemina Pearl (Buy Tickets). To enter, send an email to contests@bumpershine.com and tell me who Islands last opened for last time they played NYC (best guesses will be accepted to). One random winner will be chosen and notified on Monday, November 2.
More Islands tour dates after the jump.
Islands 2009 Tour Dates
Oct 29 2009 Hi Tone Cafe Memphis, Tennessee
Oct 30 2009 Bottletree Cafe Birmingham, Alabama
Oct 31 2009 Lenny's Bar Atlanta, Georgia
Nov 01 2009 Duke Coffee House Durham, North Carolina
Nov 02 2009 G-Spot Baltimore, Maryland
Nov 03 2009 First Unitarian Church Philadelphia, Pennsylvania
Nov 04 2009 Middle East Cambridge, Massachusetts
Nov 05 2009 Bowery Ballroom New York, New York
Nov 06 2009 Théâtre Plaza Montreal, Quebec
Nov 07 2009 Mod Club Toronto, Ontario