John K. Samson (of The Weakerthans) at The Music Hall of Williamsburg (09/18/09)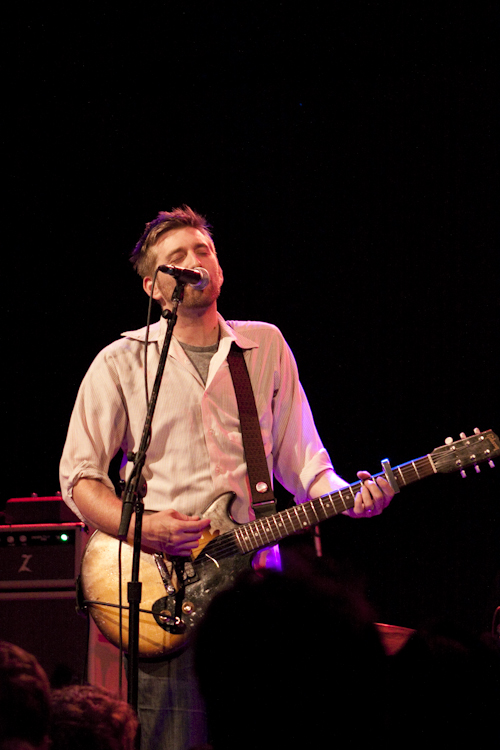 Photo: Matt Fricovsky (more)
DOWNLOAD: "Cruise Night" – John K. Samson (mp3)
When a band takes 4 years between albums, a three song EP from the primary songwriter still counts as an "event" in my books. As is usually the case, John K. Samson takes on his (and my) hometown as the subject of his new short player, City Route 85, which came out digitally and on 7″ Tuesday (Nov 3) on ANTI- Records. According to the press materials, the new EP is the "first in a series of recordings exploring the atmospheric streets and highways surrounding Winnipeg, Manitoba". After reading that, I have to wonder, could the first ever song about bumpershining be far behind?
The City Route 85 of the record's title is the formal name for Portage Avenue, one of Winnipeg's main thoroughfares. Samson begins his musical study of this storied street with the song "Heart of the Continent," set at the corner of Portage Avenue and Memorial Boulevard, where a demolished building is resurrected by a narrator struggling to evoke the losses and despair that haunt the city and its people. "Grace General" travels west along Portage to Grace General Hospital, seen through eyes preparing to face the death of a loved one. The closing song, "Cruise Night" finds a young man desperate to join in the strange and innocent tradition of driving aimlessly up and down Portage Avenue, a social activity Winnipeggers have participated in on Sunday nights for as long as anyone can remember. [ANTI-]
Not one to rest on his laurels, John is taking his solo acoustic act to Germany (where The Weakerthans are huge) starting today (Nov 6). No NYC (or US) dates have been scheduled as of yet, but he'll be opening for his pals The Constantines at three Ontario shows in December of 2009. All John K. Samson solo tour dates after the jump.
John K. Samson 2009 Solo Tour Dates
11/06 Weissenhauser Strand (Kiel), DE – John K. Samson Solo Tour – Rolling Stone Weekender (Opening for Kettcar)
11/07 Dortmund, DE – John K. Samson Solo Tour – Konzerthaus (Opening for Kettcar)
11/08 Berlin, DE – John K. Samson Solo Tour – Astra (Opening for Kettcar)
11/09 Wiesbaden, DE – John K. Samson Solo Tour – Ringkirche (Opening for Kettcar)
11/10 Hamburg, DE – John K. Samson Solo Tour – Fliegende Bauten (Opening for Kettcar)
11/11 Düsseldorf, DE – John K. Samson Solo Tour – ZAKK (Headlining)
11/12 Münster, DE – John K. Samson Solo Tour – Sputnikhalle Café (Headlining)
11/13 Frankfurt, DE- John K Samson Solo – Yellowstage (Hazelwood Studios) (Headlining)
11/14 Stuttgart , DE – John K. Samson Solo Tour – 1210 (Headlining)
11/15 München , DE – John K. Samson Solo Tour – Orangehouse (Headlining)
11/16 Zürich, CH – John K. Samson Solo Tour – Hafenkneipe (Headlining)
12/09 Kingston, ON – John K. Sampson Solo Tour – The Grad Club (Opening for The Constantines)
12/10 Hamilton, ON – John K. Sampson Solo Tour – The Casbah (Opening for The Constantines)
12/11 Toronto, ON – John K. Sampson Solo Tour – Lee's Palace (Opening for The Constantines)