Magnetic Fields – Realism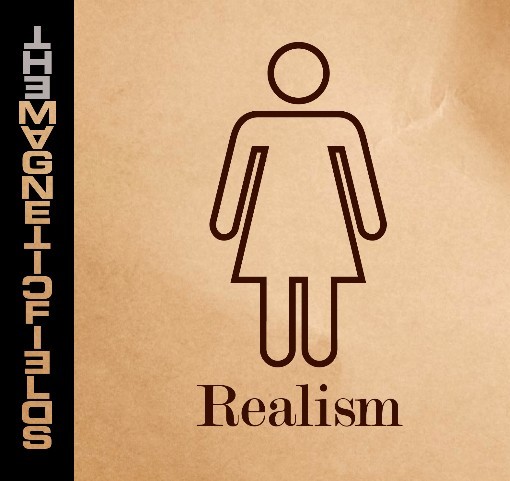 UPDATE: I spoke too soon, Friends of BAM can purchase tickets to the Magnetic Fields Feb 13, 2010 show starting today ($25, $35, general on sale begins Friday, Nov 20).
Well, at least I can now name one big name "rock" act who will be headlining the Sounds Like Brooklyn Festival at BAM this year, Stephin Merritt and The Magnetic Fields will be holding court at the Howard Gillman Opera House on February 13, 2010 as part of the festival of Brooklyn's finest (BAM General On Sale Date TBA 11/20/09). A limited number of presale tickets for that show and the rest of their upcoming US tour dates (including two nights at The Town Hall NY on March 10-11, 2010) are available right now (Nov 17) at magneticfields.musictoday.com. The BAM show and the ensuing tour is in support of their new record entitled Realism which will be hitting the store shelves on January 26, 2010 via Nonesuch Records.
The Magnetic Fields' Realism will be released by Nonesuch Records on January 26, 2010. The band's ninth album is the follow-up to 2008's Distortion, which was hailed by Rolling Stone as "one of the best records of [their] career." Whereas Distortion was an album of power-pop songs with heavily distorted guitars, in homage to the Jesus and Mary Chain's Psychocandy, Realism finds front man and songwriter Stephin Merritt drawing inspiration from late 1960s / early 70s orchestral and psychedelic folk. Realism's all-acoustic recording line up featured no electronic instruments, and used untraditional percussion instruments, ranging from tabla to tree leaves. The Magnetic Fields will tour the U.S. in support of the album beginning February 4.

As the album title implies, Realism finds Merritt examining what "real" really means in recorded music, exploring the sincerity (or lack thereof) of folk lyrics and their delivery, along with non-electronic instrumentation, "realistic" production values, and even a plain brown paper sack background used for the album's artwork.

In addition to the usual ensemble of Merritt on ukulele, Claudia Gonson (keyboard, vocals), John Woo (guitar), and Sam Davol (cello), and Shirley Simms (vocals, autoharp), The Magnetic Fields are joined by friends and longtime collaborators Daniel Handler, a.k.a Lemony Snicket (accordion), as well as
Johnny Blood (tuba) and Ida Pearle (violin).
View all Magnetic Fields tour dates after the jump.
Magnetic Fields 2010 Tour Dates
February 4 Lisner Auditorium @ George Washington Univ. Washington, DC
February 6 Corona Theatre Montreal, QC
February 8 Queen Elizabeth Theatre Toronto, ON
February 10 Wilbur Theatre Boston, MA
February 11 Wilbur Theatre Boston, MA
February 13 Howard Gilman Opera House @ BAM Brooklyn, NY
February 21 Aladdin Theater Portland, OR
February 22 Aladdin Theater Portland, OR
February 23 Town Hall Seattle, WA
February 24 Town Hall Seattle, WA
February 27 Fox Theater Oakland, CA
March 1 Herbst Theatre San Francisco, CA
March 2 Wilshire Ebell Theatre Los Angeles, CA
March 4 Pabst Theatre Milwaukee, WI
March 5 Buskirk Chumley Theater Bloomington, IN
March 6 The Pageant St. Louis, MO
March 7 Harris Theater @ Millenium Park Chicago, IL
March 10 Town Hall New York, NY
March 11 Town Hall New York, NY