Larger Than Life In 3D w/ Dave Matthews Band, Ben Harper & Gogol Bordello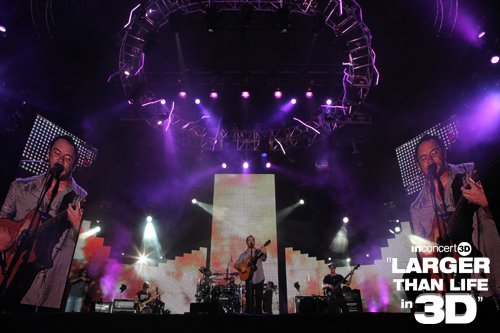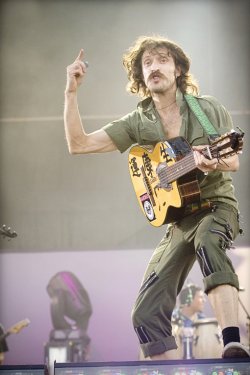 Photos: Dave Matthews Band at ACL Festival 2009, Ben Harper at Mile High Festival by Jay Blakesberg, Gogol Bordello at APW 2009 by G!
The folks at AEG Live have been busy running around the country filming festivals over the past year or so, and this Friday (Dec 11) they are going to release some of that footage to the public in the form of a 3D concert film titled (something like), "Larger Than Life" in 3D Featuring Dave Matthews Band, Ben Harper and Gogol Bordello. "Larger Than Life" captures portions of Gogol Bordello's awe-inspiring set at All Points West 2009, Ben Harper's slide guitar laden outing at the 2009 Mile High Festival in Denver, CO and a good chunk of Dave Matthews sweat drenched headlining set at the 2009 Austin City Limits Festival in Austin, TX.
For those of you into DMB (there are some still some of you out there right?), you probably don't need any convincing to go see this film, for the rest of us, I can give you three good reasons to go and see this film, "Gogol" and "Bordello" and "3D". Eugene Hutz's energetic live performance is only heightened by the stereoscopic 3D effect, my only complaint is that it was just too darn short (stick around for the end credits though, they throw in an extra GB song for the faithful). I was little surprised by the song choice for Ben Harper's set as at least two songs have him seated while wailing away on the slide guitar, not necessarily the most compelling action to watch on screen (even if it is in 3D). Dave Matthews set leans heavily on tracks from his new Grammy Nominated CD, Big Whiskey and the GrooGrux King, and caps off with a crowd pleasing "So Much To Say"/"Ants Marching" finale. Personally, I haven't really been that enamored with Mr. Matthews since Crash rocked my world in 1996, and I can't say I was really won over by the new material, but as I said before, I'm sure DMB fans will jump at the chance to see Dave "live" once again.
As for the 3D, this film is not about flying beach balls or preening for the camera— the effects are a lot more subtle than that. Sure at times, instruments, crowds, and at least one beach ball appear to "jump out" of the screen, but the biggest impression the 3D left on me was the illusion that there was some "real" physical space between the performers on stage. Also, as Jon remarked, because of the 3D, you can watch the movie from more than one visual perspective:
The thing that struck me most about the technology was, the endless depth of field in the video. It makes it more like being there in person since the viewer is able to look around and see anything on the screen clearly. This is in contrast to traditional films, where the cameraman leads the attention of the viewer by focusing on certain subjects within the video frame.
Well if you'd like to see for yourself what the fuss is about, I'm giving away two "Larger Than Life" prize packs with the following items:
1st Place
1 run of engagement movie pass (valid for 2 tickets)
2 "3D looking" replica tour passes, and
2 limited edition InConcert3D t-shirts
2 limited edition movie posters
2nd Place
1 run of engagement movie pass (valid for 2 tickets)
2 "3D looking" replica tour passes, and
1 limited edition InConcert3D t-shirt
Since the movie premieres on Friday, December 11 and ends its limited run on December 17 (just in time for James Cameron's Avatar to take over all the 3D screens in America), I'm going to give this contest a very short fuse and end it on December 11 at noon EST. Use the entry form after the jump to enter the contest, valid only in the US, entrants must be 18+.
View some pictures of the prize pack and the "Larger Than Life In 3D" trailer after the jump.
PS For any Phish Phans out there, the folks at AEG mentioned that they also filmed the recent "Save The Date" festival at Coachella; the only question now is how to make it into a movie that lasts less than 3 days.
"Larger Than Life in 3D" Prize Pack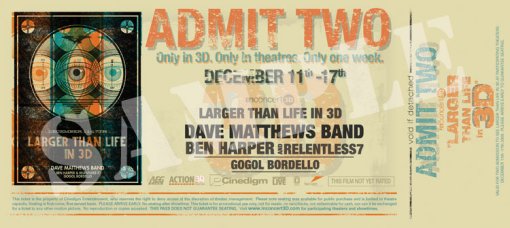 "Larger Than Life In 3D" Trailer