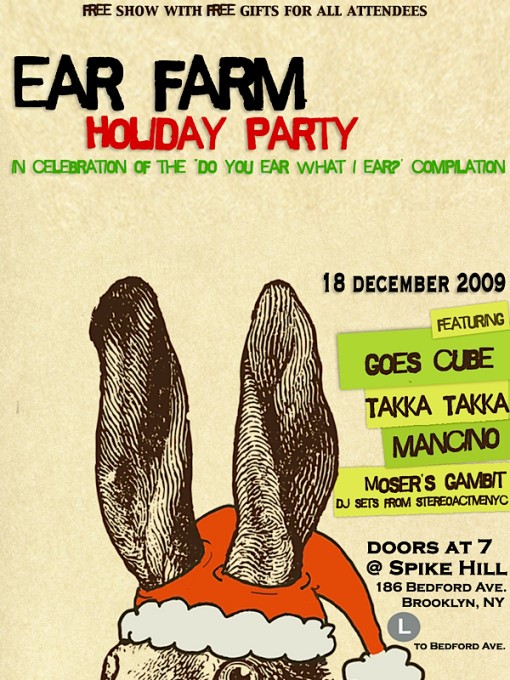 Our good friends over at Earfarm (one Poptarts favorite blogs of 2009) just put out a holiday compilation disc amusingly titled "Do you EAR what I EAR?" and they are having little record release/holiday party tonight (Dec 18) at Spike Hill in honor of it. If I didn't have my own office party to attend tonight, I would definitely be there. Here's a little more info on this evening's festivities:
Dearest of EAR FARMErs –

We're having a FREE party tonight. It's an EAR FARM family party/holiday show… if we all lived in the suburbs, this would be a free keg party in Matt's basement and you all would be spending the night on couches and spots on the floor, but we don't.

Instead, we'll be at Spike Hill in Brooklyn. Steps from the Bedford L stop. And yes, it's still an entirely FREE show. Everyone who comes will get a little free gift from EAR FARM, and will be treated to some live music entertainment from the bands listed below.

While you're there tonight, please find Mike or Matt and say hi, we'd love to see each of you and thank you for making it such a fun time. Also, be on the lookout for the donation bucket… if you're feeling generous, please donate some money to the charity we're working with this holiday season: the Association to Benefit Children. All proceeds from this show, and from our recently released holiday album Do you EAR what I EAR? will go directly to the ABC.

Thanks again, see you there, and happy holidays from the EF crew!

– Matt, Mike, and all of EAR FARM

Set times:

7pm- Elijah Tucker
8pm – Moser's Gambit (featuring Mike from EF)
9pm – Mancino (featuring Mike from EF)
10pm – Takka Takka
11pm – Goes Cube (featuring Matt from EF)
All proceeds from the sale of "Do you EAR what I EAR?" go to the Association to Benefit Children. Full track listing and album art after the jump.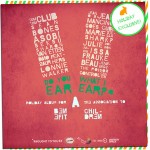 "Do you EAR what I EAR?" ALBUM TRACK LISTING
1. "Welcome Christmas" performed by Mancino
2. "A day in the Life of a Christmas Tree" performed by Dinosaur Feathers
3. "Il est né" performed by Tom Tom Club
4. "Christmas Time in Hell" performed by Lonnie Walker
5. "This Christmas Day" performed by Jean On Jean
6. "Little Drummer Girls" performed by Marie Stella
7. "Christmas" performed by Shark?
8. "Christmas Eve Blues" performed by Julie Doiron
9. "First Snow" performed by Nadim Issa
10. "The Slay Bell Suite: Mrs. Claus and Matzo Balls" performed by Frauke
11. "If You Hear a Knock" performed by Sean Bones
12. "Christmas Day (Or, A Hungry Dog Will Fight)" performed by Beau Jennings
13. "Happy Christmas" performed by The Poison Control Center
14. "It Came Upon The Midnight Clear" Performed by Goes Cube
15. "Merry Christmas (I Don't Want to Fight Tonight)" performed by Asobi Seksu
16. "Blue Christmas" performed by Sharon Van Etten