UPDATE: The Cold War Kids have dropped off the bill, but The Walkmen have been added.
The Bell House Haiti Benefit (01/27/10)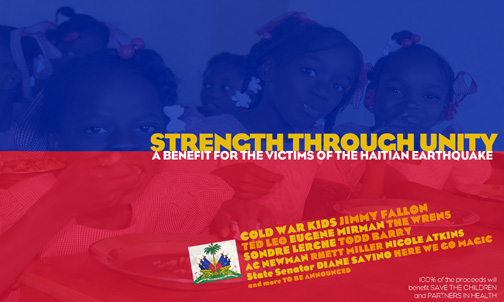 Buy Tickets (Monday, January 18 at noon)
Todd Barry, Here We Go Magic, Pat Kiernan and The Wahoo Skiffle Crazies have been added to the bill for the Bell House Haiti Benefit. Tickets for the big show go on sale Monday, January 18 at noon (at which point more performers may be added), until then the lineup looks like this:
STRENGTH THROUGH UNITY
A BENEFIT FOR THE VICTIMS OF THE EARTHQUAKE IN HAITI
100% of the proceeds will be split between Save The Children and Partners In Health.

All performers will be playing abbreviated and stripped down sets. Scheduled to appear:
JIMMY FALLON
New York State Senator DIANE SAVINO
COLD WAR KIDS
THE WALKMEN
TED LEO
EUGENE MIRMAN
THE WRENS
SONDRE LERCHE
TODD BARRY
PAT KIERNAN of NY 1
AC NEWMAN of NEW PORNOGRAPHERS with RHETT MILLER of OLD 97s and NICOLE ATKINS as THE SEEKERS.
HERE WE GO MAGIC
THE WAHOO SKIFFLE CRAZIES

Early birds can come for free food courtesy of GREAT JONES CAFE, DUB PIES, and more.

More performers and ticket information to be announced on Monday, January 18. There is absolutely no guest list for this event.