Patti Smith at Barnes & Noble Union Square (01/19/10)

Tomorrow marks the release of Just Kids, Patti Smith's long awaited memoir detailing her early career exploits and her relationship with the artist and famed photographer Robert Mapplethorpe. As part of the advance publicity for Just Kids, New York Magazine ran a feature story on Patti in this week's issue (Jan 18-25, 2010) , here's a little excerpt from that:
These days, Smith is interested in the earlier part of her life, the years spent aching for greatness in New York until she became famous with the release of Horses in 1975. She arrived from South Jersey nearly a decade earlier with $32 and a copy of Rimbaud's Illuminations in her plaid suitcase, sleeping on subways and in parks until she met the artist Robert Mapplethorpe, a Floral Park altar boy and Pratt student who became her first boyfriend. "I never expected that this modest shepherd-boy fella would one day wear gold lamé with a codpiece," says Smith, in her unrepentantly thick Jersey accent. "But who would think a Holden Caulfield of a girl would end up fronting a rock-and-roll band?" Next week, Ecco will publish Just Kids, a shockingly beautiful book about their relationship, in which the roles evolved like Frida Kahlo and Diego Rivera's, or even the siblings of Cocteau's Les Enfants Terribles. It's a classic, a romance about becoming an artist in the city, written in a spare, simple style of boyhood memoirs like Frank Conroy's Stop-Time.

Smith worked in part from a stack of teenage journals with her astrological sign on the front. "I have a good memory once it's triggered, so with my notebooks, I could sit back and see things like a little movie," she says. The process still took ten years and two publishers. She missed a significant deadline, the twentieth anniversary of Mapplethorpe's death from complications related to aids. "It almost makes me cry, thinking about missing that date," she says. "I was in Tennessee touring with my band, and I had to go in the wheat fields to call my editor with a cell phone. I kept saying to myself, 'You have to tell him it's not done. C'mon, be a man, be a man.' " [New York Magazine]
You can read Janet Maslin's favorable (but somewhat unopinionated) review of Just Kids in today's NYTimes.
A new Steven Sebring directed documentary on Patti Smith "Patti Smith: Dream of Life" recently premiered on PBS. In conjunction with the release of the film and the publication of Patti's memoir, Patti Smith and Steven Sebring's art exhibition entitled "Objects of Life" is currently showing at the Robert Miller Gallery in Manhattan until Feb 6, 2010.
If you'd like to see Patti live (and you don't want to wait until New Year's Eve), you can catch her tomorrow night (Jan 19) at Barnes & Noble Union Square as part of their regular Upstairs at The Square music & reading series or at a reading at the 92nd St Y with Sam Shepard on Jan 21, or last but not least, you can head over to the City Winery on Wednesday night (Jan 20) and see her at a special Haiti benefit show along with The Swell Season, John Wesley Harding,Carolina Chocolate Drops,Yo La Tengo,Young People's Choir, Joshua Bell and Tiempo Libre (Buy Tickets).
Here are the lineups for all of the upcoming City Winery Haiti benefits:
Schedule as of 01/18 (subject to change): Check website for updates: www.citywinery.com

Wed 01/20 9pm – $75 Patti Smith, The Swell Season, John Wesley Harding, Carolina Chocolate Drops, Yo La Tengo, Young People's Choir of New York City, Joshua Bell and Special Guests (Buy Tickets)

Thu 01/21 9pm – $50 Lewis Black, Willie Nile, Vernon Reid & Corey Glover of Living Colour, Rich Pagano & The Sugarcane Cups, Marshall Crenshaw (Buy Tickets)

Sun 01/24 8pm – $50 Rosanne Cash, Madeleine Peyroux, Brian Stokes Mitchell, Tambou Combo, BETTY (Buy Tickets)

Mon 01/25 8pm – $20 20 Indie artists: Vienna Teng, Amber Rubarth, Ari Hest, Alex Berger, Nate Campany and many more. See site for details.
More Patti Smith book tour dates after the jump.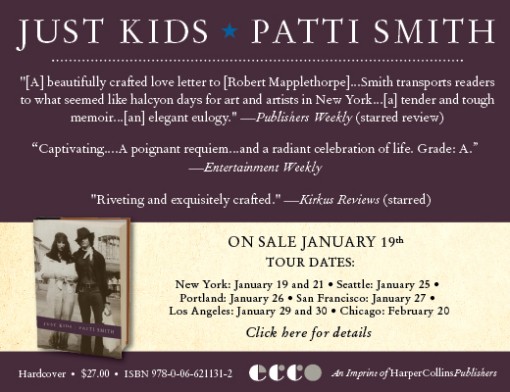 Patti Smith Book 2010 Tour Dates
Tuesday, January 19, 2010
BARNES & NOBLE/Union Square
33 E 17th Street
New York, NY 10003
Thursday, January 21, 2010
92ND STREET Y/Poetry Center
1395 Lexington Avenue
New York, NY 10128
Monday, January 25, 2010
SEATTLE ARTS & LECTURES
Taper Auditorium – Benaroya Hall
200 University St
Seattle, WA 98111
Tuesday, January 26, 2010
POWELL'S BOOKSTORE
Baghdad Theater
3702 SE Hawthorne Blvd
Portland, OR 97214
Wednesday, January 27, 2010
CITY ARTS & LECTURES
Herbst Theatre
San Francisco, CA 94123
Friday, January 29, 2010
BOOK SOUP
8818 Sunset Blvd.
Los Angeles, CA 90069
Saturday, January 30, 2010
SKYLIGHT BOOKS
1818 N. Vermont Avenue
Los Angeles, CA 90027