STRENGTH THROUGH UNITY:
A BENEFIT FOR THE VICTIMS OF THE EARTHQUAKE IN HAITI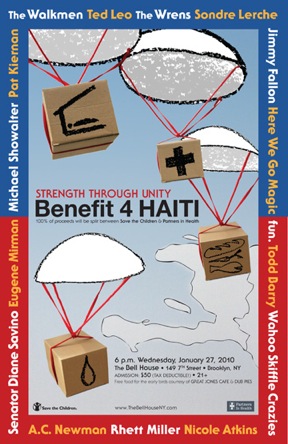 All performers will be playing abbreviated, acoustic and/or stripped down sets.

JIMMY FALLON
THE WAHOO SKIFFLE CRAZIES
New York State Senator DIANE SAVINO
HERE WE GO MAGIC
PAT KIERNAN of NY 1
FREELANCE WHALES
EUGENE MIRMAN
SONDRE LERCHE
MICHAEL SHOWALTER
THE WRENS
TODD BARRY
AC NEWMAN of NEW PORNOGRAPHERS plus RHETT MILLER of OLD 97s plus NICOLE ATKINS as a SEEKERS cover band.
TED LEO
JIM GAFFIGAN
LAUREN AMBROSE & THE LEISURE CLASS
THE BLOW
fun.
THE WALKMEN

No tickets available through Ticketweb. Tickets MAY be available at the door.