Bahamas at The Bell House (11/06/09)


Photo: Jon Klemm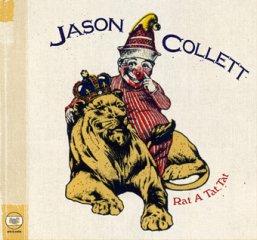 DOWNLOAD: Jason Collett – "Love Is A Dirty Word"
DOWNLOAD: Jason Collett – "Little Tiger"
Jason Collett, Zeus and Bahamas have announced a North American revue tour featuring all three artists performing together and alone during a night long set of incredible music. The three acts have a long history of collaboration, as intertwined as their musical lineage. Instead of the typical show in which each act plays its own set, Collett, Zeus and Bahamas will all take the stage together, playing songs by all three.

The tour comes on the heels of new albums for Jason Collett (Rat A Tat Tat, March 9) and Zeus (Say Us, February 23), and songs from both will be featured throughout the evening. The Bonfire Ball will kick off in March at Canadian Music Week in Toronto, wrapping in Kingston, April 17. Dates are below, with more to be announced. [Jason Collett's MySpace]
For those of you not familiar with these acts, Zeus is comprised up of Mike O'Brien, Carlin Nicholson and Neil Quin, who up until recently, may have been better known as Jason Collett's backing band and eventual supporting band. Bahamas is the solo project Afie Jurvanen, who at times has played with the likes of: PasoMino, Great Lake Swimmers, The Stills, Howie Beck, Amy Millan, Jason Collett, Hayden, Zeus and Feist. Last but not least, Jason Collett was a pioneering member of Broken Social Scene, but after four albums on his own, he is now widely known as one of Canada's top solo artists.
Though the "Bonfire Ball" tour hasn't announced any US dates as of yet (outside of SXSW), Zeus will be in town for a couple of shows prior to SXSW. On Feb 26 you can catch them at The Knitting Factory w/ Franz Nicolay and Tim Fite (Buy Tickets) and they'll be at the The Mercury Lounge on Feb 27 w/ The Sadies (Buy Tickets).
In addition to Rat A Tat Tat, Collett is releasing a digital/tour EP entitled To Wit To Woo, featuring six songs recorded during the album sessions. It will be made available digitally (on Mar 9?) and exclusively in physical form on the "Bonfire Ball" tour. According to the PR folks, more Jason Collett/Zeus/Bahamas US tour dates will be announced soon.
Also, in case you missed it, Bahamas debut LP, Pink Strat, was released in July of 2009 on Nevado Records.
Tour dates for all three artists, a Zeus video and more Bahamas Bell House pics after the jump.
Bonfire Ball (Zeus, Jason Collett, Bahamas) 2010 Tour Dates
03/10/10 – Toronto, ON @ Lee's Palace (CMW)
03/11/10 – Guelph, ON @ E-Bar
03/12/10 – London, ON @ Call The Office
03/13/10 – Hamilton, ON @ Casbah
03/17-20/10 – Austin, TX @ SXSW Music Festival
03/26/10 – Vancouver, BC @ The Biltmore
03/27/10 – Victoria, BC @ Sugar
03/29/10 – Canmore, BC @ Communitea
03/31/10 – Edmonton, AB @ The Pawn Shop
04/01/10 – Calgary, AB @ The Legion
04/02/10 – Regina, AB @ The Exchange
04/03/10 – Winnipeg, MB @ West End Cultural Ccentre
04/13/10 – Waterloo, ON @ Starlite
04/14/10 – Ottawa, ON @ Zaphod's
04/15/10 – Montreal, PQ @ Petit Campus
04/16/10 – Peterborough, ON @ Red Dog Tavern
04/17/10 – Kingston, ON @ Grad Club
Bahamas 2010 Tour Dates
02/06/10 Hillside Inside – Sleeman Centre Guelph, ON
02/26/10 Imperial w/ WILCO Quebec City, QC
02/27/10 Olympia w/ WILCO Montreal, QC
03/01/10 National Arts Centre w/ WILCO Ottawa, ON
03/03/10 Halifax Forum w/ WILCO Halifax, NS
Zeus 2010 Tour Dates
02/26/10 Knitting Factory (w/ Tim Fite, Franz Nicolay) Brooklyn, NY
02/27/10 Mercury Lounge (w/ The Sadies) New York, NY
Bahamas at The Bell House