Mile End Brooklyn (Hoyt and Atlantic)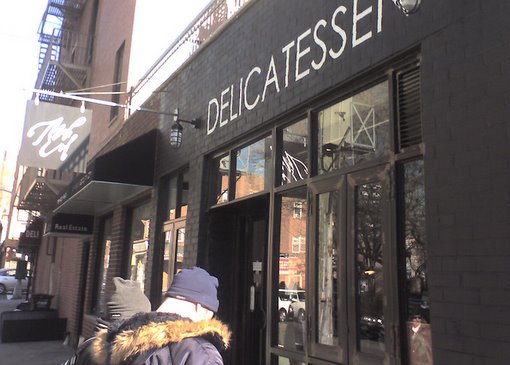 Louis Riel
Louis David Riel (22 October 1844 – 16 November 1885) was a Canadian politician, a founder of the province of Manitoba, and leader of the Métis people of the Canadian prairies. The third Monday in February is "Louis Riel Day", a statutory holiday in Manitoba.
Montreal Smoked Meat and Montreal Bagels
Mile End Brooklyn is the name of the recently opened Montreal style Jewish delicatessen in Brooklyn. The first of its kind in the five boroughs, Mile End is a welcome addition to the neighborhood for ex-pats and Brooklynites alike, and it's doubly exciting for me because I can finally get a real (albeit pricey) bagel in New York. The smoked meat sandwiches (which come with a little kick) are excellent too, they come courtesy of owner Noah Bernamoff who researched and developed his own custom spice rub modeled after the iconic Montreal smoked meat outpost Schwarz's. Keep track of their daily meat supply (which often sells out) over here.
AT&T Nation with CanadaSM
Get the benefits of an AT&T NationSM and/or FamilyTalk Plan, plus no more long distance or roaming charges for voice calls between the U.S. and Canada. See available plans
The Winter Olympics
Alexandre Bilodeau carved his way into Canadian history Sunday at the Vancouver Winter Olympics.

The 22-year-old from Rosemère, Que., became the first Canadian to win an Olympic gold medal at home, finishing first in the men's moguls skiing final at Cypress Mountain. [CBC.ca]
Music
Tegan & Sara at MHOW (02/15/10) SOLD OUT
Daniel Lanois at Bowery Ballroom (02/17/10)
Po' Girl at The Living Room (02/26/10)
Basia Bulat at The Mercury Lounge (03/27/10)
Jason Collett, Zeus, Bahamas at Union Hall (04/24/10)
Jason Collett at The Mercury Lounge (04/23/10)
Still Life Still at Bowery Ballroom (02/26/10), at MHOW (02/28/10)
The Sadies, Zeus at Mercury Lounge (02/27/10)
Zeus at Knitting Factory (02/26/10)
Cuff The Duke at Knitting Factory (04/30/10)
Broken Social Scene at Webster Hall (05/07/10)
Japandroids at Bowery Ballroom (04/01/10)
Tune-Yards at Bowery Ballroom (04/09/10)
Junior Boys (DJ Set) at Bowery Ballroom (02/27/10)
Woodhands at Brooklyn Bowl (04/03/10)
Owen Pallett at Webster Hall (04/22/10)
Timber Timbre at Bowery Ballroom (04/14/10), The Bell House (04/16/10)
You Say Party, We Say Die! at Knitting Factory (03/26/10)
You Say Party, We Say Die! at Pianos (03/29/10)
Laura Barrett Town Hall (03/10/10)