While the high profile (and excellent) original soundtrack for Where The Wild Things Are featuring Karen O and the Kids was snubbed by the Academy this year (though it did receive both Grammy and Golden Globe nods), the lesser known documentary film on Maurice Sendak entitled, Tell Them Anything You Want: A Portrait of Maurice Sendak, was not. The Lance Bangs/Spike Jonze directed short documentary feature comes out on DVD on March 2, 2010, which is also the same day that the critically polarizing Where The Wild Things Are is released on DVD and Blu-Ray.
To promote the release of both films (though B&N only mentions the documentary), Spike Jonze and Lance Bangs will be doing a Q&A with John Hodgman at Barnes & Noble Union Square on March 2, 2010. For those of you unfamiliar with the Sendak documentary (or missed it when it aired on HBO), here's the amazon.com description:
From Lance Bangs and Spike Jonze, acclaimed director of WHERE THE WILD THINGS ARE, comes TELL THEM ANYTHING YOU WANT: A PORTRAIT OF MAURICE SENDAK, a loving look at one of the most cherished and controversial figures in children's literature. TELL THEM ANYTHING YOU WANT is a deeply moving tribute to Sendak, a seminal talent whose conflicts with success and lifelong obsession with death have subtly influenced his work. Now 81, Sendak is best known for his book, WHERE THE WILD THINGS ARE, which he wrote twelve years into his career as a writer and illustrator. WILD THINGS would go on to become one of the most beloved and critically lauded children s books of all time and, much to Sendak s chagrin, would come to define his career. Through his own words, personal photos, and illustrations, Sendak offers a rare, intimate, and unexpected look at his exceptional life. TELL THEM ANYTHING YOU WANT also features James Gandolfini, Meryl Streep, Catherine Keener, and Tony Kushner honoring their friend and colleague.
In celebration of Mr. Sendak and the release of his signature work on DVD, I'm running another "super-cool" contest featuring the following prizes:
1 Copy of the Where The Wild Things Are Original Soundtrack on CD;
1 Copy of the Where The Wild Things Are motion picture on DVD;
1 Carol Mask; and
1 Where The Wild Things Are Crown.
For a chance to win these fabulous prizes, fill out the entry form after the jump. A random winner will be notified and selected on March 2, 2010 at midnight. Contest is only available to US residents, 1 entry per household (if you try and cheat, you won't win).
Last but not least, for those of you that prefer the written word, you can still purchase the original award winning Maurice Sendak book in fine bookstores everywhere.
Where The Wild Things Are Carol Mask and Crown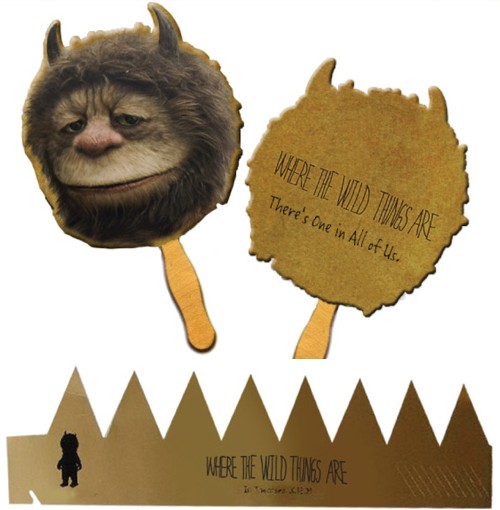 Lance Bangs speaks to the Cinefamily crowd about Tell Them Anything You Want