Making up for some serious lost time, Natalie Merchant will release a new album and begin a world tour this Spring. Her new double CD entitled Leave Your Sleep is set to drop on April 13 on Nonesuch Records and the tour will commence on the eve of its release. In support of the record, she'll be making four appearances in NYC over the next couple of months, including two shows at the Society for Ethical Culture on April 12 & 13 (Buy Tickets), an in-store gig at Barnes and Noble Union Square on April 14, and a headlining set at the Pen World Voices Festival at Le Poisson Rouge on May 1 (Buy Tickets).
Natalie Merchant – Leave Your Sleep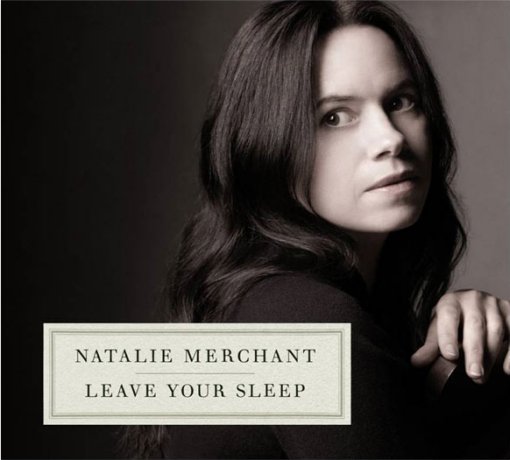 Nonesuch Records will release Natalie Merchant's new album, Leave Your Sleep, on April 13 (April 12 in the UK). The album is the culmination of six years of research and collaboration and is, in Merchant's words, "The most elaborate project I have ever completed or even imagined." It is her first studio album since 2003 and her first for Nonesuch.
All Natalie Merchant 2010 North American tour dates and album track list after the jump.
Natalie Merchant 2010 North American Tour Dates
04/12/10 New York, NY The NY Society for Ethical Culture
04/13/10 New York, NY The NY Society for Ethical Culture
04/14/10 New York, NY Barnes & Noble Union Square
04/20/10 Los Angeles, CA Harold Williams Aud. at the Getty Center
04/22/10 Los Angeles, CA LA Public Library at The Aratani Theatre
04/24/10 Chicago, IL Rubloff Aud. at The Art Institute of Chicago
04/25/10 Boulder, CO E-Town at the Boulder Theater
04/28/10 Cambridge, MA Harvard Book Store at The Brattle Theatre
04/30/10 Washington, DC Folger Shakespeare Library
05/01/10 New York, NY PEN World Voices Festival at Le Poisson Rouge
Leave Your Sleep Track List
Disc 1
1. Nursery Rhyme Of Innocence And Experience 5:10
2. Equestrienne 4:39
3. Calico Pie 2:42
4. Bleezer's Ice-Cream 5:16
5. It Makes A Change 3:31
6. The King Of China's Daughter 2:39
7. The Dancing Bear 5:38
8. The Man In The Wilderness 3:45
9. Maggie And Milly And Molly And May 4:07
10. If No One Ever Marries Me 2:22
11. The Sleepy Giant 3:19
12. The Peppery Man 5:06
13. The Blind Men And The Elephant 5:31
Disc 2
1. Adventures Of Isabel 3:23
2. The Walloping Window Blind 4:16
3. Topsyturvey-World 5:09
4. The Janitor's Boy 3:52
5. Griselda 5:51
6. The Land Of Nod 4:04
7. Vain And Careless 4:43
8. Crying My Little One 2:26
9. Sweet And A Lullaby 3:04
10. I Saw A Ship A Sailing 2:12
11. Autumn Lullaby 3:22
12. Spring And Fall: To A Young Child 3:04
13. Indian Names 5:50