Willie Nelson – Country Music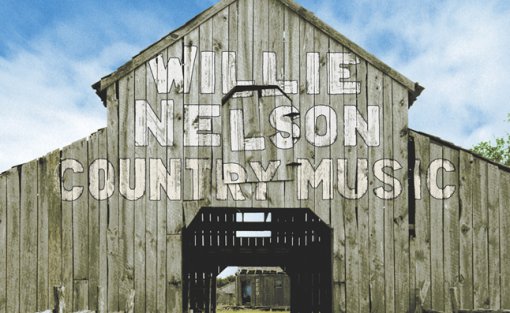 DOWNLOAD: Willie Nelson – "Man With The Blues"
Country music legend Willie Nelson is releasing a new record of country and gospel standards with Grammy and Oscar winning producer T Bone Burnett on April 20, 2010. In support of his new record, he's playing an already announced show on July 28 at Radio City with Levon Helm, but he's also added another show at the much smaller Grand Ballroom at Manhattan Center on May 6, 2010. Tickets for the Grand Ballroom show go on Amex presale starting April 7 (tomorrow) at 10 AM, regular on sale begins April 9 at 10 AM.
Willie Nelson goes back to his roots with a songbook of classic Americana. Country Music was recorded in Nashville, TN and produced by T Bone Burnett. Nelson wrote one track on the album, "Man With The Blues" and, with T Bone Burnett, co-arranged three traditional songs, "Satan Your Kingdom Must Come Down," "I Am A Pilgrim," and "Nobody's Fault But Mine." The album also features many popular old-time/bluegrass/folk songs including Ernest Tubb's "Seaman's Blues, Merle Travis' "Dark As A Dungeon," and Doc Watson's "Freight Train Boogie". Willie Nelson collaborated with many musicians on Country Music including old-time banjo master Riley Baugus, double bassist Dennis Crouch, and T Bone himself, all musicians featured on Raising Sand, the 2009 Grammy award-winning Album of the Year by Robert Plant and Alison Krauss. [Rounder.com]
More tour dates and a video for "Man with the Blues" after the jump.
Willie Nelson 2010 Tour Dates
04/15/2010 Grove of Anaheim Anaheim,CA
04/16/2010 Quechan Casino Resort Winterhaven,CA
04/17/2010 Country Thunder Festival-AZ Florence,AZ
04/19/2010 World Arena Colorado Springs,CO
04/20/2010 Topeka Performing Arts Center Topeka,KS
04/21/2010 Memorial Auditorium- TX Wichita Falls,TX
04/22/2010 Dos Amigos Cantina Odessa,TX
04/23/2010 Whitewater Amphitheater New Braunfels,TX
04/24/2010 Wolf Pen Creek Amphitheater College Station,TX
04/30/2010 WVU Creative Arts Center Morgantown,WV
05/01/2010 Broome County Arena Binghamton,NY
05/02/2010 Cambria County War Mem. Arena Johnstown,PA
05/06/2010 ManhattanCenter-Grand Ballroom New York,NY
05/07/2010 Community Arts Center Williamsport,PA
05/08/2010 Seneca Allegany Casino Salamanca,NY
05/09/2010 The Filmore- Detroit Detroit,MI
05/11/2010 Akron Civic Theatre Akron,OH
05/12/2010 PNC Pavilion Cincinnati,OH
05/13/2010 Crossroads Arena Corinth,MS
05/14/2010 L Auberge du Lac Casino Lake Charles,LA
05/15/2010 L Auberge du Lac Casino Lake Charles,LA
06/03/2010 O2 Arena – Ireland Dublin,Ireland
06/04/2010 Inec – Ireland Killamey,Ireland
06/05/2010 Royal Theatre – Ireland Castlebar,Ireland
06/07/2010 Caird Hall – UK Dundee,UK
06/08/2010 Clyde Auditorium – UK Glasgow,SCOTLAND
06/10/2010 Apollo – Manchester Greater Manchester ,UK
06/11/2010 Apollo – London Hammersmith,UK
06/13/2010 Vega Main Hall – Copenhagen DK-1674 Copenhagen
06/14/2010 Cirkus – Sweden Stockholm
06/15/2010 Wrigthegården Langesund,Norway
06/17/2010 Tempodrom – Berlin Berlin,Germany
06/18/2010 Melkweg – Netherlands AMSTERDAM,Holland
06/19/2010 Freilichtbuhne – Germany Stuttgart,Germany
06/20/2010 Stadthalle – Austria Vienna,Austria
06/21/2010 Circus Krone – Munich Munich,Germany
06/23/2010 Grosser Festival – Switzerland Basel,Switzerland
06/24/2010 Ancienne Belgique – Belgium Brussels,Belgium
06/25/2010 Glastonbury Festival – UK Glastonbury,UK
06/26/2010 Olympia – France Paris,France
07/04/2010 The Backyard at Bee Cave Austin,TX
07/25/2010 Pier Six Pavilion Baltimore,MD
07/28/2010 Radio City Music Hall New York,NY
07/29/2010 CMAC Canandaigua,NY
07/30/2010 MGM Grand Theater @ Foxwoods Mashantucket,CT
08/03/2010 Filene Center @ Wolf Trap Vienna,VA
08/06/2010 Circus Maximus Theatre Atlantic City,NJ
08/12/2010 Cape Cod Melody Tent Hyannis,MA
08/13/2010 House of Blues – Boston Boston,MA
08/14/2010 Meadows Racetrack & Casino Washington,PA
09/11/2010 Cannery Casino Hotel North Las Vegas,NV
09/12/2010 Ironstone Amphitheatre Murphys,CA
09/13/2010 Wente Vineyards Livermore,CA
09/14/2010 Hanford Fox Theatre Hanford,CA
09/16/2010 Puyallup Fair Puyallup,WA
09/17/2010 Les Schwab Amphitheater Bend,OR
09/18/2010 Edgefield Manor Troutdale,OR
09/19/2010 Cuthbert Amphitheater Eugene,OR
09/20/2010 The Catalyst Santa Cruz,CA
09/22/2010 The Mountain Winery Saratoga,CA
09/23/2010 Santa Barbara Bowl Santa Barbara,CA
09/24/2010 Greek Theatre Los Angeles,CA
09/26/2010 Harrahs Rincon Valley Center,CA
10/05/2010 Rialto Square Theatre Joliet,IL
10/06/2010 Grand Theater on Artsblock Wausau,WI
10/08/2010 Mystic Lake Casino Hotel Prior Lake,MN
10/09/2010 Mystic Lake Casino Hotel Prior Lake,MN
10/10/2010 7 Flags Event Center Clive,IA
10/12/2010 Northern Lights Theatre Milwaukee,WI