Dar Williams at Webster Hall (01/23/09)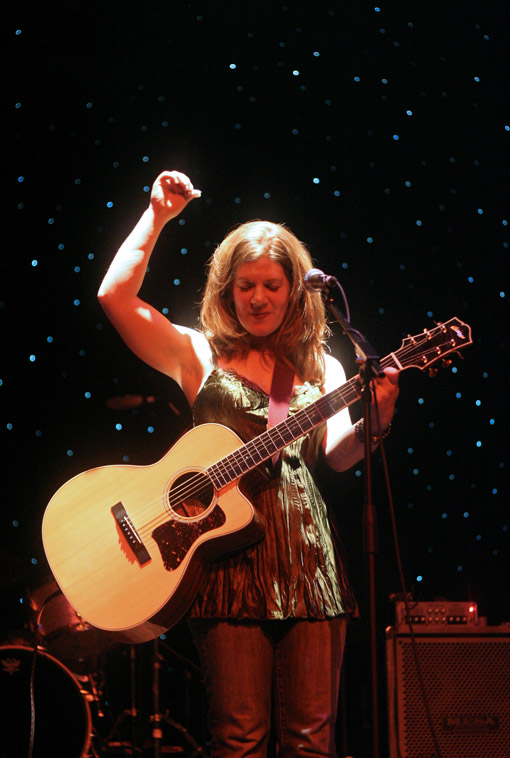 Photo: Matt Fricovsky
April is Autism Awareness Month, and a world-class collection of troubadours have banded together to make sure EVERYONE is aware through SONGS OF THE SPECTRUM, an all-star album of original songs about autism set for release Tuesday, April 6, 2010 through SingSOS, a new nonprofit organization formed to enlist the power of music to spread the word about autism. The SONGS OF THE SPECTRUM Benefit CD Release Concert stars just some of the artists appearing on the CD. Jackson Browne, Dar Williams, Marshall Crenshaw, Jonatha Brooke, Teddy Geiger, Ari Hest, Dan Bern, Richard Julian, Ollabelle, Valerie Carter, Don Dixon & Marti Jones, Christina Courtin, and Mike Viola, Kelly Flint and The Cucumbers comprise the complete cast of established and emerging artists singing songs expressing the journey of heartbreak to the unexpected joy and understanding that comes from encountering the world of autism. The songs are all collaborations between Jon Fried and Deena Shoshkes the husband-wife team at the heart of the veteran indie-pop band The Cucumbers, and John O'Neil, a New York Times editor whose 2004 essay for the paper about his autistic son James was part of a Pulitzer Prize-nominated series. Each artist will perform the songs they recorded on the album, as their own originals.
In celebration of the record's release, a number of the artists featured on Songs of The Spectrum CD will be participating in a benefit show tonight (April 7) at The Bitter End in NYC. Here's a look at the all-star lineup for tonight's show:
Dar Williams – singer/songwriter
Marshall Crenshaw – singer/songwriter
Ari Hest – singer/songwriter
Christina Courtin – singer/songwriter
Kelly Flint – singer/songwriter
Fiona McBain – lead singer of Ollabelle
The Cucumbers – veteran NJ/NY indie pop band
SingSOS Band led by Michael Visceglia
Claudia Marshall – WFUV personality
Songs of the Spectrum



$20 advance tickets are sold out on TicketWeb, but I'm told that there will be around 20 tickets available at the door for tonight's show, so if you get there early enough, you still should be able to snag a seat. Doors are at 7 and the show starts at 8. If you can't make the show, you can still download the full album for $1 (or more if you like) throughout the month of April or purchase the CD for $12.95.
Songs of the Spectrum full track list after the jump.
Songs of the Spectrum Track List
Afraid (My Brother's Cries) – Teddy Geiger
Day After Day – Jackson Brown & Valerie Carter
Diagnosis – Richard Julian
When You Grow Up – Jonatha Brooke
He's Coming Back – Don Dixon & Marti Jones
Hide and Seek – Kelly Flint
If It Were His Legs – Christina Courtin
House on Fire – Dar Williams
It's Time – Dan Bern & Mike Viola
My Perspective – James O'Neil
One Went Missing – Ollabelle
Shiny House – The Cucumbers
Treatment – Ari Hest
Understanding – Marshall Crenshaw