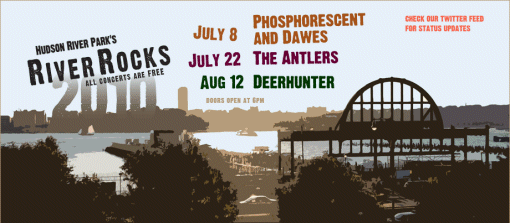 I realize the last two days have been a little light around here, so here's some good news to tide you over for the weekend.
12th Annual Hudson River Park's RiverRocks Lineup
07/08 Phosphorescent and Dawes
07/22 The Antlers with Dinosaur Feathers
08/12 Deerhunter with Real Estate
Free Summer Concerts Begin July 8 at Hudson River Park's Pier 54.
Read the full press release after the jump.
NEW YORK, April 2010 — Brooklyn-based indie rock bands Phosphorescent and The Antlers, along with L.A.'s Dawes and Atlanta's Deerhunter are slated to headline the 12th annual Hudson River Park's RiverRocks summer concert series on Pier 54 in Hudson River Park.
Hudson River Park's RiverRocks free summer concerts, on Pier 54 in New York City, begin July 8.
The free outdoor concert series kicks off Thursday, July 8, with the infectious indie folk/alt country band Phosphorescent on a co-bill with the "authentically vintage" sounding L.A.-based Dawes.
The Antlers, the meteoric post-rock artists take the stage Thursday, July 22, with fellow Brooklyn-based Dinosaur Feathers and its tropical surf pop sound opening the show.
RiverRocks concludes the 2010 summer season on Thursday, August 12, with Atlanta's Deerhunter, led by Bradford Cox — among the most talented and hardest working indie artists in the business. Opening for Deerhunter is Brooklyn's Real Estate.
RiverRocks is Hudson River Park's signature concert series staged on the Pier 54 waterfront adjacent to New York City's Meatpacking District (at 14th Street). With the setting sun and the Hudson River serving as the backdrop, each show is expected to draw capacity audiences.
Gates open at 6 p.m. for all RiverRocks shows, which are scheduled to begin at 7 p.m. More information is available at www.riverrocksnyc.com.
Hudson River Park is a 550-acre, 5-mile-long waterfront park stretching from Battery Place at the southern tip of Manhattan all the way up to 59th Street along the Hudson River (www.hudsonriverpark.org).
________________________________________
Thursday, July 8
RiverRocks featuring
PHOSPHORESCENT, and
DAWES
7 p.m. (gates at 6 p.m.)
Hudson River Park, Pier 54
RiverRocksNYC.com or HudsonRiverPark.org
Phosphorescent
Fronted by singer/guitarist Matthew Houck, Phosphorescentis an infectious indie folk/alt country band that performs a modern version of what Gram Parsons once dubbed Cosmic American Music — "a holy intersection of unpolished American expression: gospel, soul, folk, Appalachia, R&B, country, bluegrass, blues, rockabilly, and honky-tonk."
Phosphorescent's latest album Here's To Taking It Easy (May 11, 2010) marks the release of its first collection of original material since the acclaimed Pride (2007). While the instrumentation on Pride was performed exclusively by Houck, the current live incarnation of the band includes Scott Stapleton, piano; Jeff Bailey, bass; Chris Marine, drums; Jesse Anderson Ainslie, guitar; and Ricky Ray Jackson, pedal steel.
Houck, raised in Alabama but now based in Brooklyn, once wrote and recorded in Athens, Georgia, and has always made music steeped in the Southern-gothic tradition — a sweet American folk soaked in atmosphere.
Phosphorescent's new work includes anthems like "The Mermaid Parade" and "It's Hard to Be Humble (When You're From Alabama)" that sound perfect pumped out of the car stereo with the windows rolled down. "Heaven, Sittin' Down" recalls the country rock of the band's 2009 tribute album To Willie (Nelson), while the stark "Los Angeles" sounds as if it was lifted from the grooves of Neil Young's On the Beach.
Phosphorescent performs classic music that could be from another era, but sounds perfect right here, right now, any time, any season. (myspace.com/phosphorescent)
Dawes
With its debut release North Hills in 2009, Dawes produced an ode to their hometown, Los Angeles, and in doing so gained critical attention as "a perfect band" with an "authentically vintage" sound.
Comprised of brothers Taylor (vocals/guitar) and Griffin (drums/vocals) Goldsmith, Wylie Gelber (bass), and Alex Casnoff (piano/vocals), Dawes creates Southern-tinged tunes that are graceful and poetic, yet firmly L.A. rock-n-roll, and part of today's Laurel Canyon sound whose influences include Jackson Browne, Crosby, Stills, and Nash and Neil Young. (myspace.com/dawestheband)
Thursday, July 22
RiverRocks featuring
THE ANTLERS, with
DINOSAUR FEATHERS
7 p.m. (gates at 6 p.m.)
Hudson River Park, Pier 54
RiverRocksNYC.com or HudsonRiverPark.org
The Antlers
The emotional, self-released debut album Hospice by The Antlers catapulted the fledgling Brooklyn band into the stratosphere in 2009, metaphorically rocketing them around the world in 80 days.
Influential music sites such as PopTartsSuckToasted and Pitchfork touted The Antlers music early on, and combined with relentless touring by the band, the accolades grew. Their music became recognized as "one of the most beautiful and moving works…heard in a long, long time," (NPR's All Songs Considered), and "art rock of the first caliber…with gorgeously morose piano and electronically driven jams that are as engaging as they are emotionally distraught" (Relix). Hospicerose to the top of countless 2009 top 10 lists.
The Antlers are founder singer/songwriter/composer Peter Silberman, powerhouse drummer Michael Lerner and the layer-lathering multi-instrumentalist Darby Cicci. Together they are evolving from simply post-rock songs – verse/chorus, verse/chorus, filled with contrasting shards of ambient noise, sweeping strings and smoky horns — into "a massive sound" doused in delay, reverb and unrehearsed chaos. (myspace.com/theantlers)
Dinosaur Feathers
Dinosaur Feathers may come from Brooklyn, but musically the roots of the band extend to locales throughout the globe. The trio's sunny avant-pop sails through Motown melodies, tropical grooves, and African rhythms. What is essentially '50s and early-'60s-inspired pop music is "mucked up on purpose" with ambient sounds – i.e. birds recorded in the deserts of Mali or children playing in the streets of Philadelphia.
The music takes unexpected turns through a maze of pop, with vocal harmonies dancing through waves of moody guitars, keys and noise, all layered over intricate tribal and tropical rhythms. Critics say Dinosaur Feathers takes "a sound typically tagged 'experimental' and turn it into something warm and accessible." (The L Magazine) (myspace.com/dinosaurfeathers)
Thursday, August 12
RiverRocks featuring
DEERHUNTER, with
REAL ESTATE
7 p.m. (gates at 6 p.m.)
Hudson River Park, Pier 54
RiverRocksNYC.com or HudsonRiverPark.org
Deerhunter
Musically, Deerhunter is, and has been, many things – ambient punk, noise rock, art rock, shoegaze, post-punk and plain pop.
The Atlanta-based group today includes Bradford Cox, Moses Archuleta, Lockett Pundt, Joshua Fauver, and Whitney Petty. Together and individually, they've been hyped, buzzed, twitted, leaked, loved and maligned since breaking nationally in 2006/07. For hardcore fans, shows are described as a "religious experience."
Both Deerhunter's second and third albums Cryptograms (2007) and Microcastle (2008) were ranked by music critics and aficionados alike as among the best albums of their respective years — and the latter ranked among the best of the past decade.
Following a busy spring which took the band on tour opening for Spoon, to top billings at major festivals including Coachella and All Tomorrow's Parties (UK), Deerhunter returns to New York City to headline the final RiverRocks concert of 2010. (myspace.com/deerhunter)
Real Estate
Real Estate waft in on vibes of hazy summers from days past, living in the burbs.
With tracks titled "Beach Comber," "Pool Swimmers," "Suburban Dogs," "Atlantic City," "Snow Days," and "Basement," it's no surprise to learn that three of the band's four members are New Jersey natives. And, the Garden State's indie-pop heritage sneaks its way into the band's sound.
In early 2009, Stereogum flagged the quartet as a "Band to Watch," nothing that "beyond geography, [the] songs mix languid psychedelia, muted vocals, a boomy undertow of drums and jammy repetitions that somehow conjure fellow Garden State crew the Feelies." Also present is the influence of Yo La Tengo, and teenaged memories of aimless drives through parched neighborhood streets.
Now residing in Brooklyn, Real Estate is made up of Martin Courtney IV (guitars, bass, vocals), Matthew Mondanile III (guitar, keyboard), Etienne Pierre Duguay (drums, bongos), and Alex Bleeker (bass, percussion).
In late 2009, the band released it's debut full-length LP Real Estate, followed a month later with the EP Reality. Both garnered critical praise and "best new music" accolades, including Pitchfork which wrote that "many of these songs have sound-tracked a time when it feels like every kid in or just out of college seems to be handcrafting/clamoring for music that shuttles us back to a time before career choices, adult responsibility, and this recession." (myspace.com/realestate)