2010 Juno Awards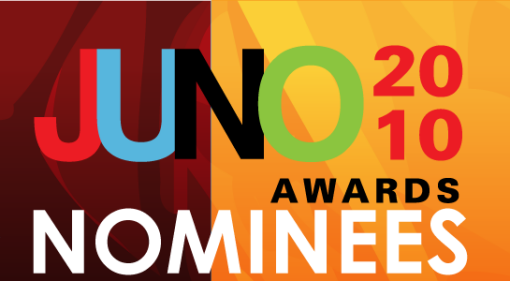 If you were a little preoccupied with today's Record Store Day festivities, you might have missed the fact that 32 of this year's Juno Awards (aka the Canadian Grammys) were handed out tonight (April 17) at a gala awards dinner in St. John's, Newfoundland (that's right folks, the Junos will start on the half hour this year). Amongst the early returns, some big surprises included the jazz crooning Michael Bublé beating out teen pop sensation Justin Bieber for the "Pop Album of the Year" award and Somali-Canadian rapper K'Naan winning the prize for "Artist of the Year" over such multi-platinum selling artists as Diana Krall and the aforementioned Bublé. The other thing worth noting about this year's winners, is that the traditionally industry and sales driven Junos, recognized a number of independent artists including: Charles Spearin, Bell Orchestre, K'naan, Joel Plaskett and Arkells. Here's a list of a few of the more notable 2010 Juno Awards Pre-Broadcast winners:
2010 Juno Awards Pre-Broadcast Winners (April 17, 2010)

Pop Album of the Year
Michael Buble, "Crazy Love"

Rock Album of the Year
Billy Talent, "III"

International Album of the Year
Kings of Leon, "Only by the Night"

Artist of the Year
K'naan

New Group of the Year
Arkells

Adult Alternative Album of the Year
Joel Plaskett, "Three"

Alternative Album of the Year
Metric, "Fantasies"

Contemporary Jazz Album of the Year
Charles Spearin, "The Happiness Project"

Instrumental Album of the Year
Bell Orchestre, "As Seen Through the Windows"
The remaining 7 "big awards" will be handed out Sunday night during the live telecast from Mile One Centre in Newfoundland. Here's a list of the remaining categories and nominees:
JUNO FAN CHOICE AWARD
Ginette Reno
Johhny Reid
Maxime Landry
Michael Bublé
Nickelback

SINGLE OF THE YEAR
"Rusted From the Rain" – Billy Talent
"Anybody Listening" – Classified
"Best I Ever Had" – Drake
"Haven't Met You Yet" – Michael Bublé
"Love Is A First" – The Tragically Hip

ALBUM OF THE YEAR
III – Billy Talent
Quiet Nights – Diana Krall
Dance With Me – Johnny Reid
My World – Justin Bieber
Crazy Love – Michael Bublé

GROUP OF THE YEAR
Billy Talent
Blue Rodeo
Hedley
Metric
The Tragically Hip

NEW ARTIST OF THE YEAR
Carly Rae Jepsen
Danny Fernandes
Drake
Justin Bieber
Shiloh

SONGWRITER OF THE YEAR
Carly Rae Jepsen & Ryan Stewart
Emily Haines & James Shaw
Joel Plaskett
K'Naan
Michael Bublé and Amy S. Foster

RAP RECORDING OF THE YEAR
Still Fly – Big Page, Drake & U.G.O. Crew
Self Explanatory – Classified
So Far Gone – Drake
Yes! – k-os
Troubadour – K'Naan
More 2010 pre-broadcast Juno award winners after the jump.
2010 Juno Awards Pre-Broadcast Winners (April 17, 2010)
Country Album of the Year
Johnny Reid, "Dance With Me"
Vocal Jazz Album of the Year
Ranee Lee, "Ranee Lee Lives Upstairs"
Traditional Jazz Album of the Year
Terry Clarke, "It's About Time"
Francophone Album of the Year
Andrea Lindsay, "Les sentinelles dorment"
Children's Album of the Year
Norman Foote, "Love My New Shirt"
Classical Album of the Year: Solo or Chamber Ensemble
Joel Quarrington, "Joel Quarrington: Garden Scene"
Classical Album of the Year: Large Ensemble or Soloist(s) with Large Ensemble Accompaniment
Alain Levefre & London Mozart Players, "Mathieu, Shostakovich, Mendelssohn: Concertino & Concertos"
Classical Album of the Year: Vocal or Choral Performance
Adrianne Pieczonka, "Adrianne Pieczonka sings Puccini"
Classical Composition of the Year
Marjan Mozetich, "Lament in the Trampled Garden"
Dance Recording of the Year
Deadmau5, "For Lack of a Better Name"
R&B/Soul Recording of the Year
jacksoul, "Lonesome Highway"
Reggae Recording of the Year
Dubmatix ft. Prince Blanco, "Gonna Be Alright"
Aboriginal Album of the Year
Digging Roots, "We Are"
Roots & Traditional Album of the Year: Solo
Amelia Curran, "Hunter, Hunter"
Roots & Traditional Album of the Year: Group
Good Lovelies, "Good Lovelies"
Blues Album of the Year
Jack de Keyzer, "The Corktown Sessions"
Contemporary Christian/Gospel Album of the Year
Matt Brouwer, "Where's Our Revolution"
World Music Album of the Year
Dominic Mancuso, "Comfortably Mine"
Jack Richardson Procuer of the Year
Bob Rock, "Haven't Met You Yet"/"Baby (You've Got What it Takes)" (Michael Buble, "Crazy Love")
Recording Engineer of the Year
Dan Brodbeck, "Apple of My Eye"/"Be Careful" (Dolores O'Riordan, "No Baggage")
Recording Package of the Year
Martin Bernard (art director), Stephane Cocke (photographer), Thomas Csano (designer/illustrator); (Beats on Canvas, "Beats on Canvas"
Video of the Year
Marc Ricciardelli, "Little Bit of Red" (Serena Ryder)
Music DVD of the Year
Sam Dunn, Scott McFadyen for "Iron Maiden Flight 666"