Jakob Dylan and Three Legs at Town Hall (04/21/10)


Photo: Jon Klemm
Stream: Jakob Dylan – Women and Country
On Jakob Dylan's new record Women and Country, he teamed up with superstar producer T-Bone Burnett (who was at the helm for Dylan's 1996 breakthrough album Bringing Down The Horse) and indie darlings Neko Case and Kelly Hogan. The result is an atmospheric country record with Burnett's signature clearly stamped all over it. Dylan is currently on the road supporting Women and Country and he played two nights at the The Town Hall this past week (April 21 and 22) with Three Legs backing him up; some new dates were just announced today which will keep Jakob on tour until late May.
Mr. Dylan sang only one song, "Three Marlenas," from "Bringing Down the Horse" (Interscope), the multimillion-selling 1996 album he made when leading the Wallflowers. He has moved on, leaving behind urban glamour and squalor for heartland despair and trading folk-rock for music that looks toward a rural past but can't return there. His new songs hold more than a hint of the Texas school of songwriters led by Guy Clark, with their eye on the landscape and their homespun hymns, but instead of cozy Texas domesticity or humor, Mr. Dylan brings portents of ruin.

Three Legs included pedal-steel guitar, upright bass, a guitarist who doubled on mandolin and, for this concert, a guest fiddler: David Mansfield, who toured with Mr. Dylan's father, Bob, in the Rolling Thunder Revue. It also had two backup singers, Neko Case and Kelly Hogan, who usually lead their own bands.

The lineup was countryish, and the band at times eased up to a string-band lilt. But Mr. Dylan turned the sound inward. Jon Rauhouse's pedal-steel guitar tones hovered over the songs like a storm cloud, rarely coming forward for a solo. [NYTimes.com]
More Jakob Dylan tour dates and pictures from the Town Hall show after the jump.
Jakob Dylan – Women and Country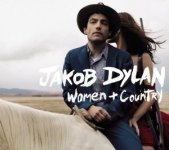 Jakob Dylan 2010 Tour Dates
04/25 Toronto, ON Phoenix Concert Theatre
04/26 Chicago, IL Park West
04/27 St. Paul, MN Fitzgerald Theatre
04/28 Milwaukee, WI The Pabst Theatre
05/12 San Francisco, CA The Regency Ballroom
05/13 Los Angeles, CA The Wiltern
05/15 Gulfshores, AL The Hangout
05/17 Atlanta, GA Center Stage
05/18 Carrboro, NC Cat's Cradle
05/20 Richmond, VA Lewis Ginter Botanical Garden
05/21 State College, PA State Theater
Jakob Dylan and Three Legs at Town Hall (04/21/10)