Todd Barry w/ The New Pornographers on Jimmy Fallon (05/05/10)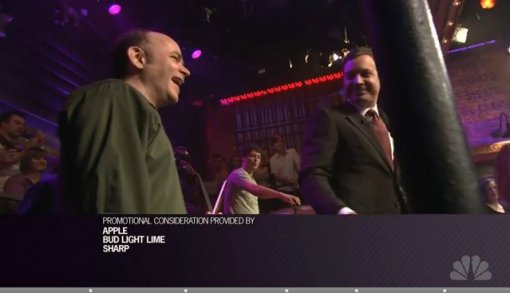 So, I was just checking out Todd Barry's home page and I knew he was opening for Ricky Gervais at the Theater at MSG from May 12-13 (which is pretty awesome), but what I didn't know is that he was also opening for Ricky at the much smaller Kaye Playhouse at Hunter College (max capacity 624) tomorrow night (Tuesday, May 11). Tickets for Tuesday night's Ricky Gervais/Todd Barry Hunter College gig are still available, in fact, I just pulled two seats in Center Orchestra Row D! If you can't catch Todd while he is town with Ricky, you might want to check him out while he is on tour with Mates of State and Free Energy or headlining back at Caroline's on Broadway from May 20-23 (use the code TODDB to get $10 tickets for the May 23 show).
Watch the full video of Todd Barry playing "Crash Years" with The New Pornographers on Jimmy Fallon after the jump.