Ra Ra Riot at Bowery Ballroom (03/07/08)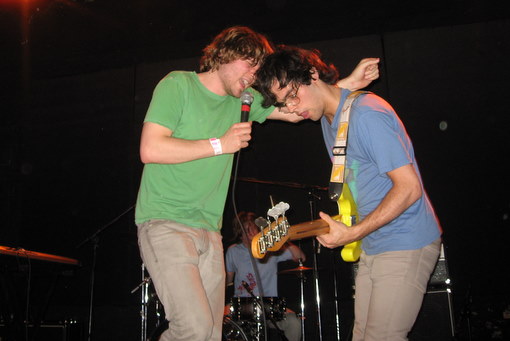 Photo: D. Caplan (more)
No less than three PR emails later, I figured I'd post the details about the long anticipated sophomore release from one of my favorite chamber pop bands. Ra Ra Riot's The Orchard is set to drop on August 24 on the Barsuk label.
Produced by Ra Ra Riot and Andrew Maury and mixed by Chris Walla (with one assist from Vampire Weekend's Rostam Batmanglij), The Orchard is 10 more stunning offerings of the bittersweet and endearing Ra Ra Riot blend that Entertainment Weekly likened to "Unforgettable Fire-era U2."

The Orchard's full track listing is:

1. The Orchard
2. Boy
3. Too Dramatic
4. Foolish
5. Massachusetts
6. You and I Know
7. Shadowcasting
8. Do You Remember
9. Kansai
10. Keep It Quiet
More of the press release and some national and international tour dates after the jump. Expect some more North American tour dates to follow shortly (I'm guessing an NYC record release show will happen right around August 24 and I'm placing my money on Brooklyn Bowl right now).
The Orchard follows up Ra Ra Riot's debut album, The Rhumb Line, released two years earlier (almost to the day) and immediately hailed as "a blissful chamber-pop breakthrough" in a 4-star Rolling Stone review (who named it the #38 album of 2008), and by Time Out New York as "classically pretty, but without getting all fussy about it." The Rhumb Line debuted at #109 on the U.S. album chart and went on to sell in excess of 60,000 copies as the band's live draw grew exponentially.

Ra Ra Riot is vocalist Wes Miles, bassist Mathieu Santos, guitarist Milo Bonacci, violinist Rebecca Zeller and cellist Alexandra Lawn. The Orchard marks the band's first time the band has been joined in the studio by drummer Gabriel Duquette, who has toured with the band since the release of The Rhumb Line.
Ra Ra Riot 2010 Tour Dates
05/30/10 B.O.M.B. Fest @ Durham Fairgrounds Durham, CT
06/05/10 Free Press Summer Fest @ Eleanor Tinsley Park Houston, TX
07/21/10 Hiroshima Club Quattro Hiroshima, Hiroshima , JP
07/23/10 Yokohama BLITZ Yokohama, JP
07/24/10 ZEPP Tokyo, JP
07/27/10 KSB Hall Kyoto, JP
07/28/10 KSB Hall Kyoto, JP
08/04/10 Ohio State Fair w/ DEVO Columbus, OH
08/28/10 Molson Canadian Amp w/ Tegan & Sara and City and Colour Toronto, ON