Sasquatch Music Festival 2010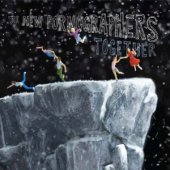 It's Memorial Day Weekend, so that can mean only one thing, it's time for Sasquatch again! This year's Sasquatch Music Festival (May 29–31) sold out in record time and it features the return of Pavement plus many artists who have just released or are soon to be releasing new albums. Once again, Sr. West Coast Festival Reporter Drake Le Lane will be covering this year's festivities "live" from the Gorge in George; he was kind enough to give us this festival pre-interview below.
Which band are you most looking forward to seeing at Sasquatch?
Drake: Pavement is the itch I most need scratched. They're at the main stage, though, so it likely won't end up being my favorite.
What was your biggest scheduling conflict this year?
Drake: The one-two combo of Girls and Dirty Projectors on the Bigfoot stage conflicts directly with the even bigger combo of LCD Soundsystem and Pavement on the Sasquatch main stage. Ouch. Honorable mention goes to the triple conflict of MGMT, New Pornographers and Neon Indian playing at once.
Which touring band isn't at Sasquatch that you would most like to see?
Drake: Male Bonding, hands down. [Hmm, I would have thought the The Black Keys maybe. -ed.]
You schedule is pretty ambitious, you think you will get it all in?
Drake: If I get 80%, I'll be happy, but I expect many to fall through the cracks, especially later in the day when the dogs get tired of slashing through the crowd.
In your opinion, what's the most important thing to bring to Sasquatch?
Drake: Tie between a water bottle and some protein that easy to carry and eat. I bring nuts and cold fried chicken.
How bad will it be if it rains?
Drake: Terrible, because the forecast has only a 10% chance of rain during festivities so I won't be prepared at all. (I don't expect any rain to worry about.)
What advice would you give you to festival newbie?
Drake: Pick your spots in the schedule for rest, food and water and don't skip it. Over three days, it's a marathon, so pace yourself. Many go out a little too hard the first night and end up missing some great bands the next day in recovery.
Bumpershine: Thanks Drake, have a good one!
Check out Drake's Sasquatch! sched after the jump.
Drake's Sasquatch 2010 Schedule
Saturday, May 29
12:05pm – 12:50pm Shabazz Palaces
12:50pm – 1:35pm Laura Marling
1:55pm – 2:40pm Mumford & Sons
3:00pm – 3:45pm Portugal. The Man
4:05pm – 4:50pm Edward Sharpe & The Magnetic Zeros
5:10pm – 5:55pm The Posies
5:35pm – 6:35pm Broken Social Scene
7:00pm – 8:00pm The National
7:30pm – 8:30pm The Hold Steady
8:30pm – 9:30pm Vampire Weekend
10:00pm – 11:30pm My Morning Jacket
Sunday, May 30
12:05pm – 12:55pm Caribou
1:30pm – 2:15pm Local Natives
2:35pm – 3:20pm The Tallest Man On Earth
3:20pm – 4:05pm They Might Be Giants
4:15pm – 5:00pm Avi Buffalo
5:50pm – 6:35pm The xx
7:00pm – 7:45pm Girls
7:00pm – 8:00pm LCD Soundsystem
8:15pm – 9:15pm Dirty Projectors
8:30pm – 9:45pm Pavement
Monday, May 31
12:00pm – 12:45pm Jaguar Love
12:00pm – 12:40pm The Heavy
1:55pm – 2:40pm The Temper Trap
3:00pm – 3:50pm Drive-By Truckers
3:25pm – 4:10pm Quasi
4:30pm – 5:15pm Dr. Dog
5:10pm – 5:55pm Japandroids
5:20pm – 6:20pm She & Him
5:40pm – 6:25pm The Mountain Goats
6:40pm – 7:40pm Band of Horses
8:05pm – 9:05pm MGMT
8:20pm – 9:20pm The New Pornographers
8:40pm – 9:25pm Neon Indian
9:30pm – 11:30pm Ween