King Khan and His Shrines at Sasquatch 2009 (more)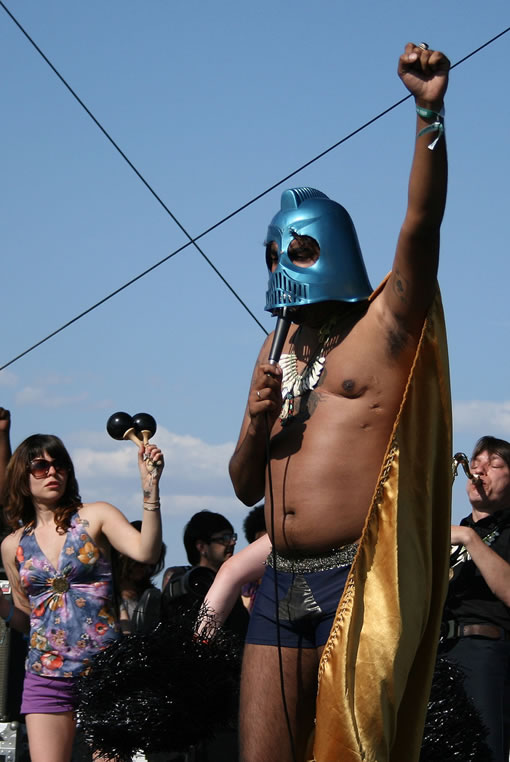 Photo: Drake Lelane
King Khan and BBQ Show are apparently touring North America a little in September and October and playing a show at the Bell House on September 11, 2010 (Buy Tickets). Not many other dates have been revealed yet (just Seattle), but I imagine there are more coming soon. According to an Exclaim! story, a new King Khan and BBQ album may come out later this year on In The Red, but I don't have any more details on that. Mark Sultan however, who is one half of the band released a solo record in April entitled $. Pitchfork gave it a so-so 6.8 rating.
Especially compared to King Khan's thousand-limbed Shrines, Sultan emphasizes austerity and economy, and his one-man band sounds most invigorated when he's immediate and concise, entertaining a melody and an idea for no more than a few minutes before fixing his gaze on the next. Too often on $ he makes too much of a glorious mess. Songs meander, repeat sections to diminishing returns, and often just hang around too long. Opener "Icicles" begins with an aimless guitar jam that staggers around for four tiresome minutes before finally getting to the end of the song; it's like listening to ice melt. "Ten of Hearts" may be one of his best doo-wop retreads, cutting through a lot of the revivalism to express something sincere and bittersweet, but there's no reason for it to be five minutes long. It'd be a tragedy if Sultan ever curtailed his wilder impulses or slowed his pace, but reining in his indulgences might have turned $ into $$. [Pitchfork.com]
More (incomplete) King Khan and BBQ Show tour dates after the jump.
UPDATE: This show was cancelled, but King Khan and His Shrines are playing at the Bell House on October 16.
King Khan and BBQ Show 2010 Tour Dates
06/09/10 Grappas Hong Kong China
06/11/10 Yuyintang Shanghai China
06/12/10 D22 Beijing China
06/17/10 Club Guess Daegu South Korea
06/18/10 Basement Busan South Korea
06/19/10 Rolling Hall Seoul South Korea
07/01/10 Royal Canadian Legion #1 Calgary AB (Sled Island)
09/11/10 The Bell House Brooklyn, NY
09/28/10 Neumo's Seattle, WA