Passion Pit at Celebrate Brooklyn! (06/29/10)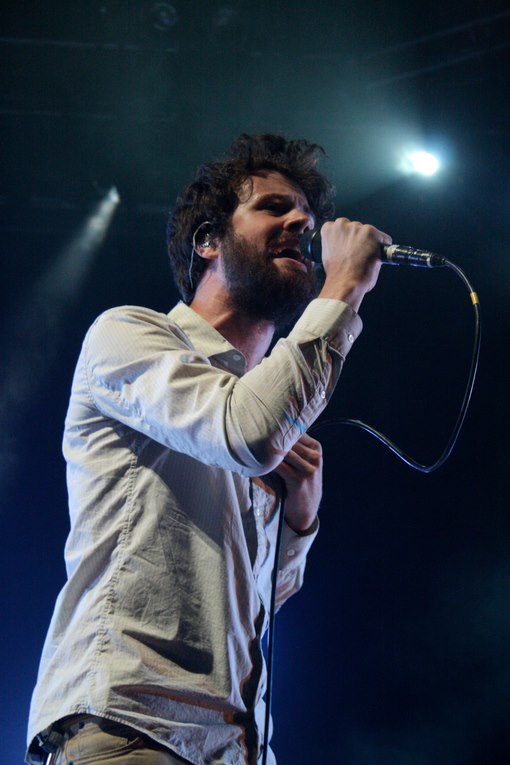 Photo: Marisa McGrody
On Tuesday night, Boston's Passion Pit played their biggest New York show to date, a sold out benefit before an enthusiastic crowd at the bandshell at Prospect Park. The next Celebrate Brooklyn! event is a free show featuring The Fab 5 and Uzalu on Friday, July 2. Here's a little technical assessment of the show from Citizen Journalist Zara Golden:
With only an EP (Chunk of Change), one full length (Manners) and a handful of remixes and covers (notably, and recently, of Katy Perry's "California Gurls" and a cover of Smashing Pumpkins' "Tonight, Tonight"), Passion Pit easily made it through most of their discography. They opened with a bleepy and almost sleepy-dance hit, "I've Got Your Number," giving the crowd a chance to adjust their ears to the effervescence of Passion Pit's syths and snares and their eyes to the bright, rainbow lights that backed them.
…
Their biggest, and also most dance-floor-ready hit, "Little Secrets," rounded out the long set, but few filtered out as the rainbow bright-lights shut off. They returned to stage for three more songs, including their popular cover of "Dreams" by The Cranberries and their break out hit, "Sleepyhead." [Huffington Post]
Upcoming tour dates and lots more pictures from the Passion Pit at Celebrate Brooklyn! after the jump.
PS Passion Pit's debut LP Manners is on sale now (July 2) for $5.00 at Amazon.com.
Passion Pit 2010 Tour Dates
Jul 02 2010 Nateva Music Festival Oxford, Maine
Jul 04 2010 Taste of Chicago Chicago, IL
Jul 09 2010 Molson Amphitheatre (with Metric) Toronto, CANADA
Jul 10 2010 Cisco Ottawa Bluesfest Ottawa, Ontario, CANADA
Jul 11 2010 Festival D'ete Quebec City, CANADA
Jul 12 2010 Le National Cabaret Montreal, CANADA
Jul 30 2010 Powerstation Auckland, NZ, NEW ZEALAND
Aug 01 2010 Splendour in the Grass (sold out) Brisbane, Aus, AUSTRALIA
Aug 02 2010 The Forum Sydney, AU
Aug 04 2010 The Prince Bandroom Melbourne, Victoria
Aug 05 2010 The Prince Bandroom (sold out) Melbourne, Victoria, AUSTRALIA
Aug 07 2010 Summersonic Festival Tokyo, JAPAN
Aug 08 2010 Summersonic Festival Osaka, JAPAN
Aug 21 2010 V Festival (sold out) Chelmsford, UK, UNITED KINGDOM
Aug 22 2010 V Festival (sold out) Stafford, UK, UNITED KINGDOM
Aug 25 2010 Cavaret Guadalajara, MEXICO
Aug 26 2010 Escenica Monterrey, Nuevo León, MEXICO
Aug 28 2010 Salon Vive Cuervo México DF, DF, MEXICO
Sep 22 2010 Viejas Arena (with Muse) San Diego, California
Sep 23 2010 Honda Center (with Muse) Anaheim, California
Sep 25 2010 Staples Center (with Muse) — (sold out) Los Angeles, California
Sep 28 2010 Arco Arena (with Muse) Sacramento, California
Oct 01 2010 Santa Ana Star Center (with Muse) Albuquerque, New Mexico
Oct 02 2010 Pepsi Center (with Muse) Denver, Colorado
Oct 05 2010 Target Center (with Muse) Minneapolis, Minnesota
Oct 06 2010 Bradley Center (with Muse) Milwaukee, Wisconsin
Oct 08 2010 The Ford Center (with Muse) Oklahoma City, Oklahoma
Passion Pit at Celebrate Brooklyn! by Marisa McGrody