2010 Virgin Free Fest Lineup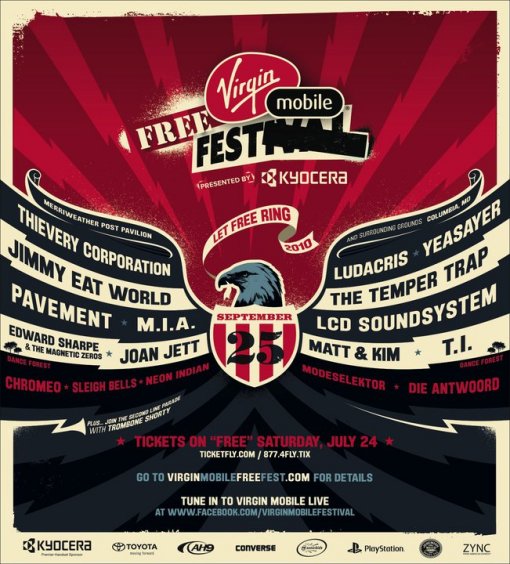 So this year's Virgin Mobile Free Fest lineup was posted this morning and it looks pretty damn good, in fact, I'd even go as far as to say that it looks pretty awesome, especially when you factor the free part. With the exception of Jimmy Eat World (token mainstream pop act), Ludacris and T.I. (hip hop) and Joan Jett (rock'n roll nostalgia), it's more or less all indie goodness. Tickets go on "sale" to the general public on Saturday, July 24 at 10AM EDT on Andrew Dreskin's TicketFly. Check the Virgin Mobile Festival Facebook Fan Page for special presale (freesale) info which will be posted on Friday.
View the 2010 Virgin Mobile Free Fest lineup in words after the jump.
2010 Virgin Free Fest Lineup
LCD Soundsystem
Pavement
M.I.A.
T.I.
Ludacris
Joan Jett
Thievery Corporation
Matt & Kim
Jimmy Eat World
The Temper Trap
Edward Sharpe and the Magnetic Zeros
Yeasayer
Chromeo
Neon Indian
Sleigh Bells
Die Antwoord
Modeselektor