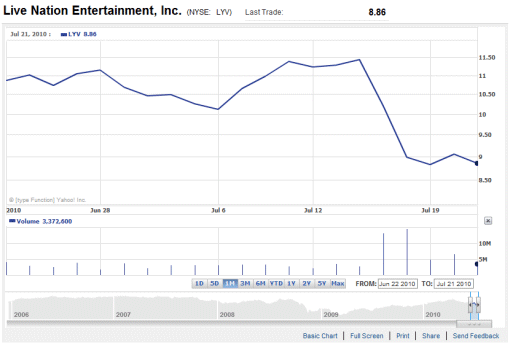 So, some of you may have noticed that I make a little money off of this site selling tickets via Ticketmaster. Though the commission rate varies depending on the price of the ticket, it usually works out to a rate of about 1% of gross sales after all is said and done. In short, it's not a lot of money for the effort. However, in a gesture of "loyalty to their sponsors", that pittance is about to become less of a pittance due to some upcoming changes to the TM affiliate program. Starting on July 26, Ticketmaster is eliminating "commissions for presale tickets or ticket purchases made within 24 hours of when tickets first go on sale to the public." Essentially, this means people won't make anything in commissions if a show sells out right away. Here's the email that went out:
We want to let you know about two important changes to our affiliate program.

As of July 26, 2010, we are no longer awarding commissions for presale tickets or ticket purchases made within 24 hours of when tickets first go on sale to the public.

This decision is intended to keep presales exclusive to our sponsors (fan clubs, promoters, radio stations, etc.), and focus our affiliate program on selling tickets available after the first 24 hours.

This still leaves over 40,000 commissionable events to promote to your site visitors. We value your promotional efforts and appreciate your partnership with us. Thank you for your understanding as we make these changes. If you have any questions, you can always contact us at affiliates@ticketmaster.com.

Thank you,

Ticketmaster Affiliate Team
OK, so how does pointing people to the existence of American Express presales make them any less exclusive to American Express cardholders? That's right, it doesn't. I will concede that sometimes certain Fan Clubs get a little upset when you publicly spill the beans on a exclusive fan club password, but as long as the Internet is around, that is going to happen no matter what. Where the argument completely breaks down however, is regarding sales within the first 24 hours of a public on sale. After tickets are freely available to the general public, there are no more BS sponsor loyalty issues to be concerned about, at that point, it's purely about Ticketmaster wanting the extra revenue all to itself. Sure, if a show isn't selling well, Ticketmaster doesn't mind taking the hit on commissions to put some asses in the seats, but for the hot shows, from now on, it'll be thanks, but no thanks to the affiliates.
In other completely unrelated news, Live Nation Entertainment, Inc. LYV (the parent company of Ticketmaster) closed at $8.86 today (July 21) after its recent disastrous earnings report.