Steel Tigers of Death at Capitol Hill Block Party (07/25/10)


Words and Photos: Drake Lelane
Logistically, Saturday didn't work out for Drake, so here's his second (and final) recap from the 2010 Capitol Hill Block Party. -ed.
Capitol Hill Block Party: Day Three (July 25, 2010)
Unlike the first day, I was able to get there early enough to navigate myself to the main stage for a few sets. By the time the Blue Scholars came on, though, it was once again an impossibly crowded affair. Leaving the main stage near the end of BS' set, it took me about 7 minutes to navigate the crowd.
Steel Tigers of Death
The local band in the (almost) bunny suits rocked the dark and sweaty confines of Neumos, pausing for classic rock poses and (literally) lighting up the stage. Lost in the novelty of their antics on stage is the fact that the songs do in fact rock. A pleasant way to start the day.
The Maldives
Here's a band that has played in roughly 80% of every music festival I've attended over the past three years. While I enjoy their sets, I always think, "hey, I've seen them enough times… I should check out someone else," but then somehow I find myself there. Their brand of breezy alt-country is tailor made for outdoor festivals, I guess.
Mad Rad
The local (seriously — just a couple blocks away from the stage) act used to have a rather notorious reputation for disruptive sets and have been banned in the past from venues all over the city. In the past year or so, though, they've cleaned up their act a bit, got a manager and have figured out how to channel their wont of mischief into the music. They even got other local bands in on the act, with members of Mt. St. Helens Vietnam Band and Head Like a Kite joining the rap-dance trio on stage for parts of the set.
Villagers
Singer/songwriter Conor J. O'Brien was flying solo without the band for this one, but even with a quiet acoustic set, the songs and deliver still had the power to knock you on your ass. As expected, the song "Becoming a Jackal" (title track from their latest release) was an impressive highlight. It's no wonder the album made the shortlist for this year's much coveted Mercury Prize.
Real Estate
I don't know if it was because they were missing guitarist Mathew Mondanile, or that they were sandwiched between local hip-hop acts (Mad Rad, Blue Scholars), but Real Estate really felt out of place. The songs sounded fine, but the energy just wasn't there. As I looked through the photos I took, I had a hard time distinguishing one shot from the other, confirming this first impression.
Blue Scholars
Seattle's favorite rap sons, Sabzi and Geologic, are still ours for now thanks to their penchant for keeping their lyrical content local, but it's only a matter of time before they become America's favorite rap sons. Seattle Mayor Mike McGinn introduced the band, once again proclaiming them to be his favorite rap band (Blue Scholar fans are voters, you know) and then Blue Scholars unleashed a concise campaign on our ears. As usual, lots of love for the 206, and the crowd ate it up,
Grand Archives
Playing at the same time as Blue Scholars, I missed most their set, but that wasn't an issue knowing that I'd be seeing them soon at Doe Bay Fest (CHBP 2010 featured eight acts also making the ferry ride next month). Matt Brooke's breezy pop sounds were the perfect cool down from a hot day. With no desire to see Dead Weather's "we're rock stars" act, it was time to go home and catch Mad Men's season premiere.
More photos from Day 3 (Sunday, July 25) of the 2010 Capital Hill Block Party after the jump. Until next year, amigo.
Steel Tigers of Death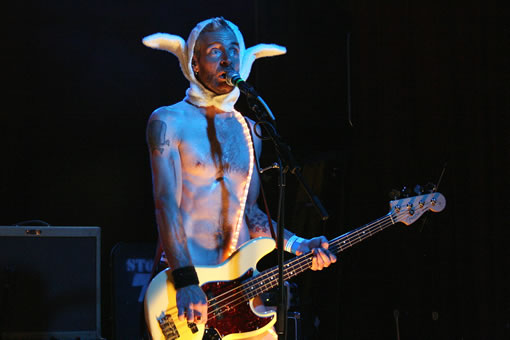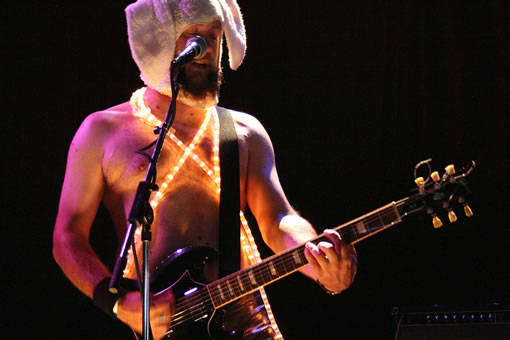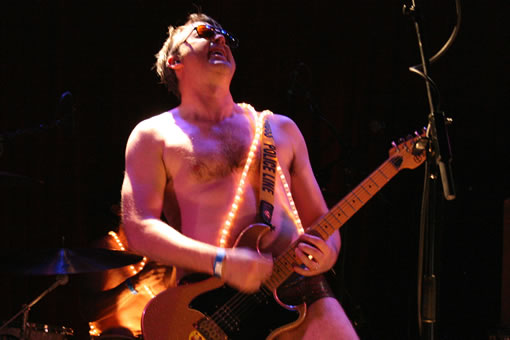 Maldives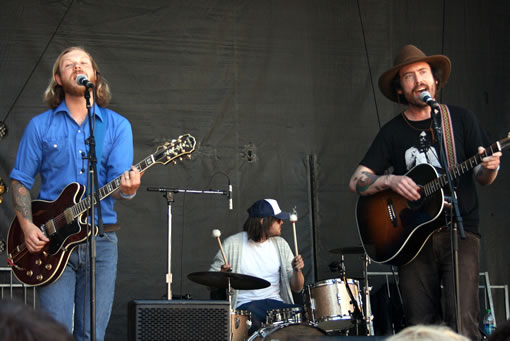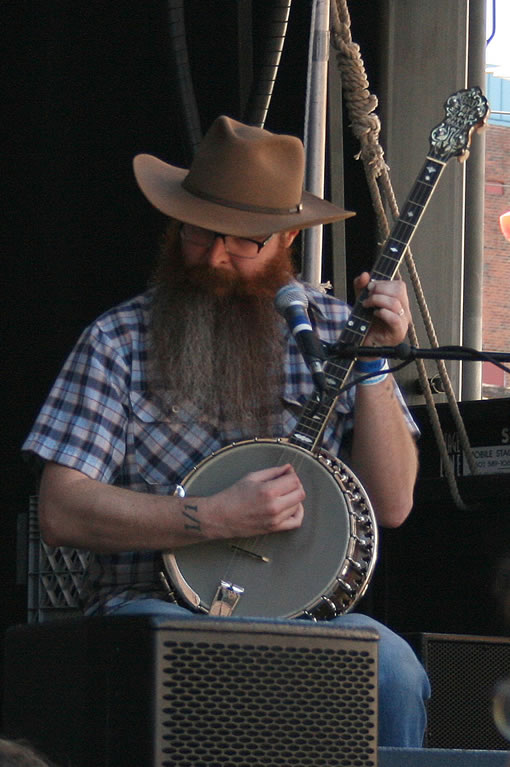 Mad Rad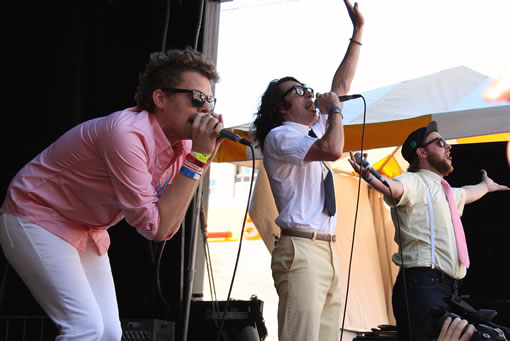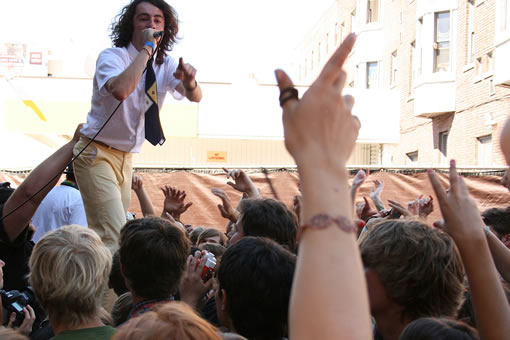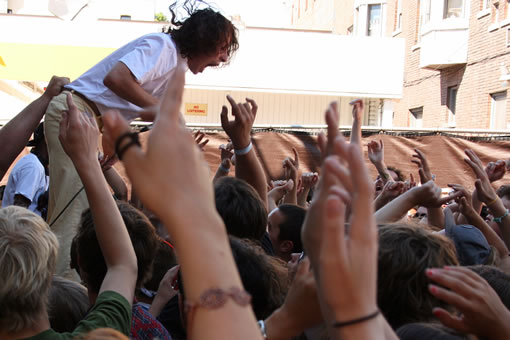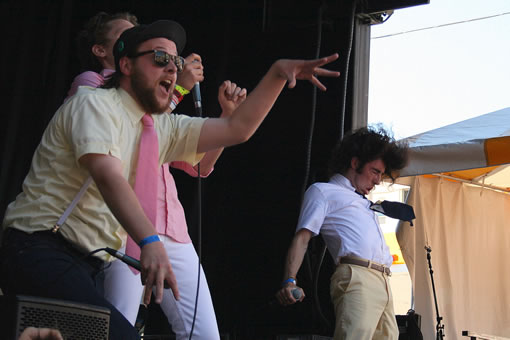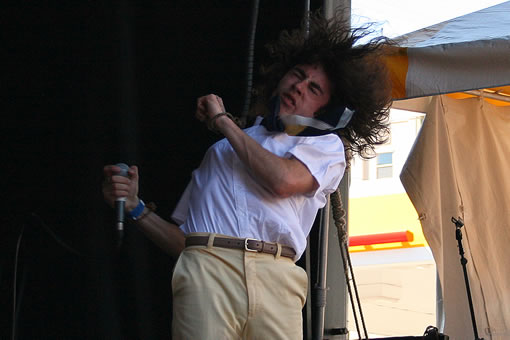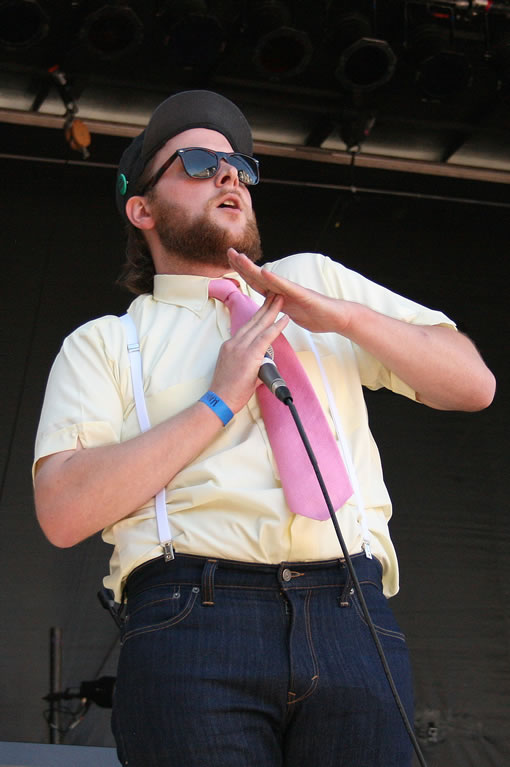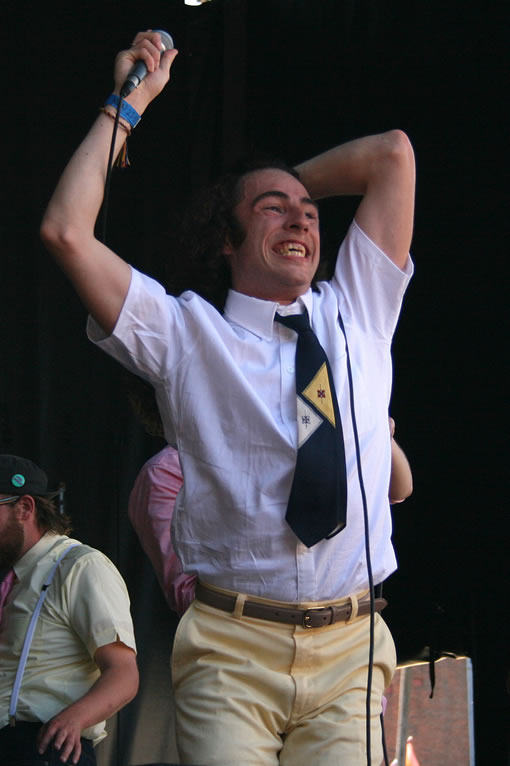 Villagers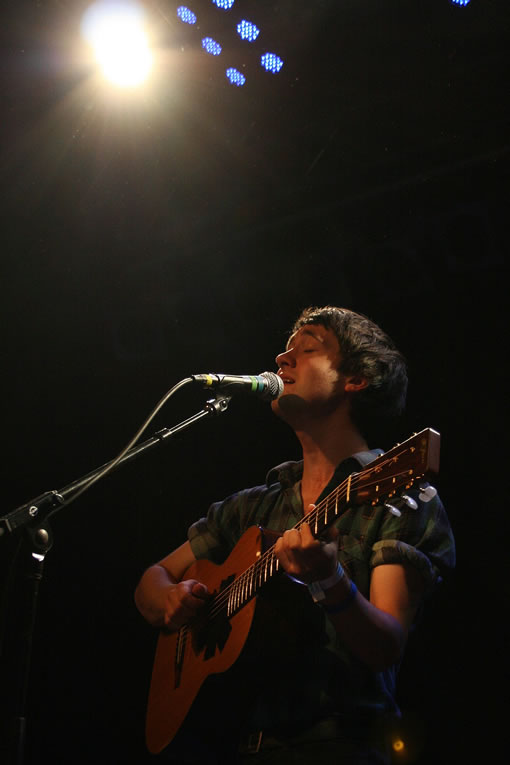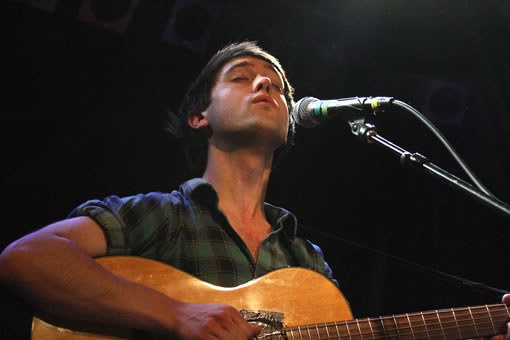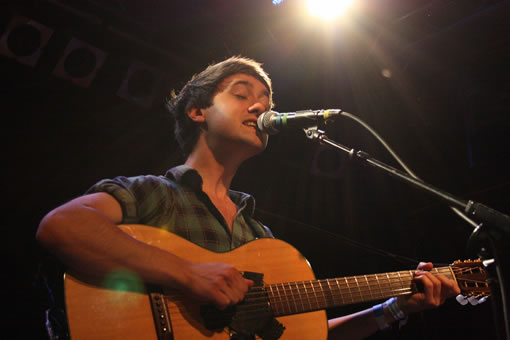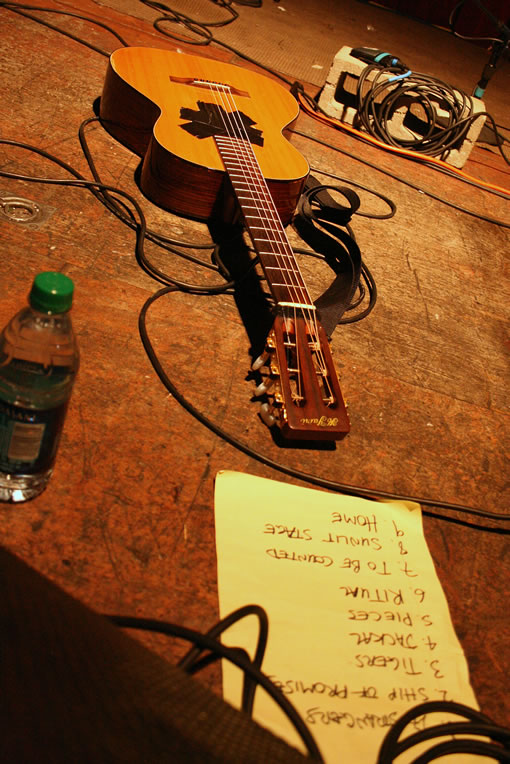 Real Estate

Blue Scholars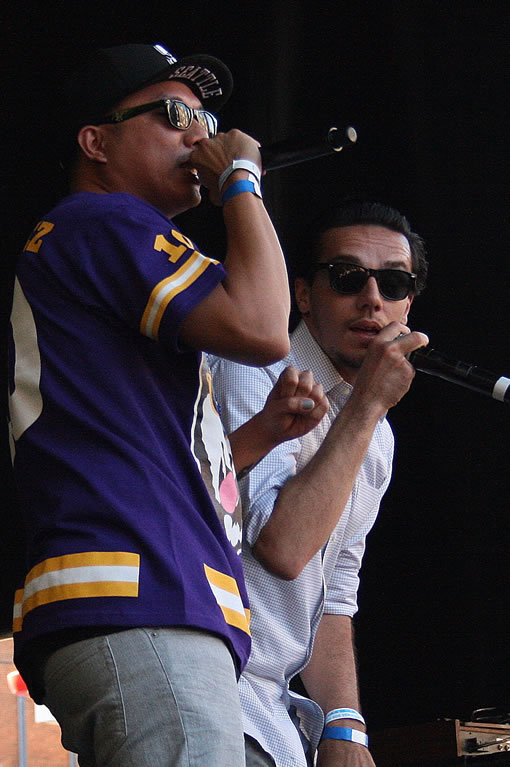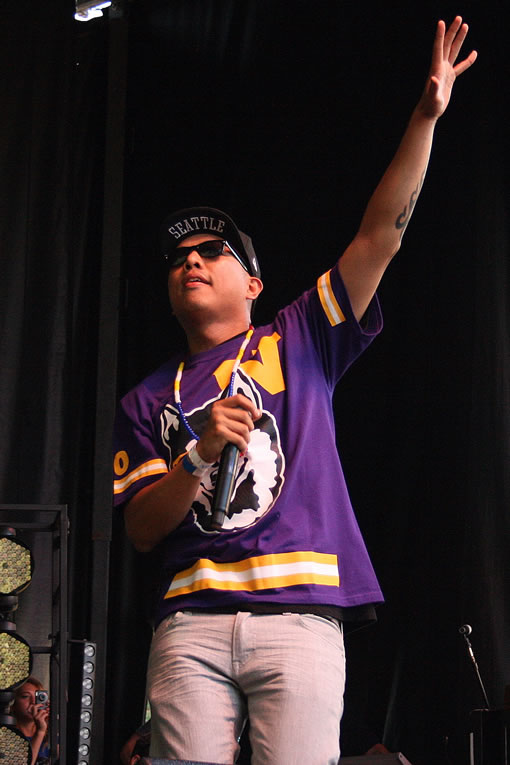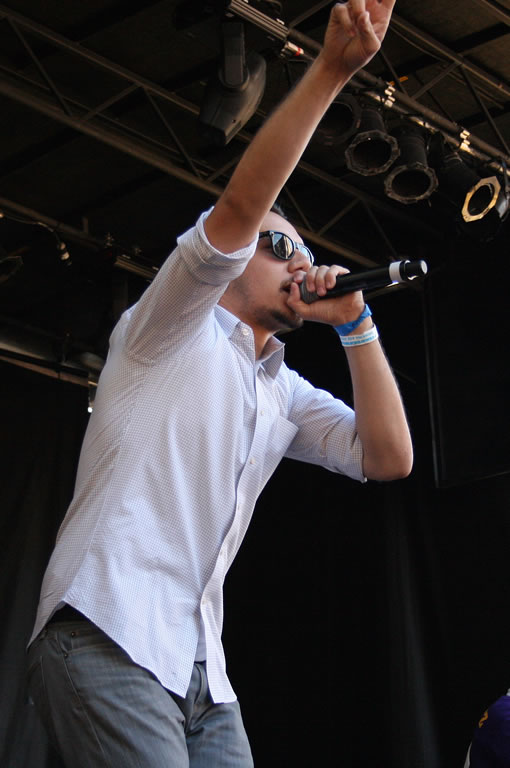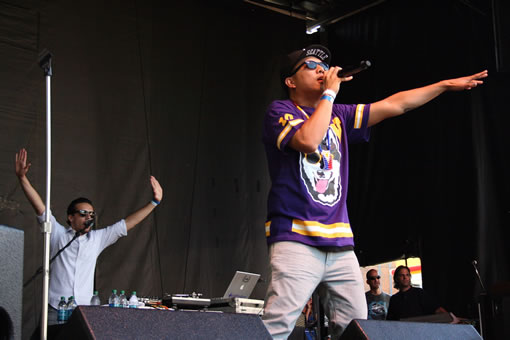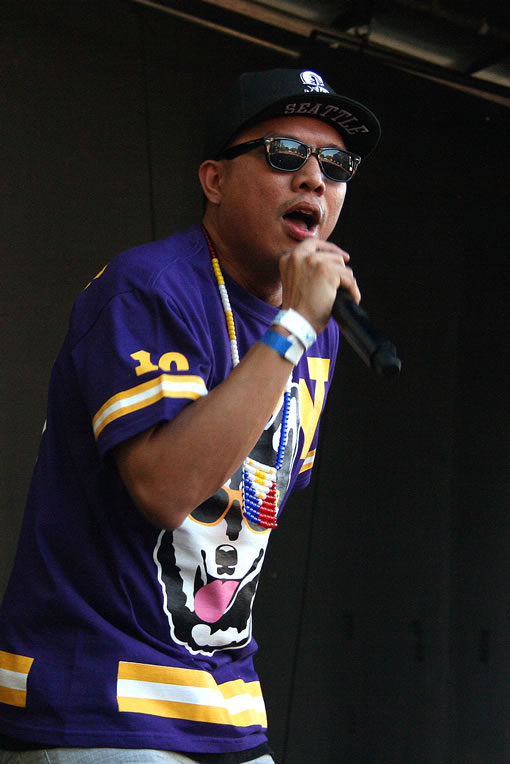 Seattle Mayor Mike McGinn Introducing Blue Scholars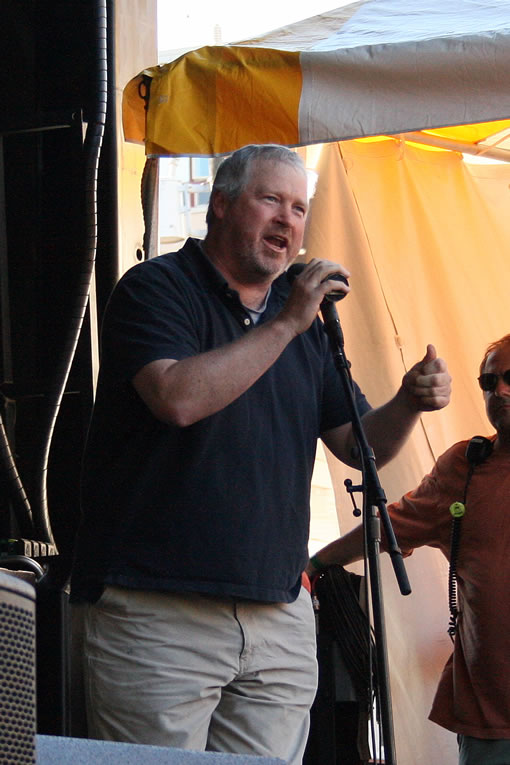 Grand Archives