2010 Mercury Prize Nominees Mumford & Sons at MHOW (05/17/10)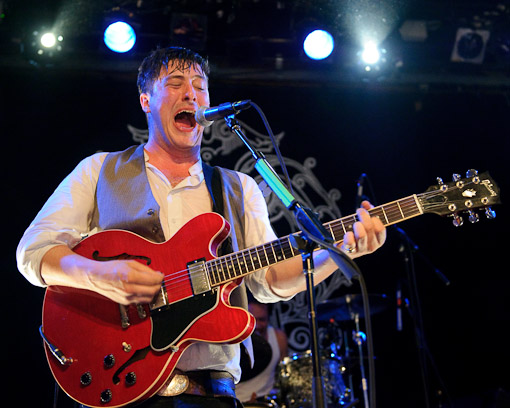 Photo: Jon Klemm
The shortlist for the Annual Barclayard Mercury Prize, (aka, the UK Album of the Year), was announced on July 20, 2010 and it includes several acts who will be coming through NYC in the near to immediate future. For those of you haven't seen the complete list yet, here's what it looks like:
2010 Mercury Prize Shortlist
Biffy Clyro – Only Revolutions
Corinne Bailey Rae – The Sea
Dizzee Rascal – Tongue n' Cheek
Foals – Total Life Forever
I Am Kloot – Sky at Night
Kit Downes Trio – Golden
Laura Marling – I Speak Because I Can
Mumford & Sons – Sigh No More
Paul Weller – Wake Up the Nation
Villagers – Becoming a Jackal
Wild Beasts – Two Dancers
The xx – xx
The overall winner of the 2010 Mercury Prize will be announced at the gala awards dinner on Tuesday, September 7, 2010. Until then, here's what some of the nominees are up to:
The xx are playing Central Park SummerStage on August 8, 2010 (Win VIP Passes).
Corinne Bailey Rae is playing Terminal 5 on Aug 6, 2010 with Sondre Lerche (Buy Tickets).
Wild Beasts are playing the Highline Ballroom on Aug 11 with Lone Wolf and The Kissaway Trail (Buy Tickets). In honor of their Mercury Prize nomination, Wild Beasts are offering a free download of the tracks from their new 10″, We Still Got The Taste Dancin' On Our Tongues from August 2-9. You can also grab a physical copy of the 10″ at any of Wild Beasts' shows or from the Domino Mart.
Biffy Clyro just announced that they will be playing Brooklyn Bowl on Sept 16, 2010 (Buy Tickets).
Foals are playing the Bowery Ballroom and MHOW on Oct 1 and Oct 2, 2010 respectively (Buy Tickets).
Paul Weller will be the Nokia Theatre on Nov 7, 2010 (Buy Tickets).
Villagers will be supporting Ra Ra Riot on some tour dates in October, but not in NYC. Though it hasn't been announced yet, I'd expect to see Conor O'Brien & Co. here in early October or late September at The Rock Shop, Littlefield, Union Hall, Pianos or maybe Joe's Pub (he's playing Schuba's on Sep 24).
Mumford & Sons are playing Lollapalooza on Aug 8, but unfortunately they will not be visiting NYC during that trip.
As for the other stragglers, I'd expect to see Laura Marling back in NYC in the not too distant future, but I'm not so sure whether Dizzee Rascal and I Am Kloot will be making their way out here any time soon. I'd also put the likelihood of ever seeing Kit Downes on this side of the Atlantic as fairly low.
Though they currently don't have any New York dates booked (stay though folks) the Mumfords did play a show at the Music Hall Of Williamsburg way back in May of this year. You can view more pictures from that show after the jump.
Mumford & Sons at MHOW by Jon Klemm