Vince Neil at MSG w/ Motley Crue (03/16/09)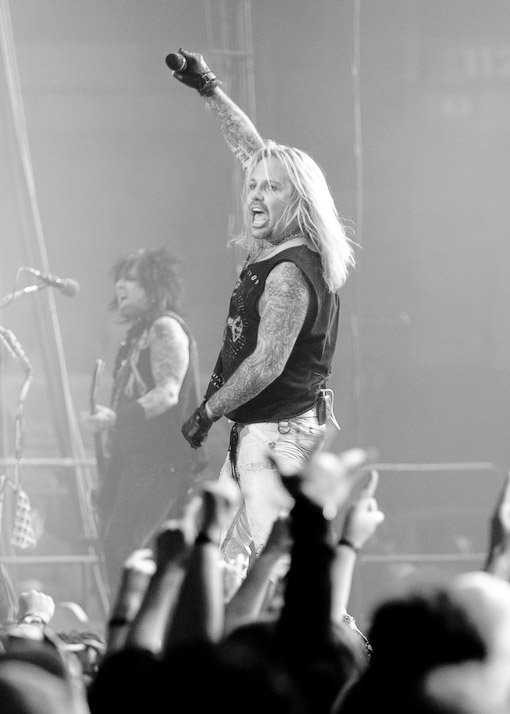 Photo: Jon Klemm (more)
Motley Crue frontman, Vince Neil is playing Irving Plaza on Sep 24, tickets for that show go on sale today (Aug 13) at 10AM (Buy Tickets). Vince is hitting the road ostensibly to promote his new book, Tatoos & Tequila: To Hell and Back with One of Rock's Most Notorious Frontmen, which comes out on Sep 23, 2010. Vince's solo album of the same name is available now.
PS Not really sure why I'm posting this, but it's a good excuse to make use of the Crue pics again.
More Vince Neil tour dates after the jump.
Vince Neil 2010 Tour Dates
Aug 26 2010 Bear Claw Casino Carlyle, SK
Aug 27 2010 4 Bears Casino New Town, ND
Aug 28 2010 Meskawaki Casino Tama, Iowa
Sep 02 2010 Waterfest- Oshkosh, WI
Sep 04 2010 Thunder Mountain Ampitheatre Loveland, CO
Sep 18 2010 Verizon Wireless Amphitheatre St. Louis, MO
Sep 24 2010 Irving Plaza New York, NY
Oct 15 2010 Maximum Capacity Chicoppe, MA
Oct 30 2010 Hard Rock Hotel & Casino Tulsa, OK
Oct 31 2010 Snoqualmie Casino Snoqualmie, WA
Nov 11 2010 Ship Rocked Fort Lauderdale, FL