The Coffee Shops (and Bagel Delis) of Park Slope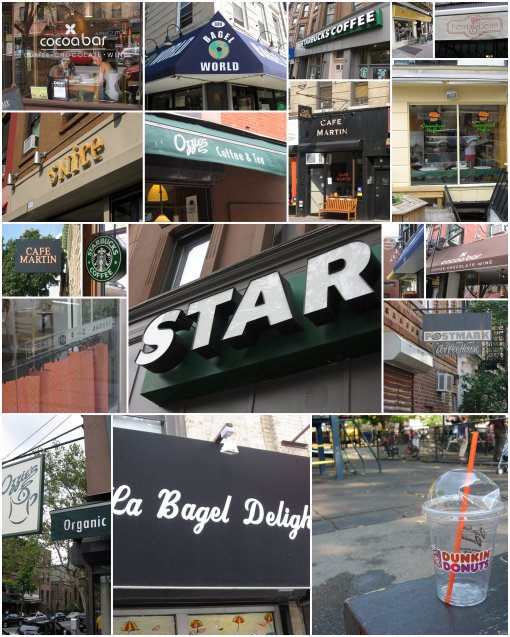 When a man has some time off from work, alone with just his thoughts, how does he fill his days? Does he write the great American novel? Spend more time with children? Work out incessantly at the gym? All noble pursuits I'm sure, but when personally faced this challenge, instead of choosing bourgeois intellectualism, coddling or vanity, I bravely opted to spend to my last vestiges of freedom (I was "in between jobs" as they say) wandering the cafes of Park Slope, asking baristas how much they charge for iced coffee and then abruptly walking out. Sure it sounds crazy, and to a man, I'm sure it is, but… OK, now I've lost my train of thought.
My route was more a less a rectangle that encompassed my slightly geographically biased version of Park Slope. To the South, I went down as far as 15th street, chosen not only because it more or less represents the end of Park Slope proper, but also because it manages to encompass such "hot" iced coffee spots as Parco, Grumpy and Cafe Regular South. To the North, I went all the way up to the Flatbush and even cheated a little out of Park Slope with the Zip Car friendly (and reasonably priced) Heights Coffee. To the West, I only went as far as 5th Ave, though I had planned to include 4th Ave's Root Hill and newcomer Zora, but I just ran out of steam. To the East, I went as far as 7th Ave, because let's face it, on 8th Ave, it's pretty slim pickins until you get down past 9th St, and once again, I've only got so much energy. Also, as far as what establishments I actually chose to go into, I mostly frequented coffee shops, cafes and bagel delis, or as I thought to myself, the places one might reasonably go into to get a cup of iced coffee. I did not go into bodegas, mostly because: 1) I had to draw the line somewhere, and 2) I've never had iced coffee at a bodega, so I figured the man on the B63 probably doesn't get his iced coffee there either. Now, I'm no Nate Silver, but here are a few of things I learned through my explorations of the dark and seedy beany underbelly of Park Slope's iced coffee joints.
The most common sizes of iced coffee are 16oz (small) and 24oz (large). By that logic, a true medium iced coffee should be 20oz, though very few establishments actually sell a medium iced coffee in a 20oz size. (Hats off to you La Bagel Delight for doing it "right"!)
The best iced coffee bang for your buck in The Slope (out of all the places I visited) is at a place known for it's chilled menu items, but not necessarily its coffee. For $1.75 at Haagen-Dazs on 7th Ave, you can wash down your double scoop of rum raisin ice cream with a 22oz cup of chilled joe, that's a mere 7.9 cents per ounce folks.
The largest "large" iced coffee is at Dunkin' Donuts on 5th Ave and it's a bladder busting 32ozs, which is equivalent to 4 cups, 2 pints, 1 quart, .95 litres or 1/4 gallon of cold java. A Dunkin' Donuts large is also the second best deal on my list at $2.89 for 32oz, or 9 cents per ounce.
One of the most expensive cups of iced coffee in The Slope (out of all the establishments I surveyed) is at Get Fresh on 5th Ave where $3.30 buys you a 12oz cup of cold brewed Stumptown (27.5 cents per ounce). UPDATE 1 (08/18/10): The owner of Get Fresh posted in the comments and informed me that they actually serve a 16oz sized cup of iced coffee. That would still make them the highest priced 16oz cup on the list, but it's certainly a lot less offensive than $3.30 for 12ozs. I'll confirm this next time I go by the restaurant and update the list accordingly. UPDATE 2 (08/25/10): As of today, Get Fresh sells a 16oz iced coffee for $2.50, so either: 1) I was misinformed the first time I went in, 2) prices have changed, or 3) I made a mistake!
Also on the very expensive side, is Cafe Grumpy, which lists an individually brewed cup of iced coffee for up to $5.25, depending on the varietal. Based on a 16oz cup, that would work out to a chart topping 33 cents per ounce. (They also sell a less expensive cold brewed cup for a mere $3.25 for 16oz.)
The most expensive 16oz small is $3.25 at Cafe Regular (7th Ave), Lucas Fine Foods and Cafe Grumpy.
The least expensive 16oz small is $1.65 at The Bagel Hole on 7th Ave South. Area Bagels, Yogo Monster and 7th Ave Donuts Luncheonette all sell a 16oz cup for a reasonable $1.75 (admittedly none of these places would be my first choices for coffee).
The most expensive 24oz large is $3.50 at Tea Lounge and S'nice. However, to be fair, Ozzie's on 5th, sells a 20oz "large" iced coffee for an even pricier $3.75.
The least expensive 24oz large is $2.15 at The Bagel Hole. (But once again, cheap does not necessarily equal good.)
Cafe Regular North and South charge different prices for the same cup of iced coffee, $2.75 on 5th vs. $3.25 on 7th.
Ozzie's 5th Ave charges more for a large iced coffee than Ozzie's 7th Ave, $3.75 on 5th vs. $3.50 on 7th.
A Starbucks "grande" is really the same size as a small iced coffee (16oz) most everywhere else. A 12oz or "tall" iced coffee is actually sold at very few places.
Barnes and Noble and Starbucks, both sell the same Starbucks coffee in the same sized cups, but a "tall" is cheaper at Starbucks and a "venti" is cheaper at Barnes & Noble.
Connecticut Muffin, (Starbucks' across the street neighbor and local competition), charges more ($2.65 vs. $2.45) for a "small" iced coffee (the equivalent of a Starbucks "grande") but the same amount for a large $2.95 (the equivalent of a Starbucks "venti").
Because of Archimedes Principle, if you order ice with your iced coffee, you are never the getting the full amount of the beverage listed on the cup size. At Starbucks, the rule of thumb is to fill it half with coffee and half with ice, which means a "grande" iced coffee is only about 8oz of liquid, or 1 cup.
In general, if you're paying less than $3.00 for a large (24oz) iced coffee, I would say you're not being ripped off.
Having said all of that, as I'm sure most of you know, you cannot put a price on deliciousness. While I can't say I've sampled the wares at all of the establishments listed below, for my money I like the iced coffee at Naidre's on 7th Ave (it's not the best deal on the list, but it's always tasty). Also, though it's expensive as hell, the ginger and rosehip(?) infused iced tea at Get Fresh on 5th Ave, was the best non-coffee drink I had during my outings.
7th Ave/Union St Iced Coffee Prices
Cousin John's | $2.30 16oz (nit)
Leaf'n Bean | $2.00 16oz (it)
Cafe Regular 7th Ave North | $3.25 16oz (nit)
La Bagel Delight 7th Ave N | $2.00 16oz | $2.50 20oz | $2.99 24oz (it)
Haagen-Dazs | $1.75 22oz (nit)
Yogo Monster | $1.75 16oz (it)
Lucas Fine Foods (Union St) | $3.25 16oz (nit)
Tea Lounge (Union St) | $2.75 16oz | $3.25 20oz | $3.50 24oz (it)
Sweet Melissa | $3.00 16oz (nit)
Starbucks | 2.00 12oz | $2.45 16oz | $2.95 24oz (nit)
Connecticut Muffin | $2.65 16oz | $2.95 24oz (nit)
Cocoa Bar | $2.56 16oz | $2.83 24oz (it)
Ozzie's 7th Ave N | $3.00 16oz | $3.50 20oz (it)
Barnes & Noble Cafe | $2.10 12oz | $2.40 16oz | $2.80 24oz (Starbucks Coffee nit)
Park Slope Eatery | $2.10 12oz (nit) | $2.40 16oz (nit)
La Bagel Delight 7th Ave S | $2.00 16oz | $2.50 20oz | $2.99 24oz (it)
7th Ave Donuts Luncheonette | $1.75 16oz | $2.75 24oz (nit)
Java Joe | $2.50 16oz | $3.25 24oz (nit)
Zana | $1.95 12oz | $2.25 20oz (nit)
Uncle Louie G | $3.00 20oz (it)
Almondine | $2.50 16oz (it)
Naidre's | 12oz $2.25 (it) | $2.75 16oz | 24oz $3.25
Bagel Hole | $1.65 16oz (it) | $2.15 24oz
Union Market | $2.16 20oz (it)
Parco | $2.25 16oz | $2.75 20oz (nit)
Grumpy | $3.25 16oz Cold Brewed (it) | $3.50, $3.75, $5.25 16oz Brewed By The Cup
Connecticut Muffin | $2.65 16oz | $2.95 24oz (nit)
* nit = not including tax, it = including tax
A Note About These Prices – All prices are approximate as of July 8, 2010. When I say approximate, what I mean is that I went in to each one of these places and either asked how much the coffee cost or I just looked at menus. I did not double check my prices, and most of the time, I made assumptions about whether or not tax was included. (If you work at one of these places, and you think I made an error, please let me know.)
More iced coffee prices and establishments after the jump.
6th Ave Iced Coffee Prices
Colson's | $2.00 12oz | $2.50 16oz (nit)
Red Horse | $2.25 12oz | $2.75 16oz | $3.00 20oz (nit)
Flatbush/7th Ave Iced Coffee Prices
Heights Coffee | $2.40 16oz | $2.60 24oz (nit)
Bergen St Iced Coffee Prices
Bark Hotdogs | $2.99 16oz (it)
Sun In Bloom | $2.50 12oz | $3.00 20oz (nit)
5th Ave Iced Coffee Prices
Coffee House Bagels | $2.00 16oz | $2.50 24oz (nit)
Area Bagels | $1.75 16oz | $2.75 24oz (nit)
Luscious | $2.00 16oz (From Gorilla it)
Blue Sky Bakery (missing info)
Gorilla | $1.75 12oz | $2.25 16oz | $2.50 20oz (Cold Brewed it)
oko | $2.50 16oz (it)
Bageltique | $2.00 20oz | $3.00 24oz (it)
Ozzie's 5th Ave | $3.00 16oz | $3.75 20oz (it) Updated: 08/18/10
S'nice | $2.50 16oz | $3.50 24oz (it)
Bagel World | $2.00 16oz | $3.00 24oz (it)
Cafe Martin | $2.50 16oz (nit)
Perch | $2.50 16oz (nit)
Get Fresh | $3.30 12oz $2.50 16 oz (Cold Brewed Stumptown it) Updated: 08/25/10
Brooklyn Bread | $2.25 16oz (nit)
Postmark Cafe | $2.00 12oz | $2.50 16oz | $2.75 20oz (nit)
Dunkin' Donuts | $2.09 16oz | $2.49 24oz | $2.89 32oz (nit)
Cafe Regular 5th Ave S | $2.75 16oz (nit)
Bagel & Wrap Deli 5th Ave S | $2.50 16oz | $3.00 24oz (it)
Starbucks Receipt w/ Tax Included (08/08/10)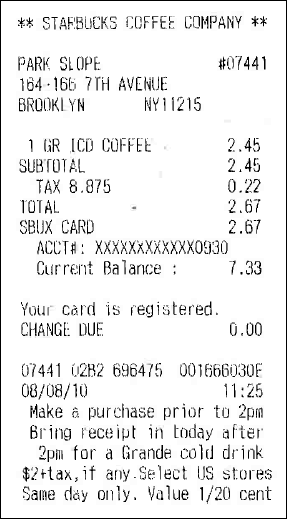 Dunkin' Donuts Receipt w/ Tax Included (08/20/10)