As I mentioned a little while ago, new half hour episodes of Jon Glaser's Delocated started airing on Aug 22, 2010 on [Adult Swim]. New 15 minute episodes of Rob Corddry's Childrens Hospital have also begun airing on Sunday nights after Delocated.

Over on IFC, The Kids In The Hall are back in a new 8 part series entitled Death Comes To Town. New episodes air back-back on Fridays at 10PM on IFC (you can actually buy the series on DVD if you live in Canada). Starting October 1, IFC is airing another new original series entitled The Increasingly Poor Decisions of Todd Margaret, a new comedy from the mind of David Cross.
Created, written by, and starring David Cross (Arrested Development, Mr. Show), THE INCREASINGLY POOR DECISIONS OF TODD MARGARET follows the awkward misadventures of an American office temp and convenient liar named Todd Margaret (David Cross). Margaret bluffs his way into a senior sales position heading up the London office for the new energy drink Thunder Muscle. This six-episode half hour original comedy series, co-written by Shaun Pye (Extras), premieres on IFC Friday, October 1 at 10:00 PM/ET. [IFC.com]
On FX, Louis C.K.'s semi-autobiographical, Felliniesque Louie has been renewed for a second season. Also, in case you didn't know, Louis C.K. is playing Carnegie Hall on November 4, 2010 as part of the New York Comedy Festival.
The recently cancelled Party Down, one of the funniest shows you probably never watched, is about to get it's digital afterlife starting this week. On Tuesday, August 24, all ten of the show's final episodes will be available for download on iTunes, Amazon, and Xbox Live Marketplace for $1.99 a piece. Season 2 of Party Down will also be out on DVD on September 28, 2010.

While I'm on the subject of premium cable TV comedies on DVD, HBO's Bored To Death starring Jason Schwartzman, Zach Galifianakis, Ted Danson and my very own Brooklyn neighborhood will be released on DVD and Blu-ray on September 21, 2010.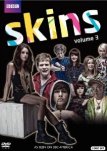 In other somewhat unrelated news, Skins Vol. 3 (which Drake didn't like) is finally coming out on US DVD on Sep 7, 2010. The American version of Skins will premiere on MTV in 2011.
Last but not least, I can't help but mention that I read that Danny McBride and Rhys Darby were both being considered as possible replacements for Steve Carell on The Office. Personally, I think Darby would be a genius choice.