The Balvenie 17 Year Old Peated Cask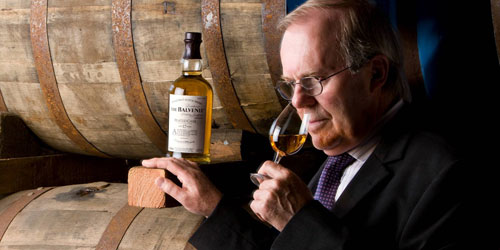 There's a very appetizing looking "booze cruise" tonight on the hudson river where you'll be able to sample a number of fine Scotches including the new limited edition Balvenie 17 Year Old Peated Cask Single Malt. Last year, The Balvenie released a limited edition 17 Year Old Madeira Cask which CNBC blogger/talking head John Carney and I had the pleasure of sampling. Here's what John and I thought of the Balvenie Madeira Cask at the time:
The Madeira Cask has a bit of a cherry flavor, but it's not too sweet. You can taste the wood a little in the aftertaste, but it's not overpowering. It's also a little bit peaty, but nothing like an Islay (as a general rule, I don't like overly peaty Scotches). After repeated "tastings", we determined that: 1) it doesn't burn your esophagus on the way down, and 2) you can have a few glasses without getting "whiskyface". The Balvenie was smoother than the Macallan 18 John had on hand, but it wasn't so smooth that you forgot you were drinking Scotch. Having said all of that, we seemed to finish the bottle with no trouble at all. Oh, and one last thing, it goes really well with Parmesan cheese and crackers (but maybe that was just the whisky talking).
The Madeira Cask and 200 or so other Scotches will be available for tasting on tonight's whisky guild sponsored cruise. Tickets are still available for the event (which is kind of shocking because these things usually sell out way in advance) and you can get 15% off if use the code Balvenie.
WHISKY ON THE HUDSON
AUGUST 26, 2010, 7:00-10:30
PIER 59, WEST 23RD STREET NEW YORK, NY

Join us for the Whisky on the Hudson the premier whisky event in the New York. Whisky enthusiasts can enjoy the opportunity to sample from more than 200 rare and exclusive whiskies, by distillery managers and master blenders from Scotland, Ireland, Canada, and Japan.

VIP Boarding Time: 6:00pm
Boarding Time: 7:00-7:30pm
Sail Time: 7:30-10:00pm

Ticket Price $95 (Enter the code BALVENIE for a 15% discount)
VIP Ticket Price $115 (Board At 6:00pm)
TICKET PRICE INCLUDES FULL BUFFET DINNER AND ALL WHISKY SAMPLING